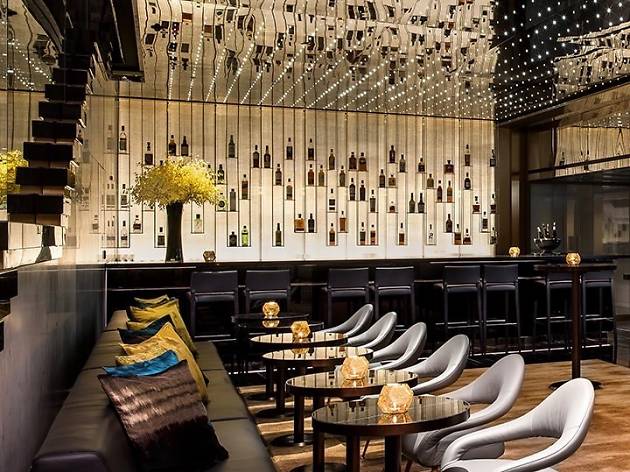 Time Out says
The Murray hotel's lobby bar serves reasonable cocktails but it's no destination joint just yet
Hotel bars don't have a great reputation. In popular imagination they're dim watering holes existing only to serve expensive drinks to lonely business travellers. There are exceptions, of course. In our city, the Shangri-La's Lobster Bar and Blue Bar at The Four Seasons spring immediately to mind.

Looking to join this clutch of worthwhile hotel establishments is The Murray hotel's Murray Lane. Situated halfway up Cotton Tree Drive, the hotel is conveniently located for visiting businessmen and bankers working nearby but it's an awkward spot for anyone else.

The bar itself is located just around the corner from reception at The Murray. This too is an awkward location, the bar feeling neither its own separate entity nor an integrated part of the lobby. The décor is slick, all muted tones and soft lighting that gives off a luxurious vibe without being ostentatious. A thick carpet beneath our feet is just waiting for spilled drinks.

The menu is relatively straightforward with a range of bar snacks, beers, wines and a dozen or so signature cocktails. Our Gentlemen Prefer Bonds ($130) – Murray Lane clearly looking to appeal to neighbouring businesses with that name – a mix of Johnnie Walker Black, honey, lemon, ginger and Laphroaig Quarter Cask arrives first. The drink is an appealing golden colour, chilled by a single sizeable ice cube. Much like a hot toddy, the drink is initially sweet with a sharp finish. The smokiness of the Laphroaig is pleasant on the nose but sadly absent on the tongue, muscled out by the other elements. It's a similar story with the VOC ($120). There are two distinct gins at play – Bols Genever and Tanqueray – but they're overpowered by the accompanying maple, ginger, Cassia and lemon. The end result is another sweet concoction that, although not unpleasant, could do with more bite.
In an attempt to cleanse our palate of sweetness, we finish with a straightforward gin and tonic. The Murray's lemongrass and kaffir version ($105) is made with Beefeater gin and Fever Tree tonic water. Satisfyingly dry, the kaffir is hard to detect but otherwise the drink does its job.

Situated in the plush surrounds of The Murray, Murray Lane is clearly no dank drinking den. The cocktails are satisfactory, if a little saccharine, but it's the hotel's isolated location behind the Bank of China Tower that's likely to be the bar's biggest obstacle to future popularity. Possibly when the hotel's remaining bars and restaurants are open, it'll feel more like a destination, but for now it's one for hotel guests only.
Details
Address:
G/F, The Murray
22 Cotton Tree Drive
Central
Hong Kong


Contact:
Opening hours:
Sunday to Thursday 7.30am-12am; Friday to Saturday 7.30am-1am
Best selling Time Out Offers