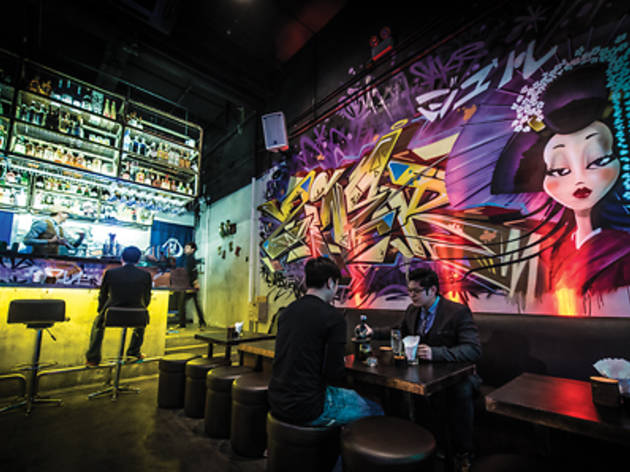 Time Out says
The spaces sandwiched between Hollywood and Wyndham are notoriously cursed. Over time (or rather, in no time at all) the bars, restaurants and establishments hoping to nest homes there have flown the coop, failing to stay alive amid rent hikes, tough crowds and fierce competition from mainstays further down in LKF. But in flies Ozu anyway, a tongue-in-cheek Japanese-inspired bar set up not by a juggernaut F&B company but simply a group of friends.
The crowd is unpretentious and relaxed on an early Friday evening (yes, we find it hard to believe as well); brimming with after-work groups and couples. A combination of high-top tables and sofa seats are dotted around the space, which boasts a high, lofty ceiling. Reggae and alternative genres (for Wyndham, anyway) pulse lightly through the speakers. You can actually talk and hear your companions in here. So far, so good.
As the bar just celebrated its opening in early March, the menu hasn't been fully established yet, but there's still plenty of choice and variety. The usual suspects of spirits make an appearance alongside rarer Japanese whiskeys – Yamazaki 12, Hibiki 12, Hibiki 17 ($130-$175) – and the sake selection is extensive too. The Born Tsuya Junmai Daigonjo ($80) has soft, peachy undertones and starts out with a sharp kick but melts into a smoother flavour. The Smoked Lychee Sake ($90) arrives in a martini glass and is topped with a beaker of dry ice smoke. Consisting of sake and kwai feh lychee liqueur, the concoction is fruity, although a little on the sweet side. We then go for the Black Honey Sling ($85) to hold off on the sake a little bit, but again, the drink has an overly saccharine edge. There's a further range of sake cocktails on offer, including the Shogun Assassin – sake, midori and green chartreuse – and the Kyu (Hendrick's gin and sake).
They are also having a go at bar snacks, and it sounds like there will be delectable accompaniments to the drinks – salty little treats such as robatayaki skewers and edamame. Another element worth mentioning is the décor, which is an overpowering melange of graffiti murals of different styles and themes. On one wall, a geisha is juxtaposed against a spreading proliferation of tags, while on the other, a half-sheathed samurai faces the skyline of Hong Kong. When asked about the spray paint artists, however, the owner reveals little else other than that they're friends of his. An unusual marketing strategy to say the least, considering the amount of recent food and beverage openings that have been namedropping established artists. But perhaps that's the intention of Ozu, to make one feel like they've just popped into a friend's hangout. Although we didn't actually feel that way during our stay – the not-so-intimate location don't help – we think, in time, we might come to like Ozu just like one of our closer friends. That is, if they manage to break the curse of the location. Ysabelle Cheung

Ozu 1 Hollywood Rd, Central, 6064 7428; facebook.com/ooosake.
Details
Best selling Time Out Offers