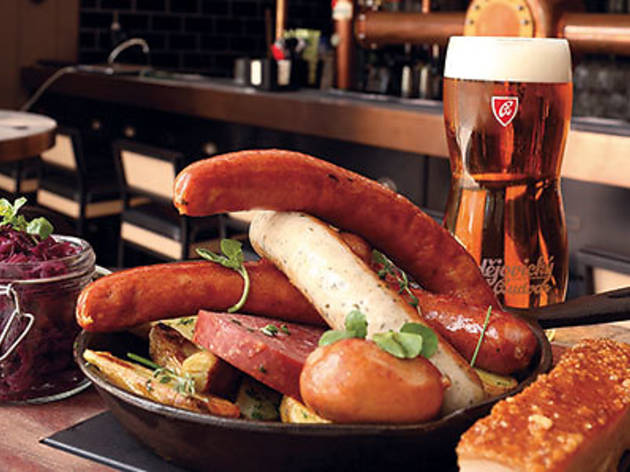 Time Out says
In Czech, 'pivo' means beer, so there's little hiding what Cafe Deco Group's newest venture at Elements is all about. The decor – dark wood tables and leather furniture – gives off a warm European charm, and there's further homage to the Czech Repulic with an ode inscripbed on the wall. The Eastern European country is, per capita, the biggest beer drinking nation on the planet. Once the math is worked out, the average Czech citizen consumes on average 160 litres per year. Obviously these guys don't mess around when it comes to suds.
We go straight for the beer and select the world-renowned Czech originated Pilsner Urquell ($78) and Kozel Dark ($80). Served with a thick layer of foam, the Pilsner is as good as its reputation. Crisp and intensely hoppy, the honey-based, full-bodied drink is how a good Czech beer should be. The Kozel Dark doesn't disappoint either. A darker option, the pint is smooth with a rich caramel finish, but still maintains the unique lightness beers of this origin are known to have.
Throughly refreshed, we order the house platter with mixed sausages, pork belly and cabbage ($225) and the roasted bone marrow with braised oxtail and bread dumplings ($168). The sausages are juicy and tender and the pork belly is so crisp and succulent, we can hear the skin gently crackling as we cut into it. The bone marrow, however, is our favourite. The flavour-packed oxtail melts in our mouth, leaving behind a delicious creamy combination of meat and bone marrow. This dish, combined with the herby bread dumplings on the side, is a satisfying bite that tastes worthy of the kitchens of a more star laddened restaurant.
Pivo introduces quality Czech beers and bites to our globally diverse city. So if you're reminiscing over your last trip to Prague, stop by for a 'pivo' anytime of the week and say 'na zdravy' instead of cheers! Crystal Chan
Pivo Czech Bar Shop R004, Civic Square, Elements, 1 Austin Rd W, West Kowloon, 2196 8733; cafedecogroup.com.
Details
Best selling Time Out Offers