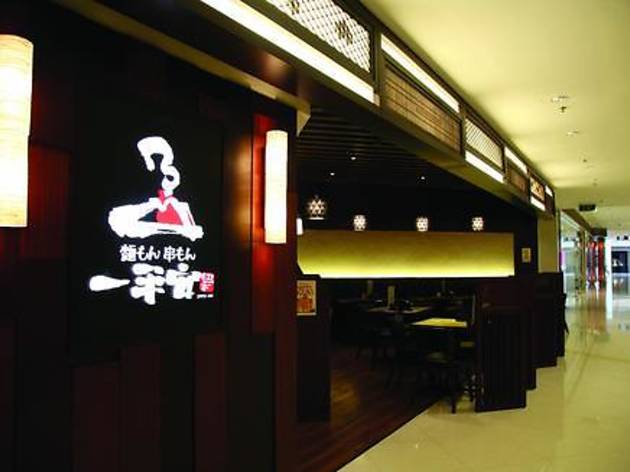 Time Out says
Our first impression of Ippei-an-higomon's Ramen and Bar was: 'so what?' Another noodle chain inside a mall with mass-produced furnishings and staff that roam the floor impassively. The cold, angular-shaped dining room said it all, just order, eat and get out. Accordingly, we skipped the impersonal room and instead took a seat at the communal bar, facing two chefs preparing meats for the robatayaki grill. And we're glad we did; because almost immediately everyone at the bar began chatting with us. Everyone (okay, three other people) agreed that the Higomonzu ramen ($75) was the best thing on the menu. Trusting our new best friends, we went with the flow.
The pork bone base was milky and full of meaty flavour; the seaweed sheet gave it an incredible sea-saltiness, while a little pot of Japanese chilli and black sesame powder provided the kick. Unfortunately, the noodles were out of a bag, as were the bean sprouts, but they were redeemed by the best bit —the tenderness of the pork belly. Put a piece of braised pork belly in front of any foodie and they'll gladly offer you their right arm in exchange.
We saw the belly again in the stew pork rice ($35). This cute bowl of pickled greens and belly on short grain rice confirmed our changing opinion of the place. Though the half egg was cold from refrigeration, the orange yolk was still runny and coated the sweet rice, making for a creamy concoction. The pickled greens flavoured the dish with bitter and salt, and to complete the full spectrum of flavours, the pork belly offered the umami.
We ordered a side of pork gyoza ($38), for no other reason than that is the thing to eat at a ramen shop. A wise choice as it turned out: the meat inside was hand chopped, the vegetables inside still crunchy, and the skin perfectly browned.
Perhaps first impressions aren't always right then. Ippei-an-higomon's Ramen and Bar serves great comfort food, at good value, and with just enough atmosphere.
So there.
Angie Wong
Details
Best selling Time Out Offers