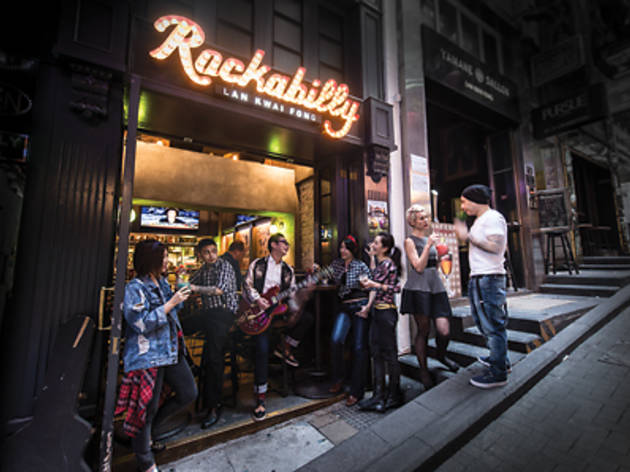 Time Out says
Back in the 1950s, in the USA, a new style of music kicked off – one which would go on to shape the future of rock and pop across the world. It was rockabilly – referring to 'rock music' and 'deep South hillbilly' – and blended rhythm and blues, bluegrass, country and folk to create a style which would go on to influence the likes of Elvis and the Beatles. And with it came a definable culture and fashion. Flowing sexy-but-sweet dresses for the girls, greased-back hair and denim for the boys, high octane dance moves and a party attitude were all part of this movement. Rockabilly even gained a following over here. And, ever since, there have been rockabilly revivals across the world. Even now, there are dedicated bars and nights in many countries. But in Hong Kong? Not so much. Until now.
Lan Kwai Fong is the most recognisable area in our city for bars, clubs and boozed-up antics of an evening. As such, it's spawned so many joints catering to the party crowd that sometimes it's difficult to tell them apart. So it's refreshing that the new Rockabilly stands out like a stiff little finger. It's a small bar in the middle of all the chaos, which has a theme most unlike anything else.
Okay, when you step in, you're not transported back into rockabilly's heyday. Don't expect to be standing in a 1950s dive. But do expect to immediately start tappin' those toes as old-school rockabilly tunes blare out relentlessly, interspersed with a few more modern hits. There's a big screen showing the rock stars of yesterday (as well as sports events too sometimes), and brickwork walls, small tables and barstools throughout. Owners Eclipse Hospitality Group say it was modelled on an 'abandoned car repair shop and tattoo parlour' with salvaged fixtures, vintage neon signs and concrete motifs. There's also a relaxed upstairs area with more space, but we prefer downstairs, which may be narrow but is especially fun when the party spills out on to the street.
Now, the booze. There's a slew of hard-to-get-in-Hong Kong craft beers like the Zulu Blonde from South Africa ($50) but our tipple is the draft Monk's Abbey from Belgium ($70) which is a fragrant golden brew, slighty fruity and heavy on the tongue without being heavy on the stomach. The shooters also rock here, like the Moonshine Comfort, a mix of sweet bourbon and Red Bull ($210 for six), but our clear faves are the 'spiked slushies'. These suit the rock 'n' roll atmosphere to a tee. There's the Pink Cadillac ($50), an icy mix of tequila reposado, grenadine, fresh lemon and lime; the Blue Moon ($60), which is white rum, curaçao, pineapple and coconut milk; and the Purple Haze ($65), a mix of the other two. Two or three of these fruity mixtures get you going in no time.
The food is top notch as well. Try the sliders, of which there are eight kinds, like the Tony Montana, which features pepperoni, mozza cheese and marinara sauce ($122). Or there are the three gourmet sliders, like the Boss Hog, made with pork belly and red slaw ($138). And the seven types of fries are champ too, such as the poutine ($75) and chicken curry ($85), as are the signature Rockabilly chicken wings ($98).
All in all, Rockabilly is bringing not so much something new to LKF but something unique. You don't need to be a fan of the music or style to enjoy it here – particularly if you go and enjoy the $10 Tuesdays (sliders at just $10 when you buy some drinks) – but you do need to be a fan of good tunes, great food and drinks, and a party atmosphere which suits any era, be it 1950s USA or 2014 in Hong Kong. Fred Melling

Rockabilly 12 Lan Kwai Fong, Central, 2869 0099; rockabilly.com.hk.
Details
Best selling Time Out Offers