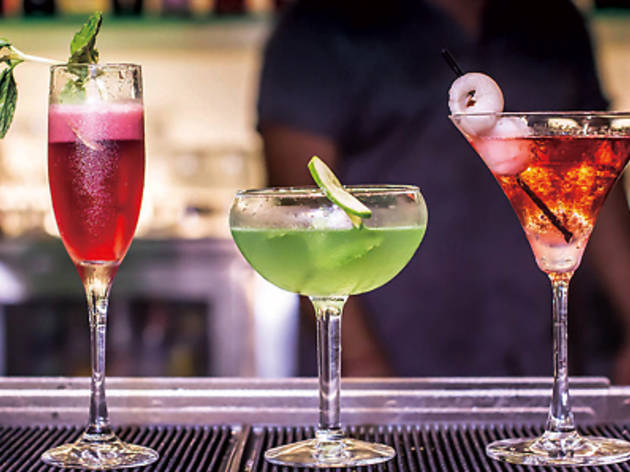 Time Out says
One of the great advantages of living in Hong Kong is the ability to stroll the streets of Central and find a drinking spot to suit your every mood. From alleyway dives up to high-class hotel bars and everything in between, we're often spoiled for choice. Which is why it comes as a surprise that Rude has decided to one-up the competition and try to be a jack-of-all-trades, with limited success.
Located on Wyndham Street, the multiple screens that are televising rugby matches identify Rude as a sports bar. But as we go further in, the sounds of a live acoustic guitar suggest 'relaxed lounge' instead. The concept is further muddied by a foosball table in the middle giving off a 'university students on a pub crawl' kind of vibe. But judging by the classy cocktail menu and a resident mixologist, it's obvious the bar wants to capture sophisticated punters. So can it?
We start off with one of the bar's signature drinks. The passion vanilla martini ($95), a tropical affair of homemade vanilla syrup, vodka and passion fruit, comes filled to the brim with blue curacao bobbing in the middle. Sadly, the cute presentation can't hide the overpowering smack of alcohol in every sip, leaving us overwhelmed and disappointed. Our next choice from the selection is a Cosmopolitan 1934 ($95). This is an improvement. Replacing traditional vodka with gin and fresh berries, the combo feels fresh and perfect for the coming summer months. Unfortunately, neither of these drinks will impress any cocktail connoisseurs seeking accurate versions of the classics – the kind of crowd the menu seems aimed at.
Rude's attempts to appeal to all sectors of the drinking population in Hong Kong are admirable, but it fails to excel in any area. The bar needs to regroup and refocus, else be prepared for a rude awakening. Julius Babcock
Rude Upper Basement, 79 Wyndham St, Central, 2950 9608; rudehk.com.
Details
Best selling Time Out Offers