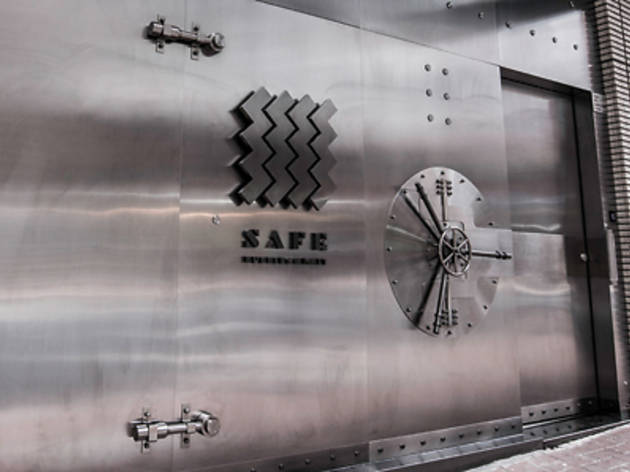 Time Out says
A bar gains value in Hong Kong when it stays off the radar so it escapes the crowds and markets itself to those wanting to enjoy an intimate night out with friends. And few methods work better than 'remaining hidden' – be that up on the 25th floor or down a dirty back alley. New whisky and champagne bar, Safe, goes incognito in its own way. It hides behind its own shopfront – a completely unassuming, monotone façade, that looks like the exterior of a bank vault. Get it? Like a safe.
It's a unique front and does look cool. But once you step in, you enter a metallic hollowed-out cave that's dimly lit up with an iridescent blue shimmer alongside soft lighting that creates a cold and slightly uncomfortable feel. It is atmospheric – but it feels more like a nightclub vodka bar than a whisky and champagne joint. There's a bit too much of a gentlemen's club and working girl vibe here.
We order a few bottles of Yamazaki, decently priced at $1,388 for the 1999 and $2,380 for the 12-year-old, and head to the private room, where the whisky is served in glasses containing globular ice cubes. They're delicious tipples, with their nutty and floral notes. Safe holds 700 different kinds of whisky, in fact, mostly from Scotland and Japan, and the team has a handsome selection of 200 bottles of bubbly.
As the night progresses, though, we have problems. We try closing the door to our room but the staff object. We don't know why. Perhaps they think we may get a little rowdy in our private space? Either way, it's a bizarre move and changes the atmosphere from
seedy to uncomfortable. We try a few signature cocktails, the Whisky and Honey ($148) and the Oolong Old Fashioned ($148), which are both overly sweet and completely drown out any taste of whisky. Despite us asking for them not to be too saccharine, it falls on deaf ears. By now we're feeling awkward so we leave.
Safe provides privacy away from the rowdy crowds behind its awesome shopfront. But it doesn't provide much privacy inside. And it fails on both the cocktails and creating a relaxed vibe. It does, however, deliver on its whiskeys and champAgneso, if that's all you want, then it is a safe bet. But no more than that. Arthur Tam
Safe Bubbles & Malt Shop 2, 255 Queen's Rd C, Central, 2505 9988.
Details
Best selling Time Out Offers