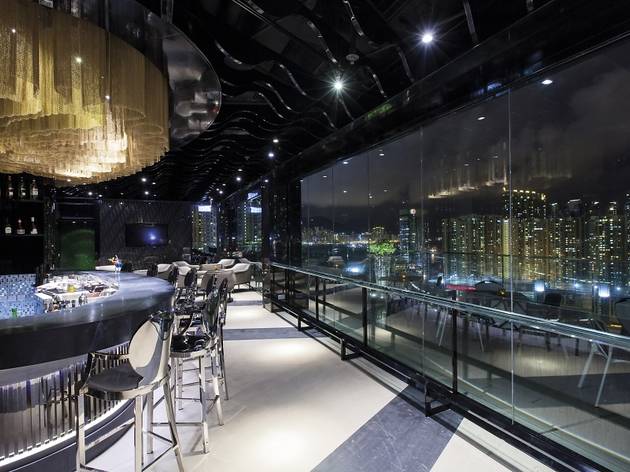 Time Out says
Tai Kok Tsui is an oft-forgotten neighbourhood known mostly for its ageing factories, crumbling residential buildings and geriatric residents. But this district just west of Mong Kok has recently enjoyed a shot in the arm due to the city's second Rosedale hotel branch, which opened its doors in mid-July. And the lofty rooftop bar at this new venue is already becoming an unexpectedly laid back place to chill out in, not least because the views from this spot are, put simply, stunning.
We know that bars with a view are by no means a rarity in Hong Kong, but the vast majority of them focus on capturing the glittering Victoria Harbour skyline. This is precisely what makes Skyzone a breath of fresh air. After ascending the lift from the lobby, you enter the bar's main area – unremarkable in its own right with its Sunday-brunch style armchairs and clothed tables. But beyond the bar's floor-to-ceiling windows is an awesome outdoor terrace. And this is the real star of the joint.
The vast majority of Tai Kok Tsui is populated by low-level buildings that the Rosedale towers over. So, out on the terrace, we're offered a pretty incredible, vertigo-inducing drinking experience, thanks to glass railings that make you feel like you might just topple over the edge (fear not, though – you won't!). Sections of Hong Kong Island's west side as well as the Tsing Ma Bridge are also visible from Skyzone's terrace. We're also delighted by the fact that the surrounding low-level buildings mean very little light pollution and the promise of spotting a few faint stars on a clear day. It's definitely an added bonus.
But no bar is worth its salt if the drinks aren't up to scratch. And they're pretty good here. We make a few selections from Skyzone's 'special cocktail' list, and aside from being pretty darn friendly to our wallets at $55 a pop, we're quite pleased with our choices. The Mango Delight is a citrusy and refreshing combination of triple sec, fresh mango, orange and pineapple juices, while the Chocolate Kiss is a milky sweet treat made of Kalhua, Bailey's, crème de cacao and milk topped with whipped cream and a dusting of cocoa powder. Unfortunately, the classics aren't as well executed as our Margarita ($55) was face-scrunchingly sour... There are reds and whites available too, as well as Hoegaarden ($68/pint) and Stella on tap but these offerings aren't nearly as good a deal as the cheap and tasty cocktails.
Once the hunger pangs set in here it's worth tapping up the barbecue menu, which is available until 12.30am. And good news: there's a decent amount of meaty offerings like salted ox tongue, chicken wings and sausages available for $10 to $20 a skewer. Hell, order enough of them and they could double as a dinner replacement. Top this off with friendly and fully bilingual staff and we're sold. It might not be the hippest or trendiest bar in town (soft rock plays during our visit – we're not offended by Phil Collins' power ballads but it's hardly down with the kids) and it's pretty much in the middle of nowhere. But should you be a Yau Tsim Mong resident or just passing by the district, it's definitely worth a visit for the views alone. Andrea Yu
30/F, Rosedale Kowloon, 86 Tai Kok Tsui Rd, Tai Kok Tsui, 3919 8888.
Details
Best selling Time Out Offers