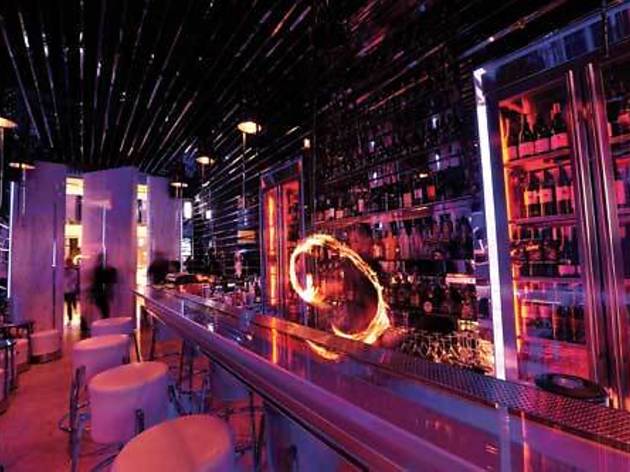 Time Out says
If you've happened across Wyndham Street recently, you may have noticed a bit of a change. Sure, the nightly gathering of suits mingling out on the pavement are still there, as is the regular progression of models heading up to dragon-i, invariably by escalator. But just in the last couple of weeks, the always-frenetic drinking scene seems a bit longer, stretching just that little bit further. The eastern end of Wyndham has come to life, birthing two new venues on the 'other side' of LKF Hotel. But while one – Tazmania Ballroom – has been the focus of all the hype, another has popped up opposite.
This bar is Sliver, a new kid on the block that's looking to bring something new to the busy boozing street, and step ever so slightly away from the tried-and-tested formula that has been both the secret to Wyndham's success and the source of constant criticism.
Behind soaring, rotating marble doors, Sliver's slender, industrial space glows with red and blue, and futurism meets industrialism. Along the walls and the ceiling, rows of long, asymmetric metallic shards – slivers if you will – form a hypnotic mesh, and within the intimate area, couches and stools look sci-fi.
While the bar is rather small – checking in at less than 1,000 sq ft – the lofty ceilings lend the space a certain airiness. It's also armed with an excellent sound system, marked by the most visible of DJ booths on the strip, two unmissable subwoofers at the rear, and a huge projection screen on the back wall that, thankfully, plays clips that match the music (is there anything more irritating than out-of-synch audio and visual?). And while a regular rotation of DJs focus more on the R&B and hip-hop side of things from Wednesday's Ladies Night through to the weekend silliness, we hear that DJs from beyond our shores may also grace the Sliver decks occasionally.
On the drinks side of things, Sliver is focused towards the finer end. Each table comes equipped with a champagne-bucket-sized void, indicating that bubbly is one of their specialties. And while their signature cocktails – complete with some flashy, fiery mixing displays – were decent (try the fruity Geisha, $90), we were most impressed by their ice. Procured at great expense, Sliver possesses a Japanese machine that creates perfectly spherical, baseball-sized ice, which, by some miraculous feat of physics, doesn't melt, meaning it's perfect for Sliver's selection of single malts.
Sliver brings something new to Wyndham Street – a friendly bar with a rather different vibe to its neighbours. But with its decidedly limited space, it may need to make its mind up between music-pumping party spot and casual, chilled drink zone. We're not quite sure it's set up to do both.
G/F, 48 Wyndham St, Central, 2522 8318.
Mark Tjhung
Details
Best selling Time Out Offers