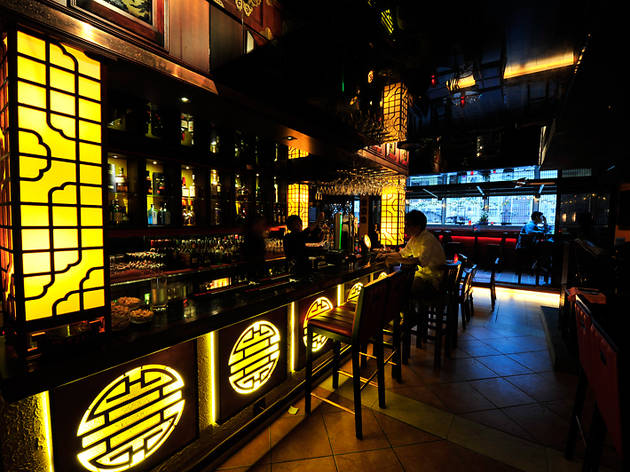 Time Out says
Knutsford Terrace may not host the classiest of bars but the narrow strip still manages to pack in the crowds every evening. The reasoning is simple – the nightlife destination offers a diverse circus of venues, from Japanese restaurants and Spanish tapas joints to Irish pubs and Caribbean bars. Part of Knutsford's success lies in the fact that its outlets don't try to push for authenticity. Rather, they market themselves on an unabashedly kitschy level that makes the terrace seem like a Disneyland for adults.
Mega Hospitality International (MHI) – an F&B group with properties across half of Knutsford Terrace – locked in on this marketing strategy long ago, building its empire on a list of venues that wouldn't look out of place in a Benetton ad. They've opted for a romanticised 1940s Shanghai theme for their most recent bar and lounge The Birdcage, filling the space with scarlet-hued lighting and wooden oriental screens. The space is tucked away on the second floor of one of MHI's multi-venue buildings; guests are guided through a tequila bar (Que Pasa), steakhouse (Knutsford) and Chinese restaurant (Seventh Heaven) before they finally reach the dimly lit destination. A beautiful, lacquered bar decorated with traditional Chinese seals and dangling birdcages (complete with a real-life and somewhat annoying squawking bird) acts as the main focal point, surrounded by red-backed chairs that extend out onto a sizable patio.
Behind the bar, The Birdcage slings a double-sided menu of mixed drinks, wines, spirits (including a surprisingly impressive single malt whisky selection) and a small handful of on-tap suds. Prices here are extremely reasonable, especially compared to its across-the-harbour counterparts. All house cocktails are $75 a pop ($52 during happy hour) and champagne cocktails are only a few dollars more expensive. The most interesting of course are the nine signature drinks, which make ample use of Chinese ingredients. The Amore, for instance, is a deliciously tart mix of lychee liqueur, Blue Curacao, cranberry juice and a splash of bamboo wine. Another Birdcage specialty, The Midnight Shadow combines osmanthus wine with soda, fresh mint and bourbon. The osmanthus is an interesting touch but unfortunately, the delicate floral wine is completely lost amidst the more aggressive spirit. For the most part though, The Birdcage's signature drinks, like the Swingin' Ginger (a simple concoction of vodka, ginger ale and fresh orange and lemon), carry only a mild alcoholic kick so for those who prefer stronger tipples, it's best to stick with the classic, tried-and-true cocktails or spirits from the bar.
There's no reason for The Birdcage to become any less successful than other places on Knutsford. After all, while it may not be the most mind-blowing of bar concepts, it duly serves its purpose as yet another attraction in what is essentially a dizzying theme park of places to get hammered in. Dorothy So
2/F, Kimberley Plaza, 15 Knutsford Tce, Tsim Sha Tsui, 2316 2288. H/H Mon-Thu 4pm-8pm & 11.30pm-late, Fri-Sat 4pm-8pm, all day Sun.
Details
Best selling Time Out Offers