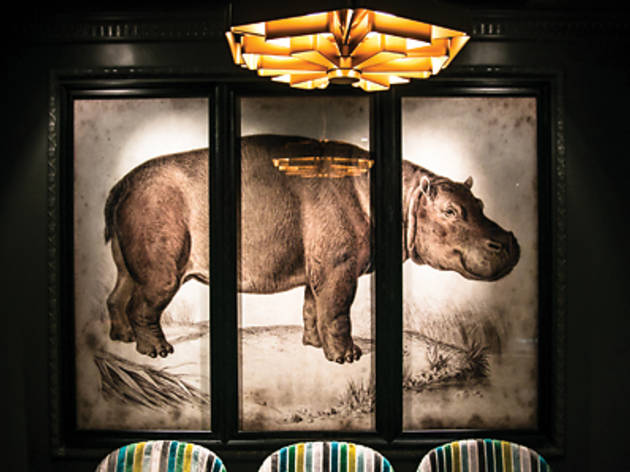 Time Out says
As one of the oldest streets in Hong Kong, Pottinger Street has seen its fair share of foot traffic. Its Cantonese name translates as 'stone slab street' and the uphill cobblestone path serves much of the same function today as it always has: guiding pedestrians through Central's various establishments and (still, occasionally) transporting yoke-bearing civilians selling their wares. It used to be the first port of call for sailors – the original harbour sat right on the stretch of land where Queen's Road Central now runs.
With this history in mind we step into The Envoy, a newly opened watering hole attached to the appropriately named, and also new, The Pottinger hotel. The feel of the place seems to be spot on – turn of the century European design influences mark the walls and furniture, juxtaposed with earthier, rustic motifs. If we were a 19th century merchant seafarer (the fancy kind, swinging a pocket watch) on a port layover in Hong Kong, we'd definitely dive into this joint for a pint or two.
It's not a pint we're offered, however, but a bible of cocktails. Contrary to the archaic aesthetic of The Pottinger and The Envoy, the drinks are decidedly futuristic-retro, offering avant-garde millilitres of meticulously measured, shaken and stirred concoctions designed by award-winning bartender Antonio Lai. Interestingly, the little musings inscribed on the menu tie in (mostly literary) references from the city's bygone era of British colonisation – Joseph Conrad, Charles Dickens, Agatha Christie and James Bond, just to name a few. Some of the drinks have won prizes, and most come in unusual vessels. Take, for example, the popular Honey Me Honey Tea ($130), which scooped the 'Best Tasting Drink' at the global finals of Bols Around the World bartending contest, in Amsterdam this year. The sweet drink comes inside a glass bird, with a straw shooting straight out from its rear. Although innovative – a handwritten, scrolled note accompanies the glass – the drink's honey tones are overpowering, and there's only a slight hint of the famous Hong Kong ice lemon tea that it wishes to emulate. But, like moths to a proverbial spirit flame, we're hooked by the array of quirky options, and go ham on the orders.
True Blood #2 ($150) is an almost healthy mixture of ginseng liqueur, fruit and ginseng juices, and sloshes around in a blood bag atop a bed of ice in a liver dish. Dewdrops of the Heart ($120) arrives with a tall leaf of pandan, the drink's flavour delicately drawn out by pandan vodka and syrup. Not too sweet, this is our favourite of the cocktails, which despite being fabulously presented, don't quite match up in the taste department. We leave the most spectacular until last though, The Dinosaur ($140), which is so sought after by punters that we actually grab the last one at just 10pm on a Monday night. Anyone with a vaguely Asian upbringing will instantly associate the malty cocoa taste of Milo with childhood, and that's the intention of this drink – to take us dinosaurs back down memory lane. The broken egg-shaped bowl it arrives in makes the drink more of a dessert, punctuated by the huge icy ball of Milo sitting in vodka, chocolate liqueur and Milo powder. We stick our spoons in and try to eat as much as can without feeling sick (just like when we were kids). There's a separate full menu for food, offering bites and heartier game-heavy dishes, but we find the drinks alone provide adequate sustenance. Although we have to admit we wouldn't choose this place for a standard tipple, we would return for its charming surprises. Ysabelle Cheung
The Envoy 3/F, The Pottinger Hong Kong, 74 Queen's Rd C, Central, 2169 3311; thepottinger.com.
Details
Address:
3/F, The Pottinger
74 Queen's Road Central
Central
Hong Kong


Contact:
Do you own this business?
Users say