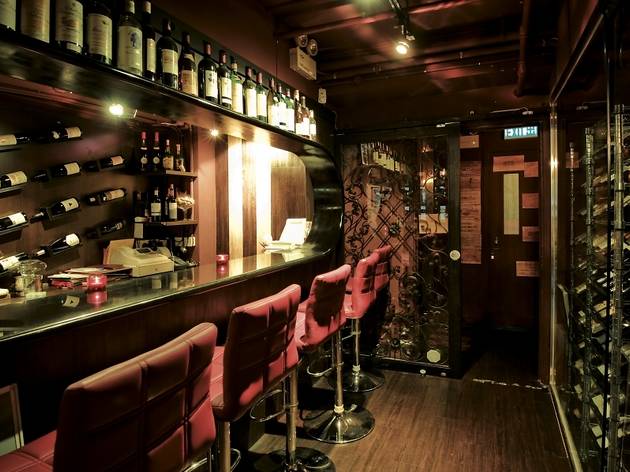 Time Out says
We'd like to think we have a nose for wine. And now Hong Kong has a nose for the grape too. Literally. The city has a new wine bar called The Nose – and we're impressed. The tasting room is a new addition to Hong Kong's The Nose Wine School and, by all appearances, seems to be a fantastic venture with plenty of charm.
When we arrive at this hidden gem, we're warmly greeted by Stefano Yim, owner and sommelier of The Nose Wine School and The Nose Wine Bar Inc in Pasadena, California. He puts us at ease and we check out the venue. The bar has an open bistro feel to it with light jazzy sounds filling the room and a friendly, warm and comfortable atmosphere.
Within a few minutes of taking our seats, we're already impressed with the vibe and ready to get down to business. To our surprise, though, we don't get given a wine list. We're puzzled. But what comes next impresses us much more. Yim informs us there are only two open bottles to choose from and, with a vigour not often seen in Hong Kong bars, he starts going into the history of the two tipples. We love Yim's passion so we opt for these bottles, starting with Luigi Giusti – Castella – Italy, a tiny appellation of Morro d'Alba that uses 100 percent Verdicchio grapes. It boasts tropical fruit aromas, a crispy and refreshing texture and flavours of pineapple and melon mingling through the finish to make this wine a perfect summer sipper.
Essentially, The Nose differs from other tasting bars simply because of Yim's passion and interest in boutique bottles and wineries. Of course, the space carries the usual suspects but it's the smaller batch wines that make this venue such a great place for the truly adventurous. Try the open bottles or let the staff take you into the wine cellar so you can choose your own poison. Some of the favourites here are the Domaine du Moulie 1990, Domaine Sergent 2009, Fucci Titolo 2008 and Barbaresco Bruno Giacosa 1999.
From the cellar, we try the Domaine Roche Buissiere Gaia 2007 Rhone, 90 percent Syrah and 10 percent Grenache. This particular wine is a unique taste for us as it is biodynamically grown. What this means is that it's been holistically developed and maintains interrelationships between the soil, plants and animals in a self-sustaining system. The wine is fruity and has a silky texture. It's a definite must-try.
We also ask the experts to select an assortment of cheeses to go along with our wines – and these don't disappoint. We try the cheddar, camembert, tomme d'abondance, saint nectaire and morbier. Our one complaint would be that, although they are the perfect match to the wines, the presentation leaves something to be desired, with nothing to dress the plate except what appears to be bread from the grocery store cut into squares.
The Nose Wine School is a must for everyone starting out on wine tastings or those who want to break away from the norm. Come adventurous and you won't be disappointed. James Sibley
3/F, 51 Sharp St East, Causeway Bay, 2892 0116.
Details
Best selling Time Out Offers