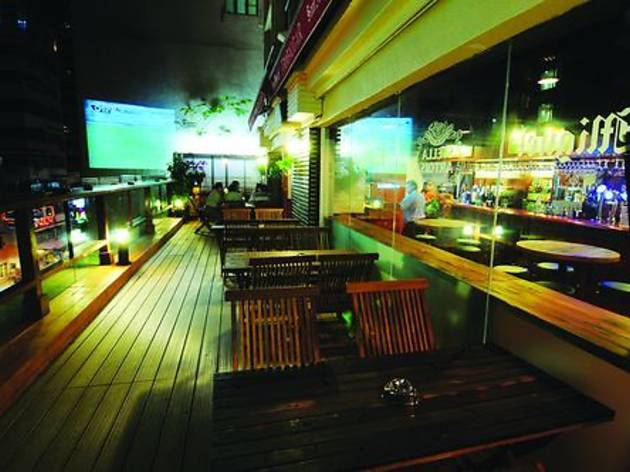 Time Out says
The past decade has been all about wine, wine, wine. The abolition of taxes last year, as well as the momentum behind wine has seen it creep up on the brown spirits as a leader in our local industry. But while vino has been dominating, beer has been left behind. With the boutique and luxury beer market worldwide burgeoning, Hong Kong has largely been left drinking San Miguel, Heineken, and Carlsberg by the bucket, with the occasional Sol for those feeling exotic. What's been lacking is a real beer culture and a widely accessible range of decent brews. So, when a new bar like Trafalgar opens with a palpable dedication to the lager, ale and stout cause, it's a little bit exciting.
The guys behind Trafalgar take their beer seriously, demonstrated by the 11 varieties available on tap. Indeed, few – if any – beer dens in Hong Kong can boast a greater selection. The creamy, hoppy Spitfire Smooth is arguably the highlight of the draught beers ($54/pint) – a beer that Trafalgar management claims isn't available on draft anywhere else in Wan Chai.
Of the near 50 beers offered at Trafalgar, the wonderfully dark and potent Thomas Hardy Vintage Ale is one of the standouts, both because of its rareness and its $118 price tag. The Trashy Blond, Punk IPA, and RIP Tide ($50), a trio of beers from Scottish microbrewer Brewdog, are also a welcome surprise, providing a more artisan, boutique twist to the traditional ale-dominated list.
Despite its clear enthusiasm for the amber liquid, there's more to this new bar than beer, and it occurs outside. During the warmer months, outdoor drinking really is mandatory, and Trafalgar has now joined the al fresco fray with its spacious balcony. Elevated above Lockhart Road on the fifth floor, and looking straight down on the nightly shenanigans at Carnegie's, the long outdoor area of unvarnished wood slats wraps around the interior of the bar, accommodating eight sizeable tables, and a bit of space for revelers to stand balcony-side. Thankfully, an expansive awning provides protection from the oppressive summer sun.
As opposed to the terrace, the interior features little to speak of. Regular green, buttoned couches and tables are spattered about in unremarkable fashion. Although attempts have been made to infuse an old pub feel to the watering hole, the smell of freshly cut sawdust uncovers that masquerade quickly.
Of course, no English Pub would be complete without sport. Though not officially a sports bar, Trafalgar emerges as a decent place to watch the big game. Taking advantage of its lofty position, Trafalgar has two projectors launching images onto the jutting out walls of buildings on either side, allowing sports lovers to watch the game and peer over Wan Chai simultaneously. Cool.
Even though its music leaves plenty to be desired, with its superb beer selection and relaxed terrace, Trafalgar has struck upon a simple and successful formula just in time for summer. All that's left to do now is to start working your way through the menu.
H/H 11am-9pm.
Details
Address:
5/F, 54-62 Lockhart Rd, The Broadway
Wan Chai
Hong Kong


Contact:
Opening hours:
Mon-Fri 11.30am-3pm, 6.30-11pm; Sat-Sun 12-3pm, 6.30-11pm
Best selling Time Out Offers