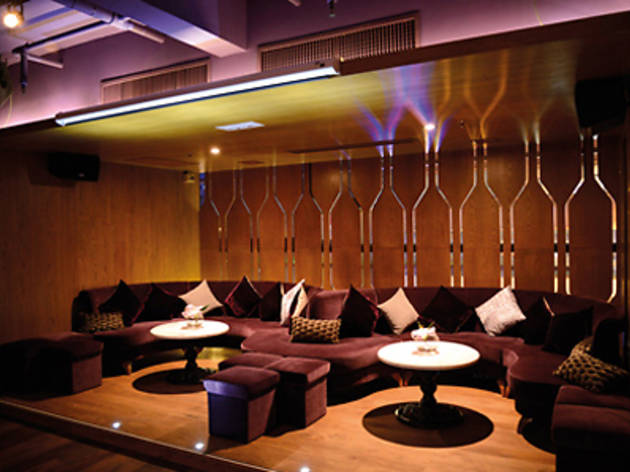 Time Out says
If you want a really plush bar experience then you go to Central, climb one of the towers in the district and sniff out an upmarket champagne and cocktail bar, right? And if you want a true fun pub night, you head over to Kowloon and find a backstreet which is home to some jam-packed watering holes, fully equipped with dice games and darts, right? But if you want both of those experiences all rolled into one then you may want to tap up Velvet.
The new bar which has just sprung up on Luard Road in Wan Chai pulls punters in for a luxurious-yet-action-packed experience. After all, its slogan is 'eat, drink, play' – and there's no better way to play in Hong Kong than sitting in a bar with a group of friends locked in battle over traditional pub games. Okay, so dice games are not so popular at Velvet – but the centrepiece of entertainment is darts. There are four electronic machines here and plenty of space around them for a full-on, booze-fuelled competition. Bullseye, we say!
It's a dizzying place, is Velvet. Sitting above Joe Bananas and J Forest, you approach via exterior lift and enter an immediately striking space, with lush, brown and red sofas and – typically – velvet accessories. The bar, up ahead, is plush too – well-stocked and well attended. But, to your right, stand the dartboards in a much gaudier space than the sink-back-in-your-chair area on the left. Yet, as the crowds come in and the games begin, the juxtaposition between loud and luxurious seems to work.
And, in the middle of all this, stands the DJ box which pumps out a heady mix of dance tracks to get the crowds going. Which is a little weird because if you're lounging out on the sofas you may not want to 'get going'. But – for the most part – it works and creates a buzzing atmosphere for a place intent on playing and partying.
Velvet, as the slogan goes, is part restaurant, part bar, part playroom. The food looks good (there's a set lunch menu we'll have to tap up) but we visit on a packed Saturday night and dive straight into the drinks. There are plenty of tipples on the menu – however, with a bar like this, it just has to be judged on its cocktails. And they're top-notch. Go for the signature Lychee Martini ($85) – vodka, lychees, lychee juice and lychee liqueur – for a super-sweet-can't-tell-how-much-alcohol-you're-drinking experience. And another fave is the Velvet Classic ($75), a super-minty creation which uses vodka (although any spirit would do…), pineapple juice, orange juice, ginger ale and heaps of mint. The Caipirinha ($75) here is also true to its South American roots with plenty of sharp bite – and the White Russian ($75) is on form. Tip-toe past the Mojito ($75) though – a little too watery when we taste it and not up to par with the other cocktails we try.
So, if you think marrying a fun darts bar with upmarket luxury doesn't really work, you're wrong. If you think it's a bold move for Wan Chai and time will tell whether it works, you're not so wrong. But, judging by the crowds already, Velvet is a hit. Okay, it's not as smooth as it looks at first glance but, once you're into it, it is an effective two-for-one bargain. Matt Fleming
3/F, The Phoenix, 23 Luard Rd, Wan Chai, 2527 0988, clubvelvet.com.hk.
Details
Best selling Time Out Offers