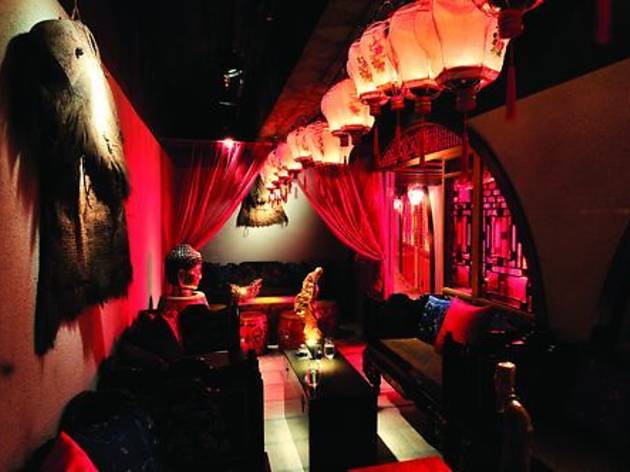 Time Out says
Below the nightly gatherings on the Wyndham Street sidewalk lies one of the city's coolest spaces. But despite its sexy interior and prime location, Yun Fu, as both a restaurant and a bar, has never caught on as a 'place to be'. With a view to remedying this, owners, Aqua, have re-invigorated the subterranean establishment, abandoning its previous food-focus and transforming two private dining rooms into a new lounge, Yun Bar.
Stone Buddha statues form a guard of honour as you enter – a dim, beautiful limestone entrance that recalls a descent into mysterious catacombs – leading to a sleek circular bar that features Kung Fu movies projected onto its rounded walls. The spherical bar then channels into a hall, where Yun Bar's two new rooms branch off: the larger, lantern-filled area to the left, and the smaller, cosier chamber on the right.
In line with the Yun Fu aesthetic, the new lounge rooms fuse the feeling of traditional Chinese courtyards with a more urban edge. Heavy on raw elements – stone floors and latticed, wooden, hemispheric entrances – Yun Bar's attention to detail elevates it beyond a kitschy theme bar. Lilting lanterns emanate a soft, rose glow; weighty Buddhas sit at peace upon each of the varnished trunk tables; scarlet sheer organza drapes divide the room elegantly, maintaining an open, social feel while subtly providing private partitions; and jazzy, mellow house beats are set just right to promote a chat-friendly ambience. Unfortunately, the seating is more ornamental than practical: the mock Qing dynasty benches and Chinese-drum stools are a literal pain in the arse.
Yun Bar sports a fairly comprehensive drinks list, including a dozen or so specialty cocktails under the title Sinomania. Pui Mu ($68), an amber concoction of homemade plum wine, rum, sugar syrup and cranberry juice, was overpoweringly sweet, bearing a disconcerting semblance to both cough syrup and cordial. The ginseng-wine-based Ga Lu ($68), with a lightly-alcoholic orange, lemon and peach mash of fruity flavours, was considerably more palatable. The majority of cocktails fall within the $68-$98 band, wine by the glass starts at $68, and beers at $55.
Yun Bar's greatest challenge will be creating the social atmosphere that makes or breaks a bar. Yun Fu had difficulty in drawing patrons from the 'see-and-be-seen' bars thriving above. For all its immaculate design, Yun Bar is in dire need of a steady stream of people to inject that essential element to any great bar: life.
Mark Tjhung
B/F, 43-55 Wyndham St, Central, 2116 8855; www.aqua.com.hk.
Details
Best selling Time Out Offers