A scathing post about lack of resources on Hong Kong's flag carrier airline, posted by an employee on 'CX Secrets', is attracting attention in the run up to a potential Cathay Pacific strike
You've most likely heard about the storm brewing over at Cathay Pacific — cabin crew are dismayed at a cut in allowances and benefits and may well strike in August — a move that could affect 6,600 flights and would be the airline's first industrial action in 22 years.
CX Secrets is a page purportedly hosting anonymous posts from Cathay staff. This recent post [http://on.fb.me/1LHVr3X] was picked up by The Stand Newsand corroborated by them with current staff.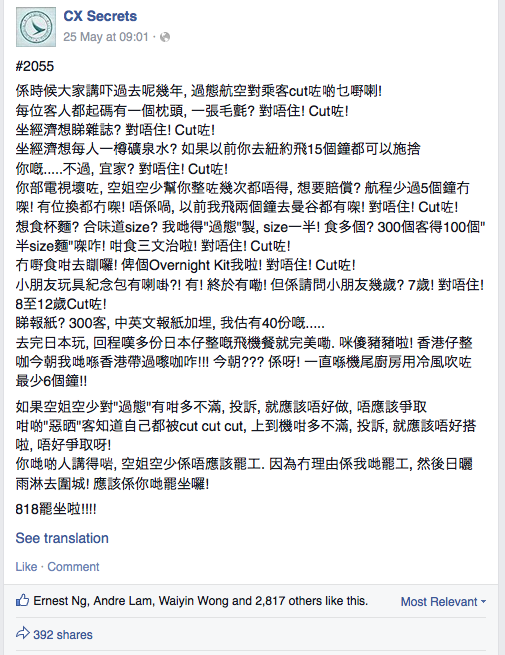 Here is the translation:
"This is a good time to review what Cathay has cut down on their services in the last few years.

Want everyone to have at least one pillow? Sorry, cut
In economy seats and want to read magazines? Sorry, cut

In economy and want a bottle of water? Well, in the past, if you fly 15 hours to New York, maybe you can get lucky. But now? Sorry, cut!
The TV at your seat not working no matter how many time the flight attendants tried to fix it? You want compensation? Nope, if your flight is less than five hours, you cant even change seats. Well, in the past you could get it, even flying to Bangkok, but now? Sorry — cut.
Want cup noodles? Want a normal size cup noodles? We only have half size mini cup noodles. And only one hundred in stock on a 300 person flight. Want a sandwich instead? Sorry, cut.

Ok, no food then, I will just sleep. Can I have an overnight kit? Sorry. Cut.
Newspapers? 300 passengers, around 40 newspapers in total (Chinese and English all together).
Had fun in Japan and want to taste the Japanese quality in-flight meal? Don't be kidding, it was brought from Hong Kong by us this morning. This morning? Yes, it has been in the kitchen for at least six hours.
If you say the flight attendants are not happy with Cathay, then we should just quit, not fight back.
Then the unhappy passengers should do the same. Not taking Cathay again.
You are right, we should not go on strike, it should be you to stop taking Cathay.
Please boycott Cathay on 18th August"
Many comments underneath the post are in support of the workers and complain about the standards of customer service on the airline along with its frazzled staff. Have you flown Cathay recently? Do you agree with the post?