The Fragrant Harbour is hub of activity, pretty pricey and flips from scorching heat to torrential rain. We've rounded up the best way to tackle these issues...
1 Pick the right carriage
Timing is everything in Hong Kong. Gaining those few extra seconds by picking the train door closest to the escalator or with the most direct route to cross MTR lines can get you out in front and, most importantly, make you feel like a winner. Our advice is head for the front or rear third of the train – on the Island line, count 11 doors from the back heading east, or 11 from the front heading west. This is the sweet spot.
2 Beep to travel cheap
Ever wondered why there are queues at lunchtime in Central to scan your Octopus card? These are MTR fare saver machines, and there are 31 of them across the city. Simply wave your Octopus over the reader and enjoy up to $2 discount on your next MTR ride at designated stations (adult Octopus only). For detailed locations of these hidden gems, visit bit.ly/mtrsaver.
3 Walk cool
Even a short walk in Hong Kong's humidity can have you soaked to the bone. Aside from fitting a personal AC unit on your back, you can keep your cool with some careful route planning. Pick the side of the street loaded with open fronted stores, such as Bonjour, Sasa and pretty much any jewellery store. Keep your path close to their entrances and enjoy snatches of ice cold air at each one you pass. Magic!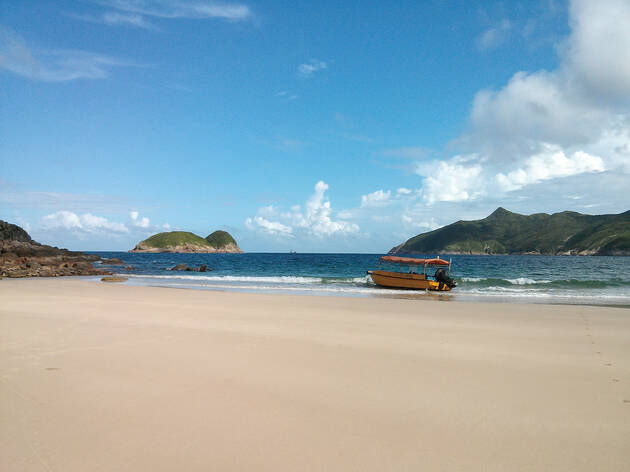 5Discover empty beaches
For beach lovers, a huge crowd and screaming kids can be difficult to avoid on the weekends, but there are places where you can beat the hoards. Unknown to most tourists, the quiet Shek-O back beach (aka Rocky Bay beach) is a few minutes' walk from the main sand and has its own beach bar. The things it lacks are a lifeguard and shark nets, so it's not officially a swimming beach, but there's plenty of room for your deckchair or a game of beach football.
SEE ALSO: Hong Kong beaches to beat the crowds
5 Free Wi-Fi
For those with limited phone data, finding free internet in the city can be a constant struggle. As well as the big shopping malls, banks and department stores offer free Wi-Fi in each branch. Once you've logged in the first time, you'll automatically connect when you step into another HSBC branch. It's also worth downloading the 'Wi-Fi HK' app, which highlights all free Wi-Fi connections near you.
6 Money off
Film fans should save their screenings until Tuesdays, as most cinemas offer discounts that day. On Wednesdays the Museum of Art, the Science Museum, Space Museum and all other public museums are free (every $10 counts), while Wednesday night also happens to be ladies' night in many Wan Chai bars. And if you're planning a trip to Ocean Park, why not do it on your birthday? Show your HKID and they'll allow you in for free, plus half-price for one friend.

7 Send the right signals
Flagging down a taxi is relatively easy in HK, but the right wave can improve your chances. If you need to get across the harbour, make an 'under the water' gesture with you hand to signal the driver. Many of those with their red 'out of service' card up are simply looking to go back across, so flag them down with that special wave! We've also seen some people in busy areas using hand finger-counting (one finger is $100, two is $200) to show how much you're willing to pay. Scandalous, but worth knowing!
8 Beat the line
If you're looking for a cab in Central, instead of standing around waiting at the usual busy spots, head to the Fringe Club, the front of the Landmark Mandarin Oriental, or World Wide House on Connaught Road near Central's Exit A. You'll be on the move in no time.
9 Enjoy public spaces
People who bemoan the lack of pleasant public spaces in the city simply haven't done their research. Hong Kong is full of privately owned public areas where you are entitled to hang out with friends and even bring snacks. Such spots include the terrace on the IFC rooftop, the Cheung Kong park and the rooftop patio on Pier 7 (for a full list see landsd.gov.hk).
10 7th heaven
7-Eleven isn't just for buying cup noodles and cheap booze in LKF's 'club 7-Eleven'. Oh no. This is the place you need for pretty much anything you need doing in HK. Top up your Octopus? Done. Pay bills, charge your phone, get stamps, cash back or even do a spot of photocopying? (Photocopying is soo2003 but still, we like knowing it's there). Rather than ask why there are so many of these stores, we're asking why aren't there more?!