Aarif Rahman on his career, physique and thoughts on love
He acts, he sings and he's just oh-so-pretty – young Hong Kong heartthrob and music star Aarif Rahman chats with Arthur Tam about his career, physique and thoughts on love. Photography by Calvin Sit
Dashing, handsome and talented are just a few words to describe young heartthrob Aarif Rahman. Ever since the 26-year-old (he turns 27 in late February) hit the entertainment scene back in 2009, he's been turning a few heads with his music sensibilities, acting chops and, it should be said, some properly ripped abs. He can swoon you with a cover of Billy Joel's Just the Way You Are, but equally impress with some flying fists, as he did in 2010's Bruce Lee, My Brother.
Rahman – who is of mixed Arab, Malay and Chinese descent – started out with a penchant for music while being a student at KGV (King George V School). He started playing the drums, found his way to the guitar and piano, and then began dabbling with songwriting, finding inspiration in a diverse array of music ranging from the likes of Led Zeppelin, Luna Sea and John Mayer. Then one day a family friend invited the impressionable teen to a private jam session where he met one of Cantopop's Four Heavenly Kings, Leon Lai, who encouraged the then 18-year-old to pursue his musical interest.
After graduating with a physics degree from the Imperial College London – he's not just a pretty face – Rahman signed with East Asia Record Production company and debuted with his album Starting from Today, winning Best Newcomer at the Commercial Radio Awards in 2009. In the following year, he made his film debut with melodrama Echoes of a Rainbow, nabbing Best New Performer and Best Original Song at the Hong Kong Film Awards, and has since continued on his pathway to stardom with roles alongside Hong Kong film's top crop like Tony Leung Ka-fai and Yum Tat-wa, as well as landing his first Mainland feature film, One Night Surprise, with the haunting beauty Fan Bingbing. But while his movie career is certainly taking off, Rahman is still nurturing his musical side, preparing to release his yet-to-be-named new album, a Putonghua release which he says is an exploration of love in all its different forms. Yet despite his striking, boyish good looks, his chiselled chest (which has graced the pages of Men's Health) and the inevitable hordes of ladies who are chasing the strapping star, Rahman exudes a humble, affable, humorous air as he sits down with Time Out to talk acting, music and – yes, it's almost Valentine's Day – love.
Hey Aarif! It's great to chat to you. So, it seems like you've been doing a lot of acting lately, so we're excited to hear your new album. It seems these days that your music career has taken a backseat...
That's true. That's true for the past two years, but I'm trying to change that now. I really don't want one thing to have to
sacrifice the other, you know? And for the past two years it was more of a personal development thing. I'm trying to give myself some time to breathe and gain some new perspective before the next album.
Do you have a preference between music and film?
I used to say music was more like the love of my life, you know? Because I could give everything and not ask for anything in return. Whereas film is like my best friend. You know, someone I love hanging out with 24/7 because it's just that much fun. There's no better than the other – it's just a different relationship.
Tell us about this new album.
This album is really fun and interesting. All the songs are capturing different emotional dynamics that you come across in relationships, so you'll have the fairytale love story and then you have the bittersweet love story. The biggest difference between this album and the previous ones is that this is more about how I want people to feel rather than how I want the album to sound.
We hear it's only going to be released in the Mainland?
It's going to be released online though, so we can all download it 'legally'. [Laughs]
What kind of musician would you say you are?
I am a bipolar schizophrenic artist. I surprise myself sometimes. There's just so many different genres. You'll have your more gangster RnB stuff, and then there's the ballads.
There's gangster RnB stuff?
Yeah! I rap. Can you imagine?
Are you going to come out with anything Cantonese as well?
I would love to, but my dream is to do an English album though.

What's stopping you?
Having to convince people. [Laughs] Having to convince people that it's worth doing. We'll see how it'll go.
What was your experience working on the film One Night Surprise and working with Fan Bingbing?
It was mega fun. She really surprised the hell out of me. I'm quite crazy on set especially when it comes to comedy. I yell, scream and run around doing crazy shit. But then she's like, she'll completely take that energy and carry it on and I'm like, wow, really? You're supposed to be a diva but you're yelling and running around just like I am.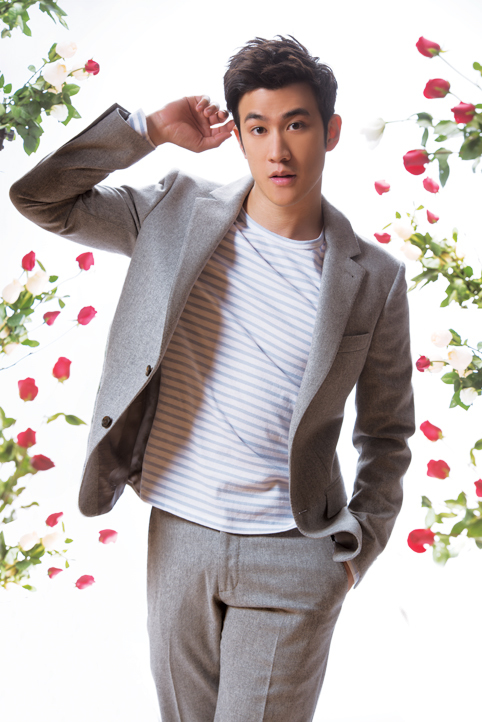 Of the big stars that you've worked with now, who has left the deepest impression?
Tony Leung Ka-fai is definitely on the top of my list. Yum Tat-wa was amazing inEchoes of the Rainbow. I always hope that one day I can learn just even 10 percent of how to do it like them.
Do you think you've matured in your five years in the industry?
I think being in the industry is like being in a metabolic accelerator. Acting allows you to live someone else's life for a time period, which gives new perspective. In Echoes of the Rainbow I was transported back to the 60s and I played a 15-year-old student. And then in Bruce Lee – come on man – I had the chance to play a legend.
What have been the downsides to this accelerator?
You don't get to sleep much. Obviously there's being away from home for long periods, so I haven't been able to see my family and friends a lot.
There's also the associated stardom elements – and you've become a bit of a sex symbol, particularly with that shoot in Men's Health. How does that status sit with you?
Oh lord above. I'm not sure how to answer that question. Oh dear. [Pauses] I feel I have a responsibility to really have a positive effect on people. Whether it's fashion magazines, or if it's for Men's Health you know? I was actually dead skinny as a child. I was really skinny and used to always get sick. And so when I went to uni, I tried using sport to improve my health and it improved vastly. So in the Chen Man shoot, I'm trying to show that, with effort, you can change your life in a better way.
Do you find it hard to date?
I think the biggest concern is time. When you're filming, you're away from home and it's day-to-day for like half a year. It also depends on whether or not you find the right one. I think that if you do find the right one then... if there's a will there's a way.
Are you concerned about the paparazzi?
Yeah, but there are always places that the lenses can't point.
So are you looking? Or are you already attached?
Oh dude that is such a sensitive question. [Laughs] I'll just answer with a smile. [Laughs]
How about this – what qualities are you looking for in a partner?
Kindness is a big one. Whether someone is kind and whether someone is open hearted is a vital element for me. Love isn't a checklist like grocery shopping. It's just a feeling, a very pure feeling. And with someone you click with, you just click! You can't really analyse it.
What are some of the deal breakers for you, then?
Smoking. But I think the biggest turn-off is probably someone who is ill-hearted. You can't deal with that with a person who's full of hidden agendas and calculations.
So do you have anything planned for Valentine's Day?
This year, I'll be boring and probably working. But I'll always remember the Valentine's Day that we used to have back at KGV. We had this Secret Valentine thing where you send flowers to people anonymously, so we used to prank people by pretending to be them and send flowers to other people.
You guys are so cruel! Anyway, what can we be expecting from you in the future? Have you set any big goals for yourself?
Workwise, I really want to get better at what I do. I want to see my own maturity and growth in what I do. I want to put out an album that I feel is really top-notch and I really want to do films and performances that I can be proud of. That's top priority.

And finally, once and for all… how do you pronounce your English name – is it 'Aa-rif' or 'Ar-reef'?
It's 'Ar-reef'!
Aarif Rahman's new album is released in mid-March. See facebook.com/aarifamusichk