Donnie Yen is Hong Kong's reigning cinematic martial arts maestro. But, ahead of the release of Ip Man 3 and his big break into Hollywood – in the Star Wars franchise, no less – he's poised to lower his fists and leave kung fu behind. He tells Lisa Cam why. Art direction by Phoebe Cheng. Photography by Calvin Sit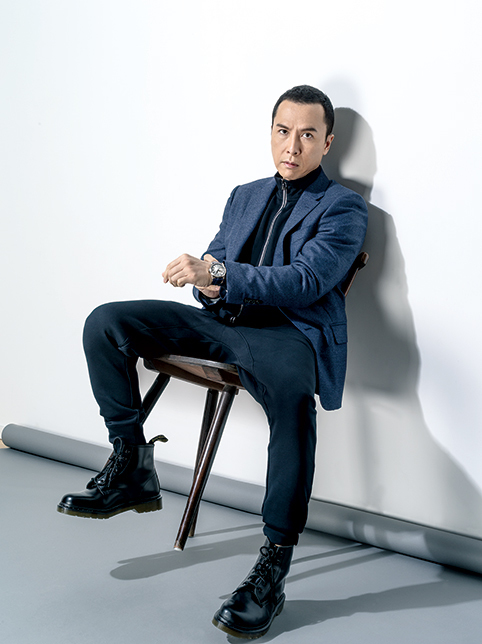 Hong Kong cinema might be famous for John Woo's bullet ballet, or the lush visuals and sentiment of Wong Kar-wai, but it's the city's kung fu movies that have produced our most enduring icons. Bruce Lee remains Hong Kong's most famous son, but through death-defying stunts Jackie Chan was able to leap out of Lee's shadow in the 80s and become a star all of his own. Come the 90s, Jet Li was the new poster boy of martial arts cinema, a fact that culminated with a move to Hollywood around the handover, beginning with Lethal Weapon 4 (1998).
The new century, however, belongs to Donnie Yen. No overnight success, Yen started out as a stuntman in Shaolin Drunkard, legendary action choreographer Yuen Woo-ping's 1983 cult classic. It was the start of the 20-year-old's career and by the early 90s Yen was acknowledged as a reliable action star. Following a string of impressive performances in well regarded films – the likes of Tiger Cage 2 (1990), Dragon Inn (1992), Once Upon A Time in China II (1992), Iron Monkey (1993) and Yen appeared on the cusp of stardom. His march to the top gained huge impetus with a role in Zhang Yimou's Oscar-nominated Hero (2002), where he featured alongside a who's-who of Hong Kong cinema that included Tony Leung Chiu-wai, Maggie Cheung Man-yuk, Jet Li and Zhang Ziyi.
Aside from his acting, in 1997 he established his own production company, Bullet Films, which choreographed the action for Western blockbusters like Blade II (2002) and Stormbreaker (2006). Meanwhile, his work in Hong Kong continued to win him acclaim, most notably the Hong Kong Film Awards prize for Best Action Choreography for The Twins Effect (2003).
Yet a final breakthrough still eluded the Guangzhou-born, Boston-raised actor. It wasn't until 2007's Flash Point that Yen finally achieved it. With its explosive and innovative amalgam of kung fu and MMA, the film bagged both the Hong Kong Film Awards and Golden Horseaward for Best Action Choreography.

Yen followed Flash Point with an even bigger hit, Ip Man (2008), named Best Film at the 28th Hong Kong Film Awards, in which he starred as the titular character. Finally confirmed as Hong Kong's action king and an international star, Yen's career has continued to go from strength to strength. Ip Man has generated two sequels (and a slew of imitators), and Yen is starring in the soon to be released Crouching Tiger, Hidden Dragon sequel and Star Wars spin-off Rogue One.
Having achieved worldwide recognition, it came as a surprise in March when Yen announced that Ip Man 3, released this month, could be his last kung fu movie. Still, with no shortage of career options, the actor sits down with Time Out to talk about his role as a father, the lack of a younger generation of prominent action stars, the underrepresentation of Asian males in Hollywood and how he came to break Mike Tyson's finger…
You said Ip Man 3 could be your last kung fu movie, is it true?
It's definitely intended to be my last one, but you know, we can't predict what's going on in the future, right?
So, never say never?
I have every intention in my mind that it's going to be my last martial arts movie. It's really hard. As an actor, I want to move on. I understand that the world changes, so I can't guarantee 'never', but I definitely consider this is my last heroic martial arts kung fu movie.
Is there a reason behind this decision of yours?
As an actor, Ip Man is a role that really touches the audience. It's hard to find a character you can play perfectly and at the same time have the audience love what you're doing. It's very difficult to find something of the same stature.
Ip Man put you on the international stage. Do you feel a personal connection to him?
Well, Ip Man isn't completely based on historical truth, though we tried as much as possible to keep to the facts. And as an actor, when you're cast, the director usually has you in mind. Meaning that he has your characteristics, your life, background, or something about you in mind with the character. A lot of people know I'm a family man, therefore our Ip Man, the character, is written that way. That's based a lot on my personal life.
You've been involved with martial arts for a long time. How have things changed?
When I was young, Bruce Lee was making kung fu a household thing normal to people who didn't know anything about kung fu. When I was in Boston, 30 years ago, martial arts, especially Asian martial arts, were considered in an unknown territory. They were a mystery. Today, it's a common thing which everybody
does. That's a big difference.
Your mum was a tai chi instructor in Boston. Can you tell us a bit about her?
I'm very happy that my mother is a wushu teacher and that I got to learn from her. She was a very tough teacher. However, I'm a father and now I've come to appreciate everything she has done for me. She was pretty strict, especially as a martial arts teacher, and I really thank her. When you're a child, you always want to rebel against your parents, but without her teaching, I probably wouldn't have taken this path as a martial artist.
Do you teach your children martial arts?
Absolutely. Like all things, I believe when we teach our kids, we have to learn how to inspire them. I'm still learning as a father, but at the moment I don't teach my kids that much.
What do they learn?
My son is learning taekwondo, as well as some BJJ (Brazilian jiu-jitsu)and MMA (mixed martial arts). I put him into classes because I'm so busy filming, and secondly, for young kids, it's good to have different teachers.
Are you as strict as your mother?
Not so much. I want to be the kind of parent who inspires rather than forces them. My mum was a strict teacher, but since we are living in different times, I can't just borrow the same teachings from my mum and apply it to my kids. The world has changed. Kids know a lot more. They can use a smartphone and do so many things with it. When I was a kid, there was no TV for me. To me, the most important thing for my kids is taking photos of them, just like other parents do. Happiness has to come first.
You grew up among strong female characters, like your mum. What do you think of female representations in movies? The women always need to get saved at some point…
In terms of strength and physical size that's just realistic, but that doesn't mean that males are necessarily better than females. Martial arts are a physical form of 'art'. So the achievements of great female artists should be treated the same as men's.
You come from a family of musicians, too. Do you consider music an opposing or similar discipline?
Both are arts. They both require rhythm. But all arts, not just music and martial arts, share common similarities. They're about expressing and voicing yourself. The purpose and expression of playing an instrument is very different from that of practicing a martial art, but when you break it down, they are ultimately all about human expression.
Following your announcement that Ip Man 3 is likely to be your last kung fu film, there's been a lot of talk about who'll take over your mantle. There seem to be a decreasing number of local martial arts stars. Why do you think that's so?
Today, people have a lot of choices for what to focus on and spend their time doing. As I said earlier, when I was a kid, I didn't even have a TV! But now kids have an iPad and iPhone to absorb their time. Martial arts take a lot of time to learn. And martial arts films only really began around the Bruce Lee era in the last 50 years. It's still kind of new. It doesn't have a 100 year history [to fall back on].
Mike Tyson had a part in Ip Man 3 and we're told that you broke his finger…
Accident.
So it's true! Tell us what happened. What did Tyson say when his finger was broken?
He said he was pretty sad about it. We went to the clinic and did an X-ray on his finger. When we were filming, there was a lot of blocking [of blows] and moving. My elbow just banged one of his fingers. It was a very small accident. I think the other way round he would also fracture my finger and probably knock me out. These things happen in action movies, especially ones with so much expectation like Ip Man 3. Fans expect high standards and groundbreaking action scenes, so we aim to make the best fight scenes possible for the audience. So, an accident happened. Luckily, it wasn't that serious.
You're famous for incorporating MMA elements into your action choreography. Where did the inspiration for that come from?
It's about mixing and adopting any style that fits you, not closing yourself off to one style. About 10 years ago – may be more than 10 – I watched all types of MMA fight. I thought they were interesting and nobody knew much about MMA, so I added this into my films. My first film as action director, The Twins Effect, and Flash Point had MMA fight choreography. I believe these films really impacted the MMA circuit – many fighters told me they like Flash Point. As a result, I've been an ambassador for UFC [Ultimate Fighting Championship] and Macau Fight. As an MMA artist, I enjoy all kinds of styles, and as a filmmaker, I need to watch what's out there.
We're very excited to hear you're in one of the new Star Wars movies! What can you tell us about that?
Nothing. [Chuckles]
How did you feel when you got the call about this Star Wars role?
When anybody calls on you and they have you in mind, that's flattering, especially as an actor. It means you're required, you're the one they want. Obviously, I'm really flattered. I just can't say too much...
It's quite a breakthrough, but do you think Asians are underrepresented in Hollywood, especially Asian men?
Yes, obviously. If you're a minority in this industry, the job opportunities are given to you ratio-wise. That doesn't mean Hollywood is giving Asian men equal opportunities, especially considering China's world status today and the development of other Asian countries too. We're influencing the rest of the world. But when you have an industry basically run by white people for decades, it's not going to change overnight. I do see a part that's changing. We see more Asian females, mostly females, because they're less threatening and intimidating.
How long do you think it will take for an Asian actor to get a role that isn't considered stereotypical?
It's hard. I'd like to do something, not just for myself. As a patriotic Chinese man, I'd like to make a difference. In all my films, I like to be a role model for young children and to make films that carry positive images. I've turned down a lot of roles because they're too stereotypical. I'd like to break ground so that a Chinese actor can play a non-stereotypical role. That would be an honour and a great mission that I'd like to achieve. I can only say I'll try my best.
Ip Man 3is in cinemas Thu Dec 24.