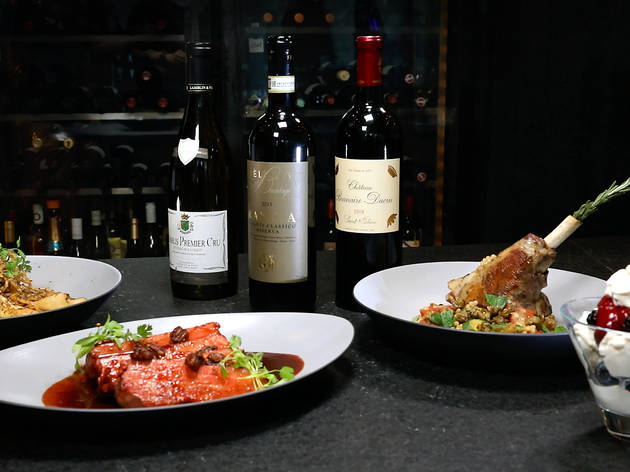 Wine and dine with Alto and Cathay Pacific
An upscale home cooking and dining experience
With a little help from Alto and Cathay Pacific, you can cook up a magical evening in the comfort of home
with a
takeaway menu
created by Head Chef Gareth Packham. The two course meal - your choice of pork belly, lamb shank or spaghetti, each accompanied by dessert – is complete with
an exclusive
Cathay Pacific First Class wine pairing
for a truly premium home dining experience.
Asia Miles members can earn 1 Mile on every $2 when they order Alto's home-cooking kit, featuring handpicked bottles of wine served in the First Class cabin. What's more, Cathay Pacific's fine wine collection is now available for purchase on the Asia Miles Lifestyle Awards Platform, allowing members to have an inflight wine tasting experience on the ground.
The home cooking kit arrives semi-cooked and is available from now until Nov 15. Watch Chef Gareth Packham demonstrate the Pork Belly and Eton Mess here. Follow the recipes below to complete the dishes, pour yourself a nice glass of vino, and get ready for a first class evening.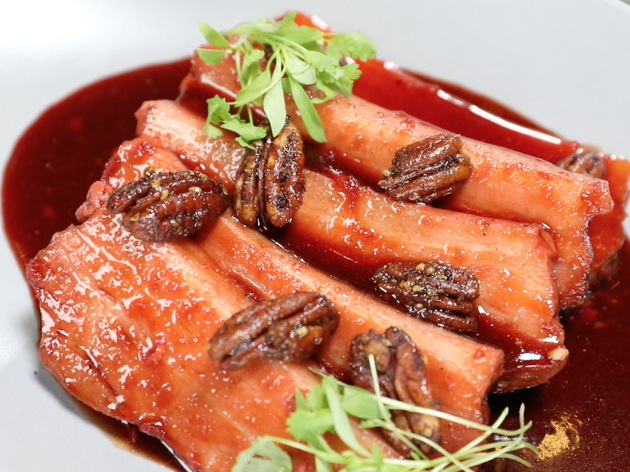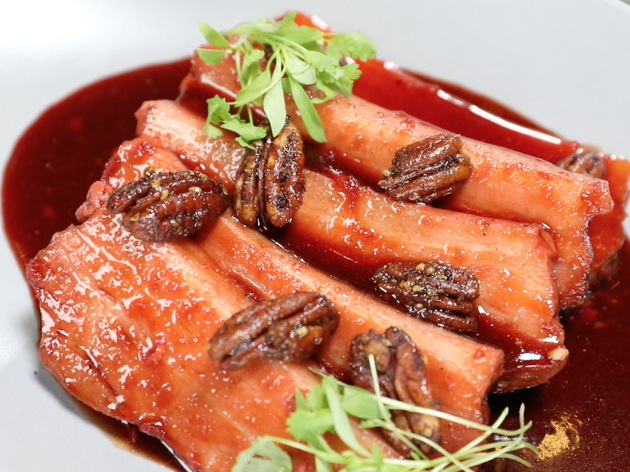 Photograph: Courtesy of Ann Chiu
Pork Belly (smoked BBQ sauce and soy pecan)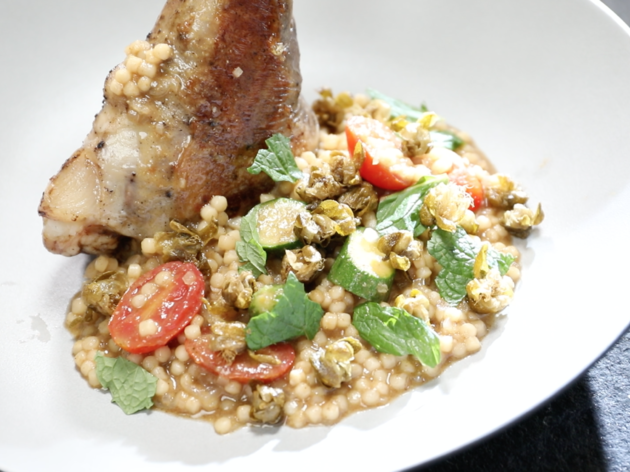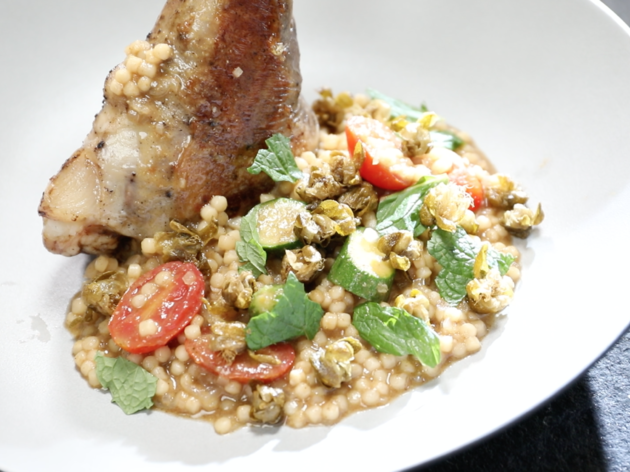 Photograph: Ann Chiu
Lamb Shank (cumin couscous, roasted tomato and baby courgettes)
Ingredients:
1 lamb shank
80g couscous
1 bay leaf
1 banana shallot
5 cherry tomatoes
2 baby courgettes
1 tsp minced garlic
1 tbsp cumin powder
15g olive oil
200ml chicken stock
3g mint
1g rosemary
5g capers
Directions:
1. Bring a pot of water to a boil. Turn down the heat to create a steady simmer. Submerge the bag of lamb shank into the pot of water, and set a timer for 12 minutes.
2. Heat up a saucepan at medium heat and add in the mixture of banana shallot, cherry tomato, baby courgettes, cumin, olive oil, bay leaf and minced garlic. Stir and cook for two minutes.
3. Add the couscous and chicken stock in and continue to cook on low heat for five minutes.
4. After 12 minutes, remove the lamb shank from the water. Open up the bag and pour the juices into the saucepan. Remove the pan from the heat.
5. Heat up a separate frying pan. Remove the lamb shank from the bag and place it in the pan for a little colour.
6. Once coloured, put it on a plate, along with the couscous mixture from the saucepan.
7. Garnish with mint and rosemary.
8. Sprinkles capers over top for the perfect finish.
Cathay Pacific First Class Wine Pairing: Chateau Branaire-Ducru, 2008, Saint Julien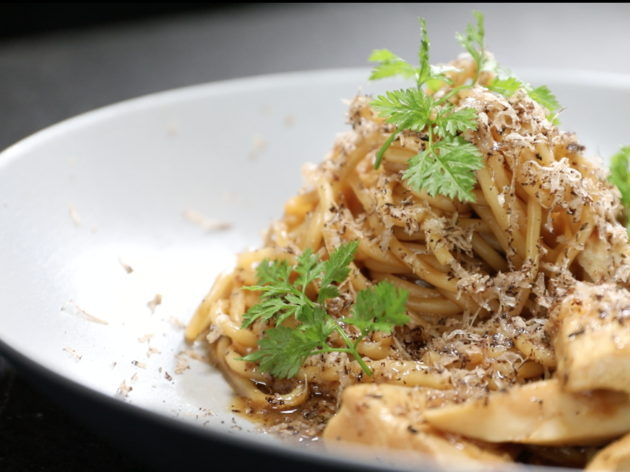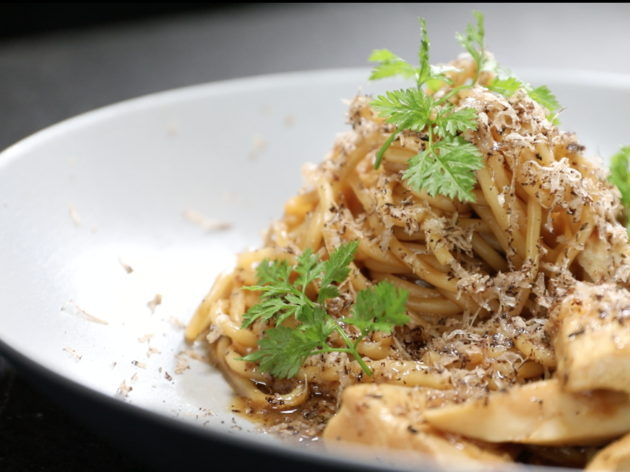 Photograph: Ann Chiu
Spaghetti (creamy cep sauce)
Ingredients:
180g spaghetti
15g sliced shallot
5g garlic
200g King Edward mushroom
150ml cep sauce
2g chervil
5g black truffle
3g truffle oil
Directions:
1. Bring a pot of water to a boil, and add the spaghetti in. Let it simmer for three minutes.
2. In a separate pan, heat up the mixture of shallot, garlic and King Edward mushroom.
3. Add in the cep sauce and bring to a boil.
4. Drain the spaghetti and add to the pan.
5. Cook until the sauce starts to thicken.
6. Transfer the spaghetti and sauce onto a serving plate.
7. Finish by sprinkling chervil, black truffle and truffle oil over top.
Cathay Pacific First Class Wine Pairing: Chablis 1er Cru Fourchaumes Lamblin & Fils, 2016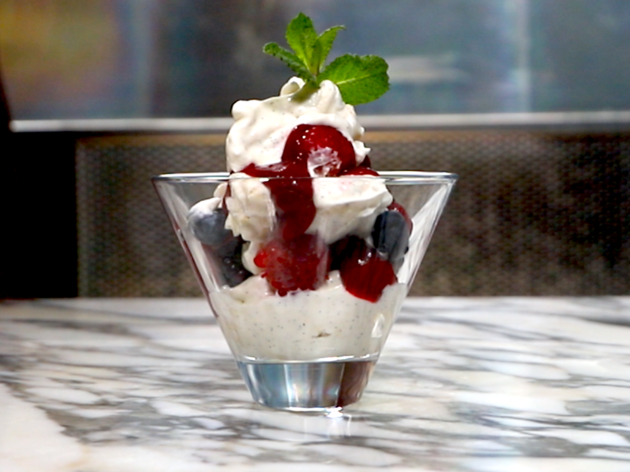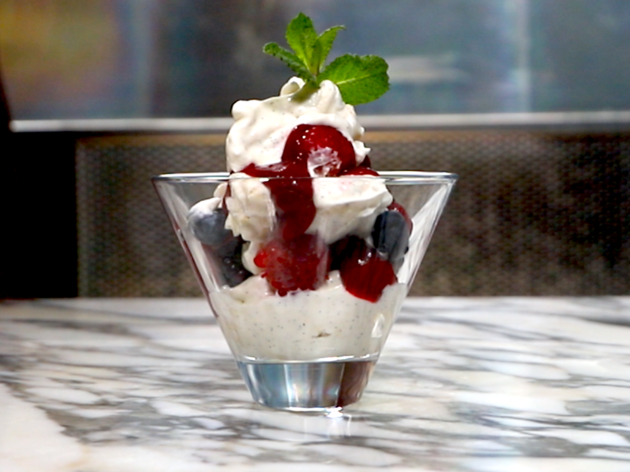 Photograph: Ann Chiu
Ingredients:
200ml cream
1g vanilla
5g sugar
30g meringue
50g mixed berries
50g berry puree
2g mint
2g basil
Directions:
1. Give the pre-made cream, vanilla and sugar mixture a good three-minute shake.
2. Mix in the meringue.
3. Place a spoonful of the cream and meringue mix into a serving bowl, and layer a spoonful of mixed berries and berry puree over top. Continue alternating layers of the cream mixture, and berries and berry puree to your heart's desire.
4. Garnish with mint and basil.
Channel your inner master chef