Artist showcase: INDenial
Set your ears to this local metal outfit that you absolutely need to listen to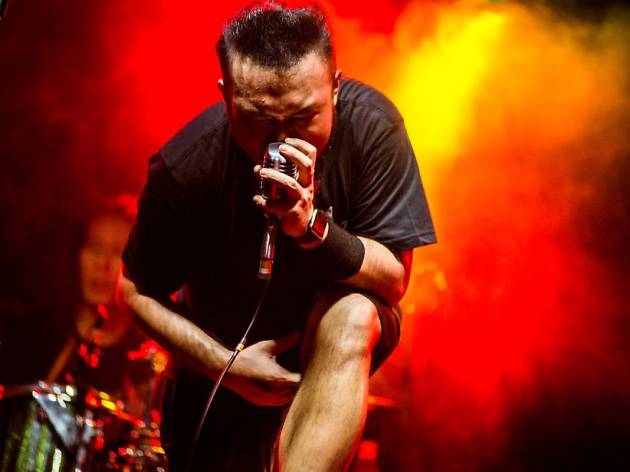 Since forming in 2010, local metal four-piece INDenial have made quick strides in establishing themselves as a growing force in Hong Kong's metal scene – no mean feat considering the difficulities metal music has faced in the city recently, most notably the closure of venue Hidden Agenda. As well as putting their time in on the local circuit, INDenial have scored supporting slots with big hitters such as Revocation, Kreator and Warbringer. 2017 has proven to be the group's biggest year yet with the realease of their eponymous debut album earlier in the year. Seems like a perfect time to get to know the boys better...

Hey, guys! For those aren't in the know yet, tell us about INDenial?
We are a Hong Kong metal band formed in 2010. I [Leung Kin Man] started jamming with Alex Liu after I left King Ly Chee in 2008. The current line-up, formed in 2011, consists of singer Wolf Suen, guitarists Jay Lo and Alex Liu and drummer Leung Kin Man. Brian Wong –former guitarist of the disbanded King Ly Chee – joined the band as touring bassist this year.

We write complex meshes of old-school thrash metal with modern metal ingredients, all with a keen appreciation for groove and melody. The music and lyrics of INDenial are catchy and fast-paced, yet with a powerful message.

What kind of music do you play and who are some of your influences?
We're heavily influenced by bands like Sepultura, Lamb of God, Machine Head and Slayer, etc. We try to create a balanced mix of fast paced, old-school thrash, modern groove metal ingredients and melodic elements from the Swedish death metal scene. I personally take a lot of influence from black death metal and from my time playing in Evocation HK. Now we have Brian who has a strong hardcore punk background and I believe he can bring the band a new dimension of explosive sound onstage.

What's your take on the metal community here in Hong Kong and the larger live music scene here?
The metal scene was thriving a few years ago when Hidden Agenda was still
in service. Big metal bands came to Hong Kong such as Vader, Suffocation, Behemoth, Dark Funeral, Havok, Revocation, Galneryus, Children of Bodom, Carcass, Megadeth and so on. There were around 200 to 300 people at each show. To put that in perspective, that's only two percent of the whole metal population of the city considering Metallica got almost a full house of 14,000 at AsiaWorld-Expo. Local bands got the chance to support these big metal acts at Hidden Agenda and a number of good bands came through like Aether, Cadaver, Collison, Escharotic, Evocation HK, Parallel Horizons, Protoss, Shepherds the Weak, Charm Charm Chu慘慘豬, etc. Many have also released albums in the past two years there. However, Hidden Agenda is now closed. I think there'll be less metal shows in the near future unless somewhere comes along to fill the void.

The good news is that there's also a wave of modern metal happening in Hong Kong: Qiu Hong, TieShuLan, NiLiu, Instinct of Sight, Deep Inside. You can't say that they belong to any traditional metal genre. They're more modern, closer to heavy rock – more melodic
singing, creative song arrangement, Cantonese lyrics. They've held shows in MacPherson Stadium with an audience of up to a 1,000 or even more. That's happening and I hope that the metal scene and rock scene will get bigger and bigger.

Tell us about your new, self-titled album.
This is our first album and to us, it's more like a memorandum of various stages of INDenial since we started out in 2010. For example, if you listen to the song Leaving Home Forever, it features female vocal parts from Nam, who helped us by taking up the vocal duties during our early days. During our writing process, we tried to not limit ourselves into a certain type of sound. As a result, we wrote songs that are more mellow and melodic like Alive and Serial Murderer, have ones that are groovier like Siren and Eye for an Eye, then we will also go back to old school thrash with Dying Easier Than Leaving and Deadly Carnival. Lyrically, we kinda took a passive way to express things that we think that are fucked up. For example, the song Serial Murder is dedicated to that pathetic Yulin dog meat festival.

Where can people grab a copy of the album?
People can get a physical copy from Tom Lee Music Tsim Shai Tsui, Rock Gallery Record, Oldsoulvinyl, Roots, and of course, at our live shows. Alternatively, they can order online from our Bandcamp page – indenial.bandcamp.com/releases. Our album is also available on Spotify and through Apple Music.
When can we hear you play live next?
We're playing with Nine Treasures and Liberation on December 10 at B10, Nanshan District, Shenzhen.
Looking for more live music in Hong Kong?
From concerts headed by the biggest stars to the coolest underground bands, these are the acts that you should book tickets to.