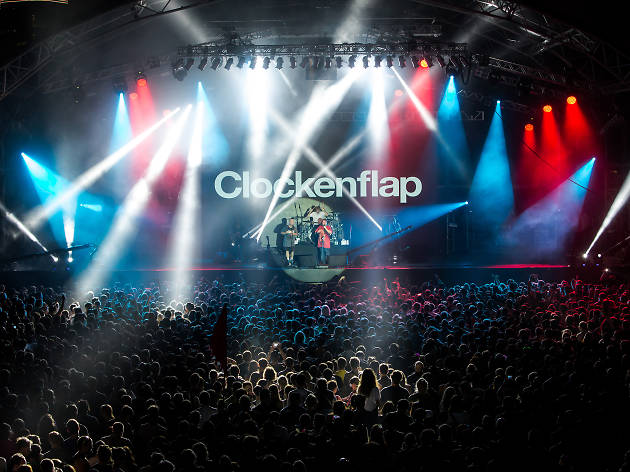 Hong Kong's biggest music and arts festival returns on November 25-27, 2016 at Central Harbourfront
Much like the city's creative scene, the three-day music and arts fest has grown year-on-year to the formidable prospect we know it as now. As well as hosting big name bands such as New Order and The Libertines, the festival also acts as a springboard to lesser-known local acts. You'll also find a host of family-friendly attractions in addition to the plethora of quality live music.
This year's Clockenflap 2016 lineup includes post-rock giants Sigur Rós, London rapper M.I.A. and UK dance legends The Chemical Brothers.
Clockenflap 2016 final lineup
Friday
Sigur Rós (Iceland)
George Clinton & Parliament Funkadelic (United States)
Ellen Loo 盧凱彤 (Hong Kong)
Rødhåd (Germany)
Badbadnotgood (Canada)
Jimmy Edgar (United States)
Tfvsjs (Hong Kong)
Otaku Mobb (Hong Kong)
Michael Lai 黎曉陽 (Hong Kong)
Uptown Rockers (Hong Kong)
Ashwin Khosa (Hong Kong)
The Boogie Playboys (Hong Kong)
I See The Light Before Our Planet Explodes (Hong Kong)
Xxx Showcase Ft. Kid Fresh, Enso & Yao (Hong Kong)
Rock N Rolla (Hong Kong)
Janette Slack (Hong Kong)
Re:Flex (Hong Kong)
Deer (Mexico)
Jason Cheung 張匡佑 (Hong Kong)
Rebearth (Hong Kong)
Signo Sound (Hong Kong)
The Zorchmen (Hong Kong)
Saturday
M.I.A. (United Kingdom)
London Grammar (United Kingdom)
陳綺貞 Cheer Chen (Taiwan)
José González (Sweden)
Blood Orange (United Kingdom)
Fat Freddy'S Drop (New Zealand)
Hyukoh (South Korea)
....Huh!? (Hong Kong)
Nick Höppner (Germany)
65Daysofstatic (United Kingdom)
Yuna (Malaysia)
Pumarosa (United Kingdom)
No Party For Cao Dong 草東沒有派對 (Taiwan)
The Trees &Amp; The Wild (Indonesia)
Mad Professor (Guyana)
Lone (United Kingdom)
Elijah And Skilliam (United Kingdom)
Grand Blanc (France)
Ocean Lam (Hong Kong)
Gdjyb 雞蛋蒸肉餅 (Hong Kong)
Slot Machine (Thailand)
Sensi Lion (Hong Kong)
Cliché Showcase Ft. Sunsiaré & Stephen Andarakis (Hong Kong)
Fantastic Day (Hong Kong)
Push (Hong Kong)
X0809 (Thailand)
K-Melo (Hong Kong)
Kavemura (Hong Kong)
Junkie T (Hong Kong)
Asquared (Hong Kong)
Jeremy Cheung (Hong Kong)
Fufu Showcase Ft Mlch, Gabriel Tan & Phaënara (Hong Kong)
Yuen Chi Chung (Hong Kong)
Casey Anderson (Hong Kong)
Podo (Hong Kong)
Tux (Hong Kong)
Groupe Électrogène Fanfare Club (Hong Kong)
Crimes Against Pop (Hong Kong)
Black Bart (Hong Kong)
Avneesh (Mauritius)
Teng Boon (Hong Kong)
El Toro (Hong Kong)
Barnaby Bruce (Hong Kong)
Man One (Hong Kong)
Rose Taylor (Hong Kong)
Miko Van Chong (Hong Kong)
Tribes (United Kingdom)
Sunday
The Chemical Brothers (United Kingdom)
Foals (United Kingdom)
Yo La Tengo (United States)
Sbtrkt (Dj Set) (United Kingdom)
Crystal Castles (Canada)
世界末日 Sekai No Owari (Japan)
Birdy Nam Nam (France)
The Sugarhill Gang (United States)
Terry Francis (United Kingdom)
Shura (United Kingdom)
Lucy Rose (United Kingdom)
The Jolly Boys (Jamaica)
朱凌凌 Juicyning (Hong Kong)
Fakear (France)
Shy Fx (United Kingdom)
The Jillionaire (United States)
Jambinai (Korea)
Ooooo (United States)
Sun Glitters (Luxembourg)
Miss Yellow (Hong Kong)
Pinch (United Kingdom)
Gentle Bones (Singapore)
Roscius (France)
Dj Helen Ting (Hong Kong)
Reonda (United States)
Fragrant Village 香村 (Hong Kong)
Robot (Hong Kong)
Bass Music China (Hong Kong)
Magnetic Soul With Mcs R-Vee & Ajc (Hong Kong)
Heavy Hk Feat. Mousefx, Blood Dunza (Hong Kong)
Semih Akay (Turkey)
Ivan Sit (Hong Kong)
Arun R (Hong Kong)
Subcoat (Hong Kong)
Tree-Angles ►►△ (Hong Kong)
Kenji Hidaka (Hong Kong)
Teng (Singapore)
Merry Lamb Lamb (Hong Kong)
慘慘豬 Charmcharmchu (Hong Kong)
More Reverb (Hong Kong)
Adrian Lo (Hong Kong)
Olivier Cong (Hong Kong)
Mike Wolf (Hong Kong)
Mr Malasimbo (The Philippines)
Roof Crew (Hong Kong)
Dj Blaze (Hong Kong)
Dj Steve Bruce (Hong Kong)
Delf (Hong Kong)
Idigdeep (United Kingdom)
The Folk Ups (Hong Kong)
Download Friday schedule

Download Saturday schedule

Download Sunday schedule