Perhaps one of the most accomplished young musicians to ever pick up the instrument, 20-years-young fingerstyle guitarist Sungha Jung already has seven albums to his name. The first was released in 2010, when Jung was but 14. However, the Korean had gained widespread internet fame a year before that first release through his viral fingerstyle guitar covers of popular tunes (especially Michael Jackson, Yiruma's Kiss The Rain and River Flows In You), movie themes (such as The Pirates of the Caribbean theme and My Heart Will Go On) and other classical works.

The phenom has now accrued more than 4 million subscribers and has also collaborated with K-Pop stars such as G-Dragon, girl group 2NE1, Narsha from girl group Brown Eyed Girls, as well as American singer Jason Mraz. Following his sixth and most recent release L'Atelier, released in May, Jung is stepping away from the camera and on to the stage for a world tour. This month, he's stopping in Hong Kong for two nights to wow crowds with his unique brand of guitar playing. We speak with the youngster about his phenomenal growth as a musician, the songwriting process and acrylic nails...

How has it been going from being a YouTube success to becoming a recording artist and performer?
It's been a blast and a life-changing experience for me. Actually more like a life-shaping one I can say, because I was still an early teen when it all began. I'm just 20, and I have released seven studio albums, toured in over 20 countries worldwide, and met everyone I ever wished to meet. I hope I can keep doing what I do because I am happy and grateful for everything and everyone around me.
Tell us about your new album, L'Atelier. What was the inspiration behind it? How did you put it together, and is there a theme throughout the album?
The title L'Atelier represents my own musical studio where I work on brand new musical ideas of mine. As always, I've tried to include various genres and styles, but with heavier focus on brushing up than before. My ideas on each track were clearer than ever when I was putting together my new compositions. I feel that I was definitely more responsible for every tune.

When did you start becoming interested in guitar? How did you first decide to start recording yourself?
It was when I was 10 years old. My father used to play the guitar at home as a hobby. I thought it was really cool and finally tried for myself after watching him play for a while. With my fast progress, my father began posting on a guitar community in Korea, then we went on to open a channel on YouTube. The whole journey was actually really unexpected, and exciting at the same time.

When did you realise that you could it for a living?
It wasn't really a matter of planning, for a while. It all happened rather naturally because I loved playing the guitar more than anything. The big decision-making moment came at the end of middle school. I had a lot going on when I reached my mid-teen years, which naturally led me to choose to be a full-time musician instead of a regular high school student.

Did you ever want to do anything else as a career?
I would've tried by now if there had been anything else that I wanted for my career I think. The future may bring something different, but it has been music for me until now, and I am happy about that.

How is recording an album different from recording a video privately?
Video recording can be done casually while you need to take much more care when recording an album. I began recording when I was 12. I remember I wasn't very nervous because my first and the second albums were recorded with my good friend and mentor Ulli Boegershasen in his home studio.

You play a lot of different kinds of genres for your channel. Do you have a favourite style of music or favourite artist?
I love and respect all my friend and mentor fingerstyle musicians. Each and every one of them has some influence on me in a way or two because I developed my guitar skills by covering a lot of challenging original fingerstyle tunes in the earlier years. I also like popular music including K-Pop, and I've been listening to a lot of John Mayer lately.

Fingerstyle is a really impressive style of guitar playing. Do you have a go-to show-off piece, or a favourite song to play for others?
Since the release of L'Atelier, I've been playing a lot of my own Seventh #9 from it. I was very surprised with the response to the tune even before the release. Maybe my fans had been looking forward to such a tune from me. It does require some technical skills, and I'm glad that I included the track in L'Atelier.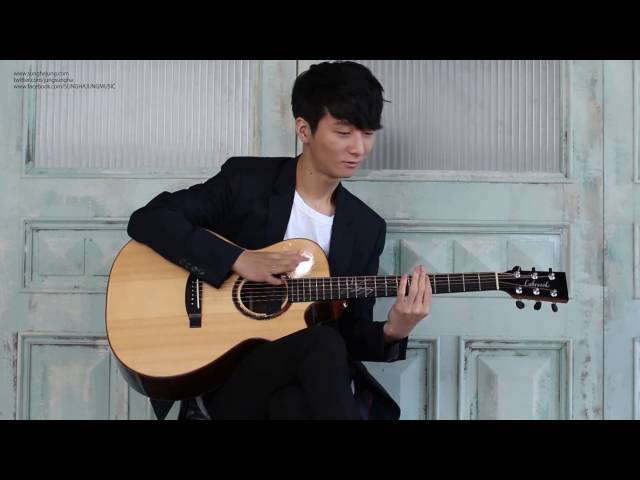 In your videos, you seem to prefer using your own long fingernails rather than fingerpicks. What makes fingernails preferable to fingerpicks?

I've been using acrylic nails for several years now. They look and feel like real nails so it's comfortable, and they sound more natural as well. I used to use fingerpicks because I had really weak nails.
You've also made the transition into songwriting quite beautifully. There are so many original tunes in the fingerstyle genre; which is more fulfilling for you - doing covers or doing an original tune?

Both can be really fulfilling for me as long as what I play at the end of the day is satisfying. As for covers, ten artists can have ten different arrangements for one original tune, meaning covers can be personal and original too. So you can take the easy way but also choose to take several weeks to polish a tune. It's interesting work!
What inspires your songwriting?

A lot happens when I jam by myself, like try new tunings and chord progressions. So for me, songs come out before their titles most of the time. These days, I also try to add more musical elements that I learned from the music courses I took last year. It definitely helps in getting a more polished result I believe. I think as long as you're happy with what you have at the end of the day, that's what matters.
This isn't your first time in Hong Kong. Are you looking forward to anything coming back?
Yes, as long as there are fans who look forward to my new release and shows in Hong Kong, I would love to come back as often as possible.

What's next for Sungha Jung?
I've begun working on tracks for my new release that I plan to record next spring, hopefully. I've been having lots of fun touring L'Atelier, so I think I may keep going on for a while.