The violin has seen more than its fair share of fiery virtuosos but few come fairer or more fiery than Beijing native Tianwa Yang. The virtuosa first picked up the stringed instrument at the age of four and began sweeping competitions and performing in concerts shortly after that, first garnering worldwide attention for her recordings and performances of Niccolò Paganini's The 24 Caprices for Solo Violin at the age of 13.

Since then she's performed widely in China, Europe and the USA and has recorded prolifically for the Naxos label, which showcases her deep passion for Spanish and contemporary repertoires. She joins the Hong Kong Philharmonic Orchestra on October 21 and 22 at the HKCC as it kicks off its two-year exploration into Gustav Mahler's symphonies starting with the Titan symphony, which the orchestra will tour in China. Yang is joining the Mahler launch party with a bonus rendition of Mozart's Violin Concerto No 4 just to put an exclamation point on the concert. We speak with her as she's warming up for the gigs...

You started learning violin at the age of 4 and began performing shortly after that. Did you know music would play as big of a role as it does now?
It definitely had a huge role in my life because I spend a lot of my time practicing. As a kid, in the early days, I didn't realise I was going to be a musician or anything like that. I loved performing, but I didn't really like practicing very much though my parents were very on about it. But it was because I did it well, I just kept moving up. When did you realise that you were going to do this for the rest of your life?It was actually when I recorded the Paganini's 24 Caprices [in 2000]. I noticed that it was a huge step for my musical career and life. At that point I realised, I am going to make this my profession because I am good at it and I can do something with it, and I've already had a good start. At 13, your recordings of Paganini's 24 Caprices were already head and shoulders above most professionals.

Did you realise that it would be a stepping stone at the time?
Yes of course, but the decision to record and learn them was from my teacher professor Lin. At the time, I wasn't sure I would make it through because they were just so difficult. I learnt not just the technique to play the Caprices, but also learnt how it feels to be a professional musician in terms of working phenomenally hard, standing up to pressure, delivering during the concert, and all the other things that come with professionally performing.

What has been the biggest change in your music from first recording the caprices to now?
Over the last 15 years? I've definitely been developing myself, especially in a musical sense. When I went to Germany, I got to learn about different periods of music like Baroque music and contemporary music, so I've definitely widened my perspectives to different styles and interpretations. That's what I learnt in the last 15 years.

Speaking of contemporary music, you also recorded the complete violin sonatas of Eugène Ysaÿe, a relatively unknown body of work, and also very challenging. What was it like taking them on?
Many people don't know about Ysaÿe, and if they do, they think he's purely a violin composer, which is not entirely true. He wrote many works for violin, but he also wrote many operas and symphonies, it's just that people don't know about them. And I think it's a bit sad, because audiences tend to misunderstand the quality of his music. It is challenging of course, in some ways even more than the Paganini caprices, but Ysaye is different because while Paganini's caprices were about honing technique, Ysaÿe's music is only difficult to play because he was so good at violin, and it was instead more about self-expression. That is also difficult, to play them not just well technically but to do it in a natural way so it sounds like expression.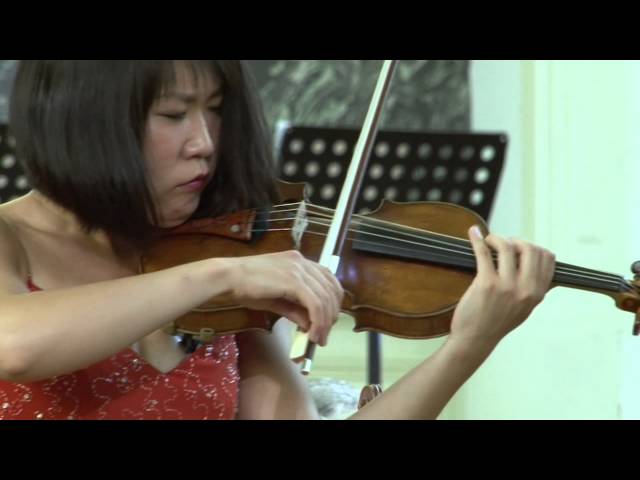 And the concerto you are playing with the Hong Kong Philharmonic Orchestra, Mozart's Violin Concerto No. 4, how does it compare with the style of Ysaÿe or Paganini?

There really can't be much of a comparison between classical, romantic or contemporary music. At the end, music is just music, and it's about expressing yourself, whether you're a composer or performer. It is a language in that way.
You are going on tour with the Philharmonic as well, playing the concerto in Tianjin, Beijing and Shanghai. What are you looking forward to the most?

I was mostly really happy that we could play the Mozart concerto because many people think that it's not difficult to play Mozart, but I think he's one of the most difficult composers in the repertoire. Many orchestras in Germany, all across Europe and in America, if anybody is auditioning for a job with an orchestra, they have to play Mozart's concertos because you are required to show everything you've got; tonal quality, understanding of music, control of technique. Also, I look forward to it because with older composers like Mozart and Bach, there are so many ways to interpret and play them. It can become overwhelming.
When was the first time you encountered Mozart's Concerto?

It's hard NOT to encounter it! Perhaps when I was 7 or 8? I don't know. Everyone knows the five Mozart concertos and has played it in their life and career.
Do you feel something as traditional as Mozart is easier to play than Paganini or Ysaÿe?

No I think it gets more difficult as you play and pick it up, rather. I think Mozart himself wrote the concerto when he was about 18 or 19, so Mozart works are very pure; there is something very childish in his work. So with Mozart you cannot think about it too much, and as a kid, Mozart actually comes very naturally. Later on, of course, when you read a lot more about how people played in that time, how they articulated, and all these things, and you start thinking a bit too much about, and you have to choose how to interpret Mozart, it gets more difficult the more you know about music.
You are of course, kicking off the tour in Hong Kong, and you are a regular here! What are you looking forward to about being back?

I look forward to the tour because I've collaborated with the Hong Kong Philharmonic quite a few times. I know some of the players from my early days in Beijing, so I'm very excited to meet them again. I think my first overseas was in Hong Kong when I was 11, and I've been back almost every year to perform. It's like my third hometown after Germany and Beijing.