Hailed as the "World's No. 1 Festival" by DJ MAG, Road to Ultra Returns to Hong Kong this September with a world-class international lineup, unparalleled production and a multi-sensory Road to Ultra experience. There's not long to go now so if you don't want to miss out on the biggest electronic music festival of the year, you better grab your tickets now!
With over $20 million in investment, Road to Ultra means business this year, they're determined to make history in Hong Kong by putting on the best electronic festival the city has ever seen. The second annual Road to Ultra Hong Kong returns on September 16 (Saturday) at the beautiful Nursery Park in West Kowloon Cultural District.
Want to plan your day ahead of time? Check out the site map in the slideshow above to help you prepare, you'll want to make a note of the merchandse booth so you can grab some limited edition Road to Ultra Hong Kong goodies!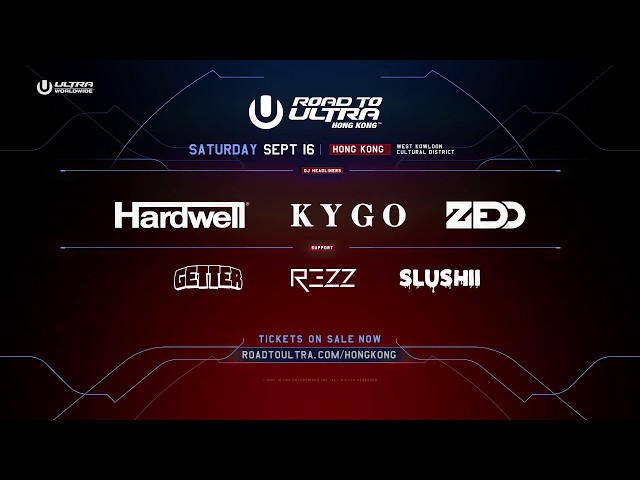 If the excitement is all too much for you and you need your Road to Ultra fix - no worries, get yourself along to one of the official Ultra Music Festival countdown parties at both Zentral on September 7 and Volar on September 8. Already got your Road to Ultra Hong Kong ticket? Well then, you're invited, simply show your Ultra E-ticket & ID to enjoy complimentary entry before 12.30am - first come first served, T&C's apply.
Road to Ultra Hong Kong 2017 – 2nd Edition
Date: September 16, 2017 (Saturday)
Time: midday - 10pm
Location: Nursery Park, West Kowloon Cultural District
Tickets at: https://hongkong.roadtoultra.com/tickets/en
Enquiries: hongkong@roadtoultra.com
Ticket Info:
General Admission: Early Bird Tier 1 - $680 (sold out), Early Bird Tier 2 - $830 (sold out), Advance - $990 (sold out), Presale - $1,190 At Door - $1,480
Premium General Admission: Early Bird - $1,080 (sold out), Advance - $1,290 (sold out), Presale - $1,550, At Door - $1,980
*General Admission has been significantly upgraded to maximize your experience & convenience. These are the benefits you can expect to receive with this year's PGA tickets:
Express Entrance
Exclusive Standing Area
Priority Bar Access
Exclusive Restroom
Official RTUHK Gift
Stay Connected with Road to Ultra Hong Kong at:
Website: https://hongkong.roadtoultra.com/
Facebook: UltraHongKong/
Instagram: @UltraHongKong
Twitter: @UltraHK
Weibo: 超世代音樂節-香港UltraHK
WeChat: 超世代音樂節UltraHK