More than 20 years have passed since the establishment of the Hong Kong Special Administrative Region in 1997. In the wake of the city's recent political turmoil, we're showing some love to the 852 and travelling back in time to witness how Hong Kong has grown over the past two decades. By Kaitlyn Lai
1997
The handover
On July 1st 1997, Hong Kong's sovereignty is transferred back to Chinese authorities after 150 years of British rule. Hong Kong is to be governed under the "One Country, Two Systems" policy. That means it is allowed to retain its economic system and partially democratic political system for 50 years from the day it becomes a Special Administrative Region of the People's Republic of China.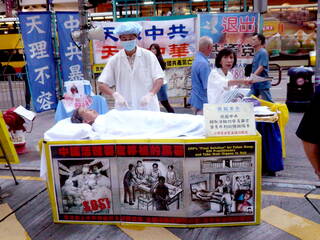 June 2002
The "freedom" test
The trial for 16 followers of Falun Gong – a spiritual practice that combines exercise, meditation and moral teachings – takes place after their arrest during a protest outside Beijing's liaison office in Hong Kong. Despite being banned in mainland China, Falun Gong remains legal in Hong Kong. The trial is seen as a litmus test for Beijing's guarantee to respect the city's freedoms as defined during the handover. The group is charged for causing public obstruction.
Simulation of organ harvesting by Falun Gong followers. Photography: Flickr/Cory Doctorow
September 2002
The introduction of Article 23
Hong Kong's first Chief Executive Tung Chee-hwa and his administration release proposals for a controversial anti-subversion law known as Article 23. The movement against it sees 500,000 people take the streets to protest during Chinese Premier Wen Jiabao's visit, which ultimately leads to the resignation of two government officials. The bill is shelved indefinitely.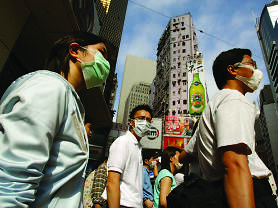 2003
Fighting SARS
Hong Kong is hit by the deadly SARS virus. Over 1,700 local people contract the disease and nearly 300 lose their lives. Although the epidemic sows panic and economic instability, it also demonstrates Hongkongers' resilience and fellowship, as medical professionals and officials work overtime to treat patients and clean the city.
Photograph: © Reuters Photographer / Reuters
2004
China clamps down on democracy by right of veto
Beijing rules that its approval must be sought for any changes to Hong Kong's election laws, including elections for Hong Kong's Chief Executive. Some 200,000 people mark the 7th anniversary of HKSAR Establishment Day by taking to the streets and protesting China's decision against universal suffrage in the city. The UK accuses China of inconsistency in regards to the self-governance guarantees that were agreed upon prior to the 1997 handover.
2007
Turning 10
Hong Kong marks the 10th anniversary of its handover to China. New Chief Executive Donald Tsang is sworn in and plans for full democracy are unveiled: Beijing claims that the people of Hong Kong will be allowed to directly elect their own leader in 2017 and their legislators by 2020.
Donald Tsang campaigning in 2007.
2009
The Tiananmen Massacre: 20 years on
On May 31st 2009, 8,000 people go on a march, led by 20 people born in 1989, to protest censorship of news and discussion of the Tiananmen Square Massacre in mainland China. An estimated 200,000 attend a candlelight vigil on June 4 in memory of students who lost their lives during the crackdown. It's the largest turnout in 20 years. Hong Kong remains the only place in China to openly mark Tiananmen's anniversary.
The Tiananmen Massacre candlelight vigil in 2009.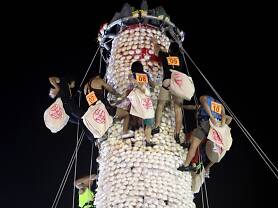 2011
Recognition of our heritage
Four Hong Kong festivals – the Cheung Chau Bun Festival, Tai O Deities Parade, Tai Hang Fire Dragon Dance and Yu Lan Ghost Festival of the Hong Kong Chiu Chow Community – are all listed on China's third national list of intangible culture at a Unesco convention.
2014
The Umbrella Revolution
Pro-democracy demonstrators occupy Central for weeks in protest of the Central Government's ruling that only candidates approved by Beijing will be allowed to run for Chief Executive. Over 100,000 people take to the streets, setting up camps in Admiralty, Causeway Bay and Mong Kok.
2016
The LegCo exodus
In September, Hong Kong's new generation of pro-independence activists win seats in the Legislative Council elections, the highest turnout this city has seen since the 1997 handover. Two months later, pro-independence legislators Baggio Leung and Yau Wai-ching are disqualified from the Council after they refuse to pledge allegiance to China during their swearing-in ceremony.
2017
President Xi makes a stand
Chinese President Xi Jinping arrives in Hong Kong to swear in Chief Executive Carrie Lam upon the 20th anniversary of the handover. His visit (and subsequent talking points) emphasises China's unyielding desire for Hongkongers to respect the status quo.
2019
The Extradition Bill protests
June 2019 sees both protests and clashes in response to the controversial extradition bill, which the public regards as a violation of the "One Country, Two Systems" policy. A reported two million people march across Hong Kong at the peak of the June 16 protest. The bill is shelved indefinitely.