Gather around burger-lovers because today, May 28, is International Burger Day! To celebrate the occasion, Impossible Foods, the company behind the popular meatless Impossible Burger, has curated a list of restaurants around town that feature their plant-based burgers on the menu. Along with the burgers, the list also contains some great deals on all day to celebrate International Burger Day. So read on to and satisfy your burger cravings in any of these nine restaurants:
Morty's: Enjoy a free Brooklyn Lager with either the This is so Texas ($128), made with an Impossible patty, cheddar cheese, and tangy barbeque sauce, or the Lean and Strong Burger ($128), in which the Impossible patty comes alongside avocado and kale.
W Burger: Get a free Coke and fries, all day, with any of the Impossible burgers on the menu. The Impossible offerings include the Impossible Burger ($88) with tomato and lettuce, the camembert burger ($98) that comes with a whole wheel of camembert as the bun, the succulent Impossible portobello ($113) topped with a juicy portobello mushroom and the black truffle Mushrooms ($123).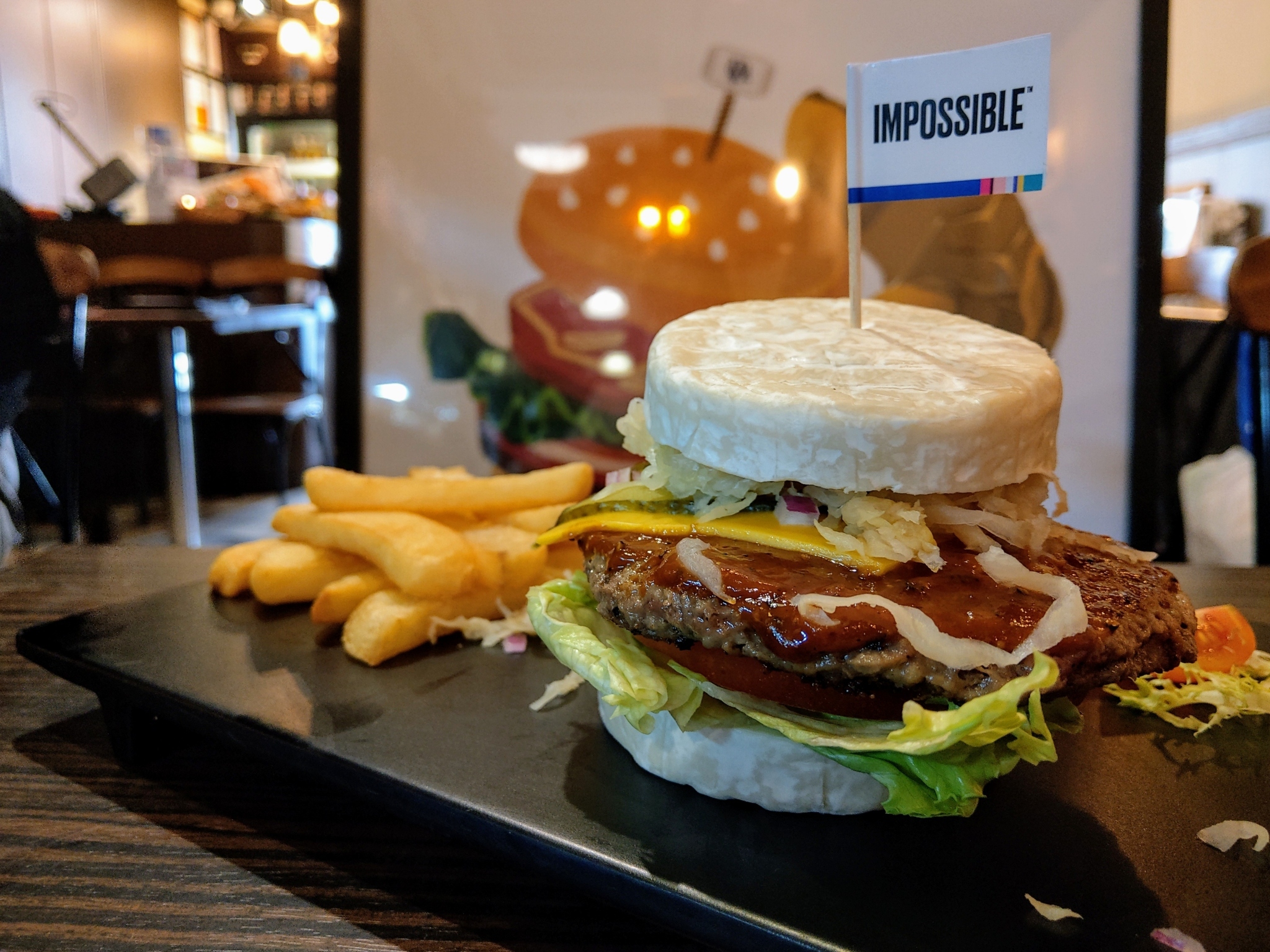 Photograph: Courtesy W Burger
Honbo: Craving American classic burgers? Try the classic no-frills American-style Impossible Burger ($108) that includes a patty with pickles, onion, lettuce, and vegan XO house sauce, along with a free Coke.
Burger Deli: Indulge in your Impossible Burger with a free Coke at Burger Deli with up to 13 different choices available! For example, the Swiss and mushroom Impossible Burger ($100) heaped with sauteed mushrooms and Swiss cheese, the Californian Impossible Burger ($100) with streaky bacon, guacamole and American cheese and the triple cheese Impossible Burger with three kinds of cheese ($106).
Tai Wo Tang: Satisfy your burger cravings with a classic combination of cheese, caramelised onions, pickled cucumbers and butter lettuce in their Impossible Burger ($158) and get a free drink! This hearty meal is also served with fries with truffle mayonnaise.
The Diner: Feast on any of the four different Impossible Burgers at The Diner with a free drink on International Burger Day. Special Impossible offerings include the Naxos burger ($159) which is smothered with feta cheese and roasted cherry tomatoes, and the Monterey burger ($159) starring Monterey jack cheese. You can also try the classic burger ($149) and the smash burger ($159) as well.
Photograph: Courtesy The Diner
Kitchen Corner: Kitchen Corner offers an unbeatable deal in which you can get a free upgrade to make any burger on the Kitchen Corner menu an Impossible Burger like the Aussie Burger ($64) which features beetroot slices and a sunny side up egg to the alpine burger ($58) with onions and mushroom. All burgers are ready to be upgraded to an Impossible version at your request.
Kabo Burger: Special offers are available at Kabo Burger on International Burger Day. Indulge in two Impossible Cheeseburgers at Kwai Chung ($88) and Tsim Sha Tsui ($98) topped with melted cheese on a bed of fresh lettuce.
Lab Eat Restaurant and Bar: Enjoy a decadent meal at Lab Eat with its Impossible Burger set ($138) available for the whole day, which features double patties with lettuce, tomato and onion, as well as a coffee, tea, or Coke.
If you're craving decadent burger bites yet feeling environmentally and health-conscious, Impossible Burgers give you the divine satisfaction without the environmental drawbacks of animal-derived meat. There is no better way to celebrate the planet as you indulge in this impossibly delectable classic on International Burger Day!