The Harmonics, Hong Kong's biggest LGBTQ+ choir, recently released their own rendition of Michael Jackson's Thriller. The music video is the choir's first professionally crafted video, aiming to serve as a beacon of light for Hong Kong's queer community amidst the challenging times. The project features more than 60 personalities comprised of members of the choir, LGBTQ+ volunteers, and allies from the community.
For many years The Harmonics strived to offer a positive voice for equality in the city, providing an alternative social space for members to connect over music. "Members come to terms with their own sexual orientation and gender identity with the help of other members. Through music, a universal language, we come into contact with different non-LGBTQ groups and offer them a different way of understanding our community," shares Jack Yu, the vice-chair of The Harmonics.
According to The Harmonics chairperson Lily Lu, Halloween is a significant time to many queer folks because it allows them to express themselves freely without judgement. "We usually have a few performances throughout the year and a concert that is open to the public, all of which we can't do this year," Lu shares. "This project gave our members a creative outlet to express themselves and perform, on top of a goal to work towards. The result is a piece of work that we are using to engage with the broader community, bring a bit of fun to Hong Kong, and lift people's spirits in these difficult times." Through this project, they also wanted to showcase and promote local establishments, such as FLM and Cafe Queen, who have supported the group through the years.
The video begins with a group of friends hanging out at FLM, a popular LGBTQ+ bar in Hong Kong. Spooky occurrences, like zombies and clowns, begin to emerge from the shadows, and the atmosphere of the bar entirely transforms. The video featured 44 talented vocalists decked out in full spooky glam, and had an exhilarating amount of acting and dancing. The response from the public has been overwhelming, with over 30K views on Facebook and shared more than 100 times since its release.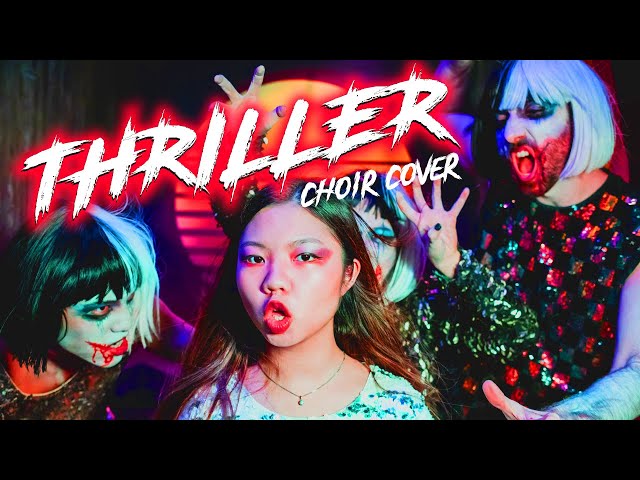 Rehearsals for the music video had to follow strict social distancing measures with mask requirements and temperature checks. As it is a fairly large group, only half the choir could join the physical rehearsals, while the rest joined via Zoom.
This year, the choir held most of their activities online. "A lot of new digital content has been produced and posted on our social media to spread joy and engage the community with the general public," shares The Harmonics marketing director Brian Song. Currently, the group is working on a recording project for Christmas since concerts might still be off the books.
Volunteers are always welcome to join The Harmonics, and they're open for non-performing members to support the team. Visit their Facebook or Instagram for updates on their activities and to enquire for membership. Erika Yip