Osteria Felice chef Alan Marchetti on his Italian roots, sustainable produce and HK's dining scene
"I really value the importance of protecting the future of our oceans by not using endangered species"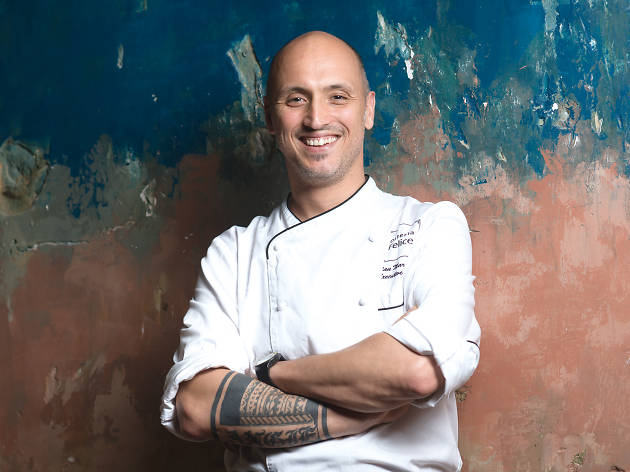 1/3
Photo: Calvin Sit
Alan Marchetti - Executive Chef at Osteria Felice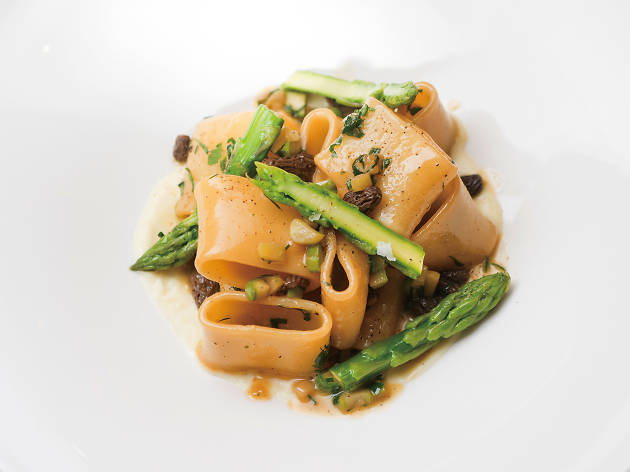 2/3
Photo by Calvin Sit
Osteria Felice's paccheri with asparagus, morel mushrooms and parmesan fondue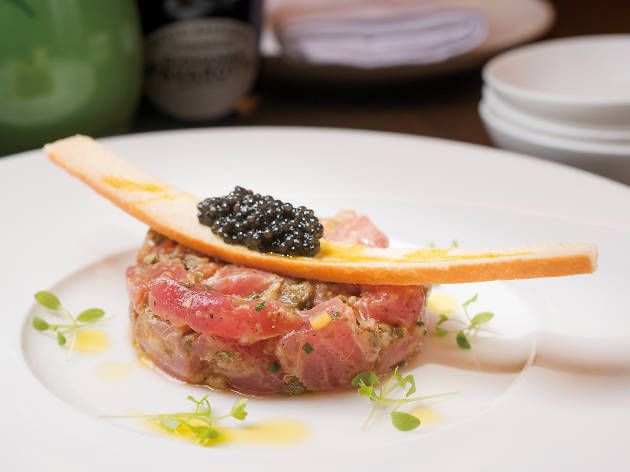 3/3
Photo by Calvin Sit
Osteria Felice's yellowfin tuna tartare
Italian cuisine. It's always high on anyone's list of favourites. And, when it comes to the best of the best in Hong Kong, Osteria Felice – which opened to great fanfare in Harcourt Road last year – is right up there with the leaders in the city's dining scene. And much of its success is down to executive chef Alan Marchetti. He's a master at creating authentic Italian dishes which boast modern touches as well as a dash of Roman flair.
Marchetti began cooking at an early age at his family-owned restaurant in Rome. He later worked elsewhere in Italy and London alongside the likes of Marco Pierre White, Heinz Beck and Giorgio Locatelli, while being trained in classical French culinary techniques. He now has more than 20 years of experience and knocks up an array of contemporary creations at Osteria Felice, describing his dishes as 'progressive Italian' that also stay true to their motherland. Marchetti tells us more when we meet him...

Chef Marchetti, tell us about the culinary background that led you to Osteria Felice...
I grew up on a small farm in Castelli Romani, which is in the countryside near Rome. My family owned a restaurant nearby. From a young age, I started to get involved in farming vegetables and breeding animals.

And that led you to your interest in cooking then. Who was your greatest influence as a young chef?
I worked with Marco Pierre White as head chef for the opening of his private club, Drones Club, in London. He taught me how to manage a busy kitchen while maintaining a high standard.

You've worked in Rome, London and Hong Kong. What are the differences in each city's dining scene?
Rome is a slow-paced city where restaurants tend to be alfresco with amazing views. London is a buzzing city with an innovative food scene. Hong Kong has an amazing culture of reinvention. The chefs here are very good at engaging trends, and the diversity of restaurants means there's always something for everyone.

Tell us more about the ethos behind Osteria Felice...
We aim to bring authentic Italian cuisine with a contemporary twist to Hong Kong, using the best premium ingredients from around the world. We play with the texture and presentation of Italian classics and strive to create a friendly environment.

What kind of experience do you want guests to enjoy at your restaurant?
Osteria Felice is a place for sharing good times, good food and good drinks with friends and family. It's become a neighbourhood hangout!

What seasonal ingredients are currently on your menu?
I've been adding a few more wild ingredients, including garlic leaves, strawberries, asparagus and herbs.

You're passionate about protecting the environment and using sustainable products. Tell us more about what this means to you...
I really value the importance of protecting the future of our oceans by not using endangered species. I avoid using bluefin tuna and the like, even if it's labelled as sustainable. For vegetables and meat, I choose products that are free from antibiotics and pesticides. I also prefer using ethically bred animals where possible.

What trends do you think are the most prominent in the Hong Kong food scene?
Healthy food is a big focus in Hong Kong now. I'm excited to see this trend and I'm using more healthy produce at Osteria Felice.

What's your favourite Hong Kong comfort food?
Sautéed spicy aubergine with minced pork and sweet and sour pork for sure!

Can you tell us any crazy stories from your culinary career?
Crazy stories are not to be told but to be lived...

What's on the culinary horizon for Osteria Felice?
Osteria Felice aims to establish itself as a restaurant where good food and contemporary Italian culture are combined and we hope that we can bring this wonderful concept to other cities in the Asian region.
Visit Osteria Felice in Central, Hong Kong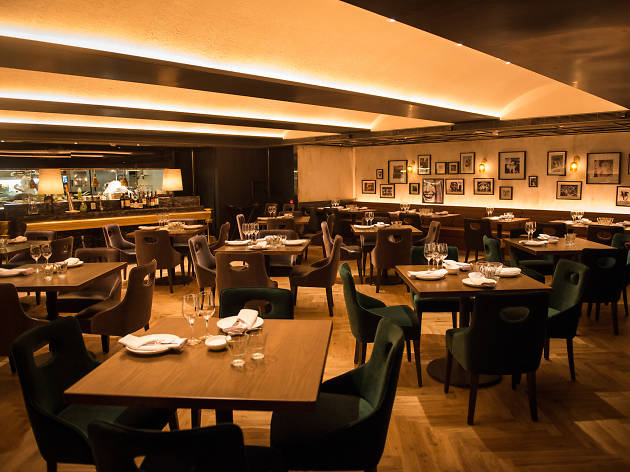 With a three-page menu of authentic Italian cuisine, with antipasti, air-dried ham, cheeses, divine pizzas and pastas to choose from, this place should transport you over to the old country in no time. Mamma mia!