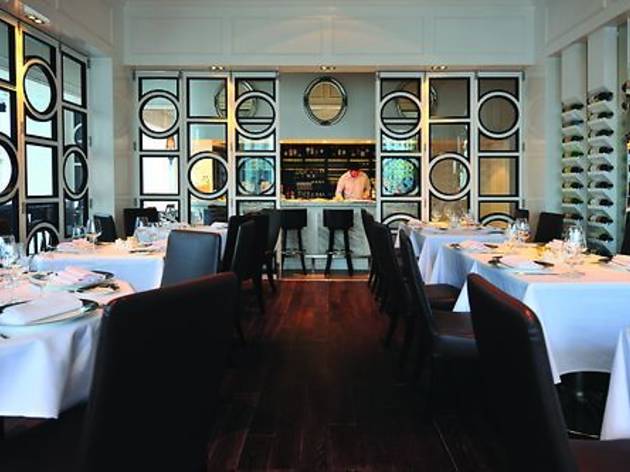 Time Out says
French fancy

Amuse Bouche is one of those places you will either love or hate. You will love it because of its Gotham City views and Felix-like interiors. Or you'll hate it because it's yet another nouveau riche French restaurant that's just opened up in town. But seeing as it's still just about the season of goodwill, we'll give you a thing or two to adore about this place.
The chef and long-time sommelier left Petrus to open Amuse Bouche, and because of that, they have a well-considered menu and one of the best wine lists in Hong Kong, not only by stock, but also by price.
Dining with me was a wine consultant and sommelier who confirmed this. "They have super impressive prices," he told me.
"For example, they have a Billecart-Salmon Brut for $590. That's about the same as retail." His eyes lit up as he scanned the four-page wine list and spotted the 2000 Gaia & Rey Chardonnay listed at $1,400. "I'd come back just for a bottle of this. It's below auction value."
Amuse Bouche's sommelier, Kent Wong, buys a lot of his wine directly from the vineyards, including his house Champagne, Comte Audoin de Dampierre. And his mark-up hovers around the 150 per cent mark, a big discount, as restaurants commonly mark up wines by 300-400 per cent. "At one hotel restaurant I know, it's 800 per cent," my companion informed me.
So the wine list is good, but what of the food? The flavours in almost every dish we chose underwent an intriguing metamorphosis. For example, our set menu (four-courses, $468) started with the chicken ginseng consommé, which began sweet only to give way to a bitter finish. The pale duck sausage appetiser, meanwhile, saw the savoury sausage sweetened with the juices of rehydrated raisins.
But it was the main courses that solidified our love for this place: a beautiful bouillabaisse, with each element from sea bass to squash cooked perfectly, and a braised shank of suckling pig glossed with a well-balanced reduction of demi-glace, wine and a good heap of butter.
The solo cabbage wrap filled with pine nuts was unusual and lovely – a combination of two soft textures and flavours. This might seem an innocent side dish, but a lot of work went into this bystander. The pork shank had a nice skin, roasted to crisp, then softened during braising. The meat was both tender and stringy and the two shanks sat on a bed of spätzle, which soaked up the sauce nicely. But in true Petrus form – and excuse the comparison – the light but always calorific happy ending appeared. This time a thin apple tart made its way to our table: paper-thin apple slices fanned out on hand-rolled phyllo dough. There was a light hand on the spices, with maybe a touch of honey. A small bulb of vanilla ice-cream sat on top, slowly melting on the room-temperature tart.
The thing that differentiates this restaurant from others in its class is this: you can identify every item you are eating. There are no science experiments, no foams, no jellies. It is food as nature intended – with the blessing of butter. The salt content is also a lot lower here to suit the local market. Two salt options, bleached and black volcanic, are available tableside.
One last Petrus comparison: the service is not spotless and pretty full on. The management has closed down one section of the restaurant to help perfect the process in its early days. Give this place a few more weeks to work out the kinks in the system and you'll enjoy a full fine-dining experience.

Angie Wong

22/F, The Hennessy, 256 Hennessy Rd, Wan Chai, 2891 3666; amusebouche.com.hk. Mon-Fri noon-2.30pm, daily 6.30pm-midnight.


Details
Best selling Time Out Offers