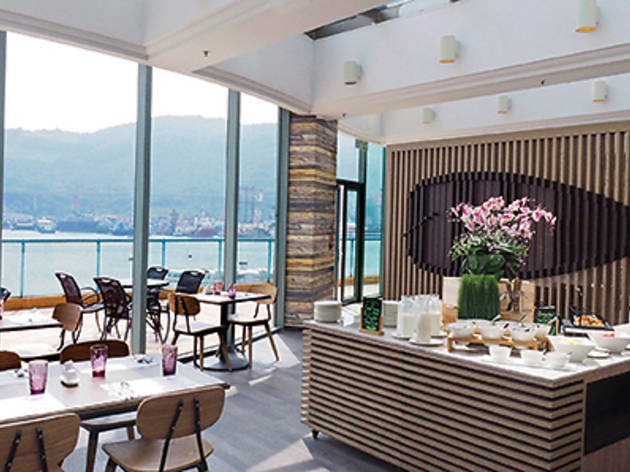 Time Out says
Tseun Wan is a pretty destination. And it deserves pretty restaurants that serve up excellent nosh, with excellent waiters at hand. Sadly, this dream doesn't materialise when it comes to Anchor's Seafood and Beer House, the new restaurant at the Bay Bridge Hong Kong by Hotel G. Despite offering a coastal view, with plenty of ships to watch, we do not have a good experience here.
It all proves ominous from the beginning. We're informed over the phone that Anchor's is fully booked and doesn't take walk-ins. But we decide to try our luck and, upon arrival, contrary to what we've been told, we find there are several empty tables available and we're seated straight away.
Sadly, the menu is a disappointment. Seafood may seem like the theme here but the menu is actually populated with items like satay, Hainan chicken and club sandwiches instead. We do find some crab, in the form of Maryland crab cakes ($108). They're fried to a decent crisp but the flavours are bland and nothing new – and the side of sweet chilli sauce doesn't reflect any Maryland style we've ever tried. The ink noodles and prawns in a cream sauce ($98), though, are luckily not that bad. The pasta is al dente, the seafood is fresh, and the sauce is rich and flavourful. A saviour of our night? Not really, as we're disappointed again by the drinks list. There are only 10 types of beers here and not a craft beer in sight. Isn't this meant to be a 'beer house' as well as a seafood specialist?
The surrounds sure are pleasant at Anchor's and if we just wanted somewhere to chill in Tseun Wan – or we wanted to try the buy-one-get-one-free buffet – we may call in. But for beers, seafood or for clued-up staff, we're weighing our anchor somewhere else in future. Naomi Locke
Anchor's G/F, Bay Bridge Hong Kong by Hotel G, 123 Castle Peak Rd, Tsuen Wan, 2945 1138; randblab.com.
Details
Best selling Time Out Offers