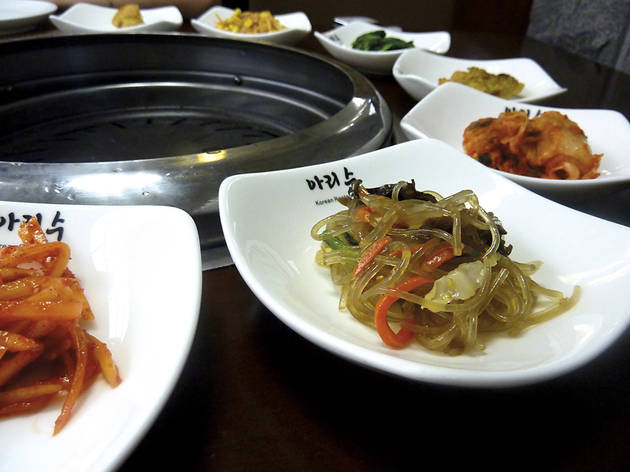 Time Out says
At Arisu, it's all about the chicken. Housed in the new H8 building, this recently opened restaurant is one of the few places in town that offer Korean-style double-deep-fried chicken on the menu. Unlike its American counterparts, which are usually heavily breaded before being deep-fried to an oil-dripping golden-brown, K-style birds are impressively low on the grease factor, thanks largely to a magical twice-frying technique that melts off most of the excess fat. The resulting poultry is gorgeous stuff with perfectly crackly, crunchy skin and moist, succulent flesh. The chefs here serve this miracle bird in a hefty four-people portion ($180), slashed into messy chunks and smothered in a ketchup-coloured sweet chilli sauce.
While Arisu's chicken deserves several shining stars in its own delicious right, it's also pretty much the only standout thing the restaurant has to offer. The oxtail soup ($90) is almost depressing, tasting more like bland, watered down milk than the garlicky, beefy broth it's supposed to be. The bubbling soybean paste stew ($80) is slightly more flavourful, but again carries only a shadow of the robust umami profile one would expect from a miso-laden soup. From the tabletop grill, slabs of samgyeopsal (pork belly, $110) come in measly, scrawny strips that are all too easily overshadowed by the condiments that accompany the meat (raw garlic, sesame oil, soybean paste, lettuce and perilla leaves). The restaurant manages to redeem itself a little with its selection of pan-fried savoury pancakes. Order the soft, chewy variety made from ground mung beans and filled with a pulpy mixture of veggies ($90), or go for the assorted platter ($300) that combines a little bit of everything.
Arisu is far from the best Korean joint in town, but it's still worth checking out solely for that insanely delicious deep-fried chicken. Even if you don't order anything else, the large bird and the plentiful banchans (daily selection of free side dishes) alone are already enough for a satisfying visit. Dorothy So
3/F, H8, 8 Hau Fook St, Tsim Sha Tsui, 2369 8008. Daily 11.30am-3pm & 5.30pm-11pm. Dinner for two: around $600.
Details
Best selling Time Out Offers