Watch the video below for a sneak peek of the venue and check out some of the standout dishes from their menu: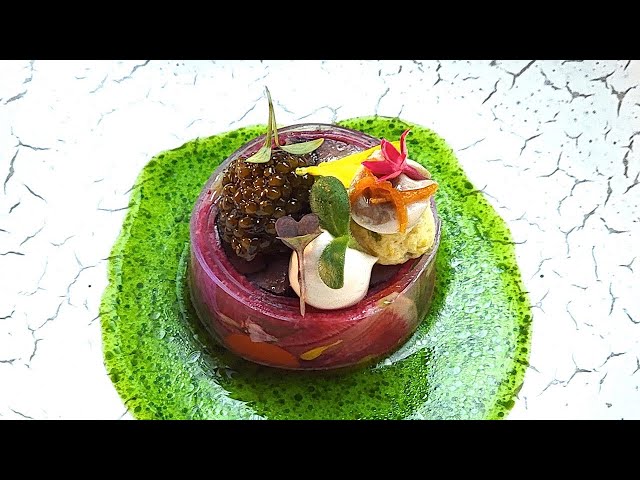 Auor (pronounced as 'hour') is Singaporean chef Edward Voon's (formerly of contemporary French restaurant Le Pan and Singapore's first ​​molecular gastronomy restaurant Aurum) new restaurant in Wan Chai. The restaurant is themed around the circularity of life and time and is deeply rooted in Voon's journey in gastronomy and in life.
"The concept of Auor is all about my life journey featuring a transition cuisine that shifts between past, present, and future," explains Voon. The theme continues to the dishes made with seasonal ingredients crafted with French techniques and Asian flavours. Presented in six rounds, the menu is inspired by the 24 solar terms of the traditional Chinese lunisolar calendar, which is based on the sun's position in the zodiac. This calendar is used by farmers in ancient China to guide agricultural affairs and farming activities. "Crossing this over to Europe's four seasons, it becomes six, so that's where I developed the rounds on the menu that celebrates defining moments that mean a lot to me and my journey in life," Voon enthuses.
The six-course menu ($1,680 per person) begins with 'Awakening', followed by 'Rain', 'Colours', 'Diversity', and evolves into textured layers that nourish the 'Soul', and concludes in lasting emotions of 'Memory'. There's also an option for an extended eight plates ($1,980 per person), and guests can pair the dishes with an excellent selection of New and Old World wines.
Standout dishes include Oscietra caviar with petuna ocean trout and pickled green chilli (Awakening), Carabineros prawn 'Sui kow' (Rain), Kinmedai with razor clams in aromatic sauce (Colours), and the Amur beluga with bafun Uni served in the eight degustation menu.