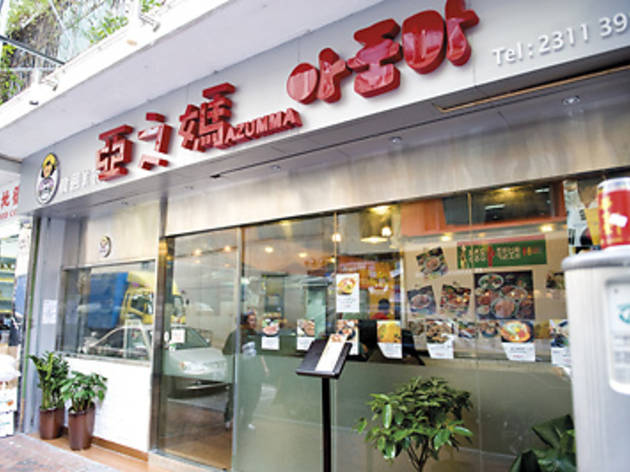 Time Out says
There's an urban myth that the best Korean food in town lurks about in some narrow alley off Granville Road. Said alley is known as Hong Kong's "Korea-town". Come nightfall, flocks of foodies flood into a handful of eateries and spill into queues onto the street. Are the long lines a sign of kickass food? Perhaps. But while you can easily score some crazy good bulgogi along this small strip, not all the eateries live up to the legendary hype. Newcomer Azumma is definitely among the latter.
Azumma's teensy dining room fits no more than a dozen people at any given time. With this spatial issue in mind, it's really not that difficult for this place to become packed; but one shouldn't mistake the queue out front as a mark of promising cuisine. After securing a seat (most likely under the television channelled into a looping playlist of K-pop performances), diners are presented with a slim fold-up menu listing 20-odd items.
As the name suggests ("azumma" translates into "housewife" in Korean), the menu lists common homestyle dishes such as kimchi pancake and pan-fried dumplings. Unfortunately, the azumma which the restaurant is named after doesn't seem to be a very good cook and almost all the dishes from the kitchen arrive despairingly under-seasoned. Azumma's version of the famously spicy dubboki dish ($50) has rounds of chewy rice cakes doused in a watered down and thoroughly bland chilli sauce. Another family meal staple – seafood and scallion pancake ($50) – arrives at the table with its thin egg batter cooked to a delicious crispiness around the edges. But the scattering of shrimps and squid is so frugal we wonder why the chefs bothered with them at all. The skewered fish cakes ($50) are even more disappointing, served in an insipid and lukewarm soup that tastes nothing like the comforting, street snack it's supposed to be.
The platter of boiled pig's trotters ($120) is a slightly better effort. While the mild pork itself is nothing too memorable, our poor neglected taste buds found solace in the accompanying thick strands of spicy, pickled radish. Like a starved soul, we piled heaps of the pickled condiment and sliced trotters onto lettuce and shiso leaves and gulfed everything down in messily wrapped two-bite bundles. Things only started to really pick up near the end of the meal, with our final order of ginseng and chicken soup ($100) – a nutrition-packed broth that's enriched with jujube and herbs and thickened with sweet glutinous rice. The hearty mixture is simmered for so long that the whole chicken, bones included, turns into a soft and delectable mess.
As much as we enjoyed the chicken soup, it wasn't nearly enough to redeem the meal's weaker offerings. Whoever the restaurant's eponymous azumma is, we're just glad we're not married to her. Dorothy So
3 Kimberley St, Tsim Sha Tsui, 2311 3983. Daily 11.30am-3pm & 5pm-10pm. Meal for two: around $250.
Details
Best selling Time Out Offers