The best carbonaras in Hong Kong
There's nothing like a comforting, hearty pasta dish to warm you in the winter, and a good carbonara always does the trick. Holly Graham hunts down the best in the city and finds both quality classic recipes and innovative twists on this indulgent Italian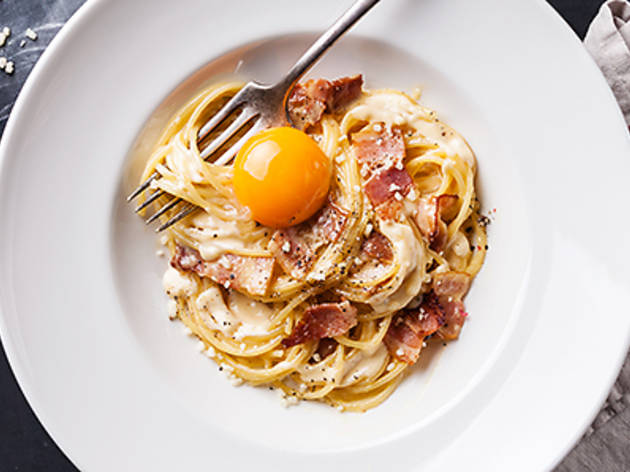 There's nothing like a comforting, hearty pasta dish to warm you in the winter, and a good carbonara always does the trick. Holly Graham hunts down the best in the city and finds both quality classic recipes and innovative twists on this indulgent Italian favourite... Ciak in the Kitchen is chef Umberto Bombana's casual restaurant following the Michelin three-star rated 8 ½ Otto e Mezzo Bombana. Though more laid-back in its offerings, this eatery has a Michelin star of its own and serves stellar Italian comfort food. The tagliolini carbonara and black truffle gives this much loved classic some black diamond bling. Al dente tagliolini is coated in smooth, rich carbonara sauce, while the truffle provides the dish some subtle fungi flavours. $480, Shop 327-333, 3/F Landmark Atrium, 15 Queen's Rd C, Central, 2522 8869; ciakconcept.com.
Arguably one of the world's most famous celebrity chefs, Jamie Oliver's simple and honest recipes have captured the heart of many a foodie. His first foray into Hong Kong saw him bring his successful Jamie's Italian franchise to our shores. One of the best menu items is the penne carbonara with crispy pancetta, sweet leeks and creamy parmesan sauce. Though a slight detour from the classic recipe, the penne is a decent substitute for spaghetti and the balance between the salty ham and the sweet leeks mellows the sharp and creamy parmesan sauce. $158, 2/F, Soundwill Plaza II, Midtown, 1 Tang Lung St, Causeway Bay, 3958 2223; jamiesitalian.hk.
Combining Italian and Korean cuisine in an unlikely marriage, Moyo dishes up a suitably intercontinental carbonara with a number of tweaks. Spaghetti is ditched in favour of rice cakes which lend the traditional sauce an incredile chewy texture. Two-year-aged Parmigiano Reggiano, pecorino Romano, egg yolk and black pepper smother the chewy rice cakes, completing the fusion. $158, 36 Aberdeen St, Central, 2858 2777; fb.com/moyohongkong.
Nicholini's linguine alla carbonara di mare puts a decadent twist on the classic with no meat in sight. The carbonara-style linguine is laced with caviar, sea urchin, salmon roe and bottarga for a carbonara that would make any pescatarian swoon. The caviar gives the pasta a nuttiness, while the salmon and sea urchin's salty brine cuts through the rich carbonara sauce. The Italian delicacy bottarga is silky and salty and more than compensates for the lack of meat. $480, 8/F, Conrad Hong Kong, Pacific Place, 88 Queensway, Admiralty, 2521 3838; conraddining.com.
With just a façade of New York's Prince Street Station entrance for signage, it's easy to bypass Street Meat in the throng of bars and nightclubs that crowd Wyndham Street. Street Meat cooks an array of dishes with Asian adjustments and in turn, the carbonara gets a Japanese twist. The recipe replaces traditional pasta with Inaniwa udon noodles and sea urchin delivers the salty punch usually provided by pancetta. In case this recipe isn't Japanese enough, the 63-degree egg seals the deal. $98, 50 Wyndham St, Central. fb.com/streetmeat.hk.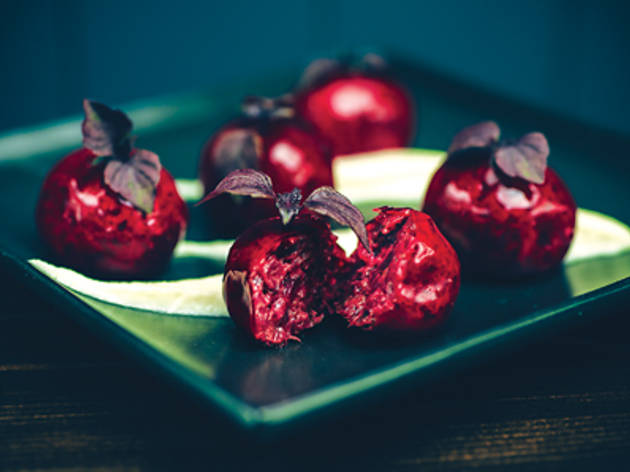 With a vibe reminiscent of a Venetian tavern, Sepa serves mostly small plates. But fear not, satisfying Italian offerings are available too. Sepa's spaghetti carbonara uses egg porn to boost its appeal via the addition of a runny 63-degree Japanese egg. The cured pork cheek compliments the al dente pasta by giving diners something tender to sink their teeth into and the 12-months-aged Parmesan provides a pleasant sharp, rich bite. $158, 61 Caine Rd, Mid-Levels, 2521 9800; sepa.com.hk.
More to explore