The hottest street snacks to try right now
You've had the classics, now it's time to try the latest street snack crazes sweeping Hong Kong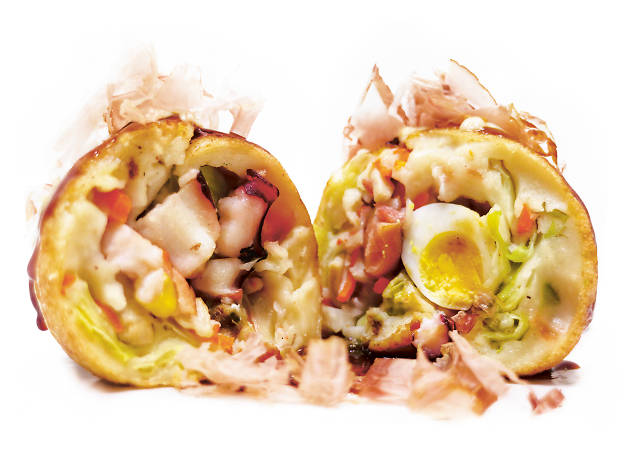 Hong Kong has no shortage of street snacks, whether it's standard curry fish balls and egg waffles or faux shark fin soup and stinky tofu. So to help you navigate our city's snack-studded terrain, we're highlighting the coolest – and cheapest – eats that you can enjoy by the roadside. We're even to go throw 7-Eleven a bone since they have a couple of decent options.
Hong Kong's newest street snack crazes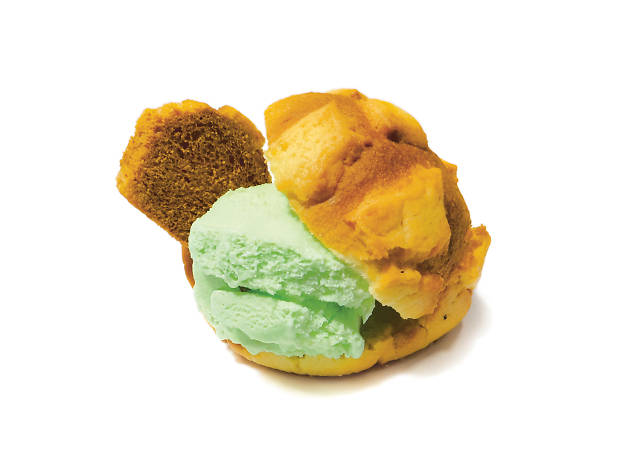 The name may be confusing but this is simply a sweet melon-shaped bun – very similar to Hong Kong's pineapple bun – filled with a thick slab of ice cream. Originally from Tokyo, World's Second Best Freshly Baked Melon-Pan Ice Cream (no, we did not make that name up) now sells this popular snack here in Causeway Bay. Topped with a cookie crust, the bun is freshly toasted before it's filled with one of six ice cream flavours, including vanilla, red bean and matcha. $43. World's Second Best Freshly Baked Melon-Pan Ice Cream. Shop 1A, 15-27 Cannon Street, Causeway Bay.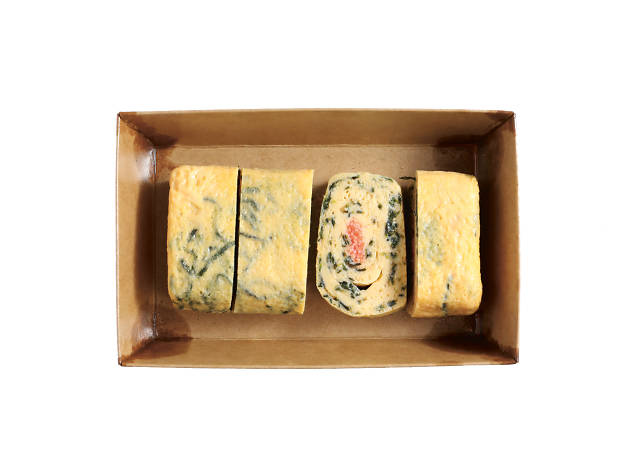 Smoked Tamago offers Japanese-style omelettes with different types of sweet and savoury fillings, including black truffle cheese, seaweed and mentiako, sakura shrimp, and mashed purple yam. Whatever filling you go for, you can also get your pan-fried omelette perfumed with the smoke of walnut wood for extra depth of flavour. $36. Smoked Tamago. Shop B3, Block B, Wah Shing Building, 80-84 Hau Tai Square, Tsuen Wan.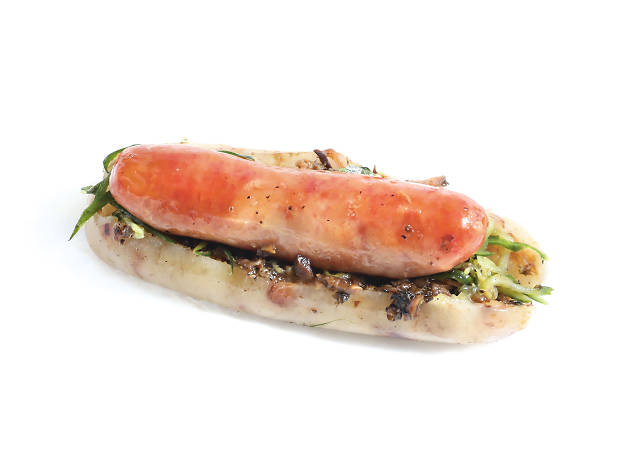 Small sausage in large sausage and giant octopus on a stick
With a name that invites all sorts of dirty jokes, this sausage-based creation is actually one of the best-loved street snacks in Taiwan. The 'large sausage' is made up of chewy glutinous rice, which acts like a hot dog bun, holding preserved vegetables, shredded cucumber and a Taiwanese pork sausage. You can enjoy this Taipei classic at MrO, which also sells a huge, 16-inch octopus skewer. $25 (sausage). $28 (octopus). MrO. Shop G7, 43S Dundas Street, Mong Kok.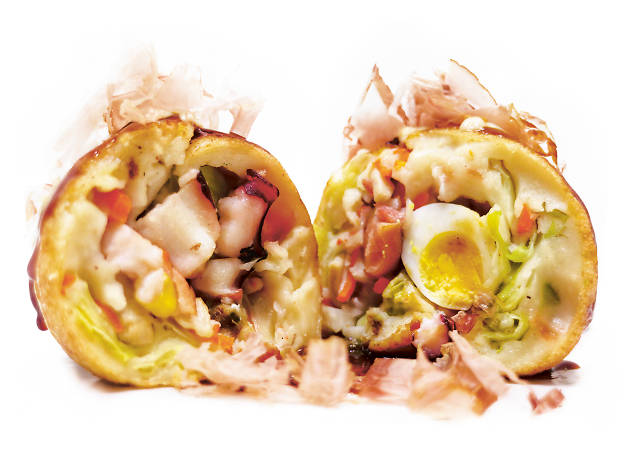 Though technically not a street stall, Kanezakaei is a great place to hit up for a taste of Japan's popular street snack, takoyaki. The version here is as big as a tennis ball and comes with a boatload of fillings. The classic Japanese flavour is the biggest seller, stuffed with 10 different ingredients, including a whole quail's egg, corn, cabbage, bacon, clams, sausage and, of course, octopus. This fist-sized mega-snack is designed to be enjoyed with the store's homespun condiments like mentaiko salad, Japanese wasabi and tobiko cheese. $36. Kanezakaei. Shop 3069 T16-T17, Top World, 3/F, Kwai Chung Plaza, 7 Kwai Foo Road, Kwai Fong, 6803 2511.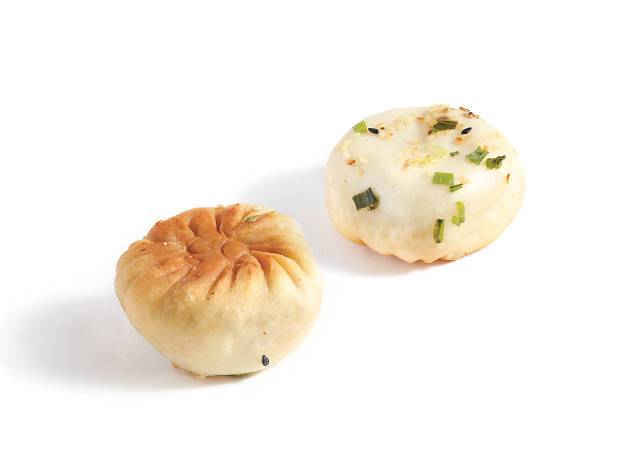 Shanghainese pan-fried pork buns
Opened by former musician Oscar Siu, King of Sheng Jian sells hundreds of these fresh-out-the-pan Shanghainese buns every day. With good reason, too – the buns are perfectly crisp on the outside and plump with a balanced mix of fatty and lean pork and a savoury broth. Remember to bite into these carefully so you don't scald your mouth. $28/four. King of Sheng Jian. 72 Soy Street, Mong Kok, 2323 2374.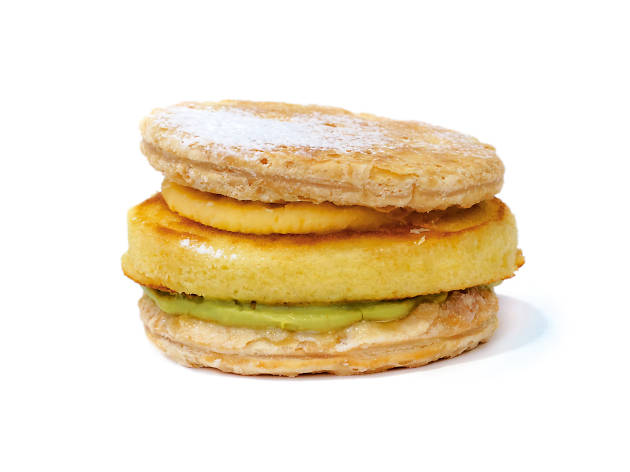 Soufflé pancake and pancake mille-feuille
One of the biggest food trends right now, a serving of Japanese-style soufflé pancakes can easily set you back $100. At I Love You Dessert Bar, however, prices start at just $29. Despite the cheap prices, the pancakes are top-notch and deliciously fluffy, and have won over the Michelin Guide as well as a huge fanbase – the store sells more than 1,000 on busier days and waiting in line can take as long as 45 minutes. I Love You Dessert Bar also sells pancake mille-feuilles, all accompanied with homemade sauces and custard. There are three flavours to choose from: hazelnut curd, matcha curd and yuzu cream, and fresh mango curd. $34-$36. I Love You Dessert Bar. Shop 3A, G/F, Ngai Hing Mansion, 24 Pak Po Street, Mong Kok, 2612 2660.
Best 7-Eleven store snacks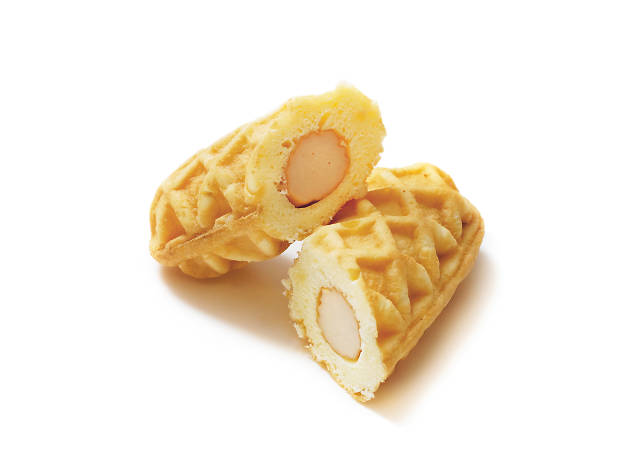 Chicken sausage meets waffle for a snack that's slightly sweet, slightly salty and oddly addictive. $11.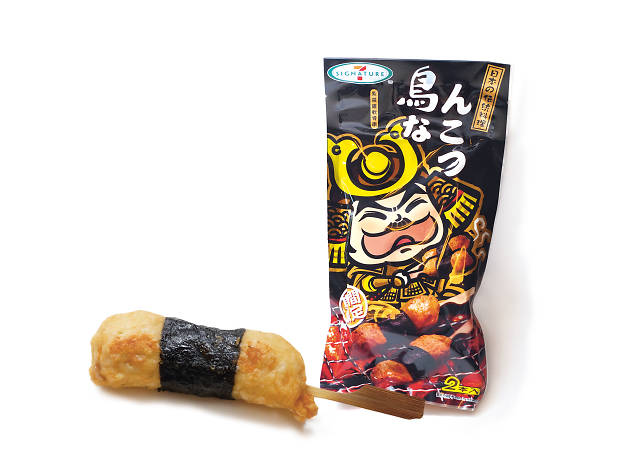 Seaweed and chicken cartilage tsukune
Made from minced chicken breast and crunchy cartilage wrapped in seaweed, this cheap and cheerful snack is delicious, especially when enjoyed with a cold beer. $10.