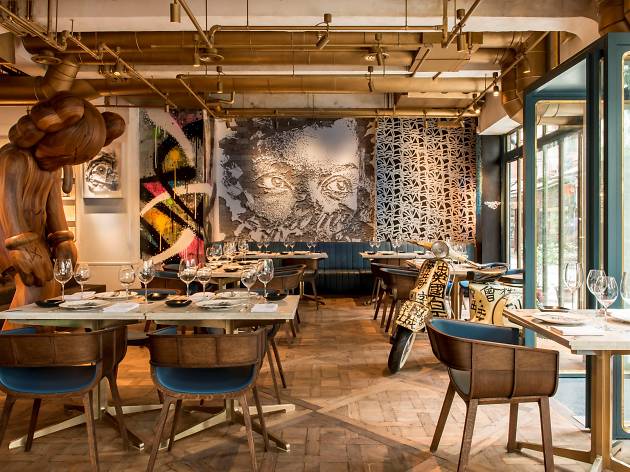 Time Out says
Hype. It can work wonders. With one restaurant for every 1,700 people, Hong Kong has one of the highest per capita concentrations of eateries in the world. So when a new fine dining joint opens it's just gotta stand out, and hyping it up can be a surefire way to get the crowds in from day one. Hype comes in spades at new Hollywood Road art haven, Bibo. But does it live up to the expectations the team behind it has been busy creating for months now?
Long before we found out that Bibo was going to be a restaurant, we'd already caught wind of a slew of street artists like Vhils, Invader and Mist arriving in Hong Kong to work their magic on the interiors of this mysterious place. And we'd also heard there was a mystery man called Bibo behind the project. And then, when news emerged about the restaurant opening, we heard Bibo was a street artist. Or it was just the owner's nickname. Or that the moniker didn't refer to a person at all – it's actually short-form for 'bilingual bohemian'. Or even that Bibo was an investment conglomerate looking for a tax effective way to invest in art. Hell, we're still none the wiser. It could be all or none of those things. Whatever the background, this place used mystery and art to get the hype going – and it generated enough buzz to have paparazzi camping out the front before the big opening, hoping to catch a glimpse of the interiors.
So, when we finally descend the stairs into Bibo, we're excited. And we're immediately impressed. In the dining area, there are splendid works by prominent artists in every nook and cranny of this slap-you-in-the-face trendy joint. There's a Takashi Murakami sculpture on a shelf, a massive wooden installation by Kaws and a scooter with the King of Kowloon's calligraphy all over it – and the pieces blend seamlessly into a cohesive style, setting an eclectic mood across the venue as vibrant as the colours and textures all around.
Bibo is a French fine dining restaurant. Okay, the space is a contemporary art fan's wet dream – but the punters are also here for the food. And the first thing we notice on the menu, above the simple French dish names, is the instruction that suggests ordering four to five plates per person. This really hints at the portion sizes we're to expect, despite the hefty prices of each. There are plates for sharing, like 'le boeuf' ($1,800 for two) and 'le poulet' ($1,600 for three), but we order more items so we can taste as much as possible.
We start the meal light with 'la salade végétarienne' ($150), 'l'oeuf mayo' ($60) and 'les coquillettes' ($100), which is basically mac 'n' cheese. The salade, loaded with figs, artichokes, asparagus and an extremely fragrant truffle vinaigrette, has plenty of fresh spring flavour. And the oeuf – egg – is cooked to perfection at 64 degrees, with a yolk that's creamy but not runny. It's testament to the skills of executive chef Mutaro Balde and his team. The coquillettes, though seasoned with anchovies and parmesan, are not so noteworthy. The pasta is too soft and the flavours are sadly unsurprising.
For mains, we go for a trio of dishes. For something more substantial, we dig into the – as the menu states – 'large' portion of 'la Saint Jacques' ($340) scallops. We're disappointed, though, that 'large' means just four scallops – and they're overcooked and rubbery, despite the bright fresh pesto garnish. And the 'foie gras poêlé' ($260) is pan-seared with a perfectly crisp outer shell but the grenadine-poached rhubarb beneath isn't tart enough to cut the oiliness of the delicacy, leaving us wishing for a fruity sauce on the side. 'La tartine' ($350), though, is a sliced truffle on sourdough toast and it thankfully fares much better than the other two dishes as it uses superior ingredients like Perigord truffles and Bordier butter. It's pricy – but worth every cent.
Dessert is a pleasant affair. We order 'la pomme' ($150) to clean our palates – and this apple sorbet is as refreshing as we'd hoped. The calvados apple compote is layered with apple caramel, which adds a rich texture to the light sorbet, ending the evening on a high note.
So, the hype worked. And the contemporary art throughout Bibo creates one big masterpiece. If we could, we would give five stars to this joint just for the ambience alone. But, with the food, though the presentation is luxurious and the ingredients are mostly superb, the execution doesn't really live up to expectations – and the dishes are a pretty penny to boot. Shame. A place like this deserves as much art in the food as it displays on the walls.
Bibo163 Hollywood Rd, Sheung Wan, 2956 3188; bibo.hk
Details
Users say