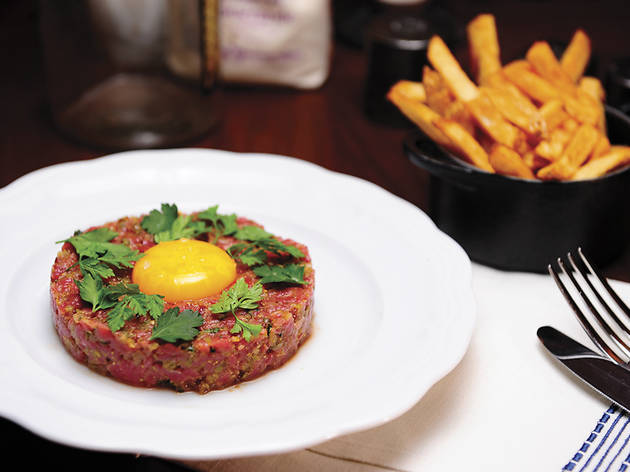 Time Out says
Closed for renovations from March 23 to late April, 2020
Seafood specialist Ocean Grill has been torn and refurbished into a cute Parisien-style bistro. The menu is a tribute to classic French cuisine, with an extensive selection of hors d'oeuvres to pair with the old world wine list. The restaurant is also fitted with an outdoor terrace at the back, perfect for weekend brunches when the weather warms up. Dinner for two: $750.
Replacing Ocean Grill on Elgin and sporting a fresh new look, Bouchon's interior evokes a cute Parisian taproom, albeit generic in tone. The picture windows that peek into the kitchen are a nice touch, and the small courtyard out back will be welcoming when the weather warms up. Be warned though, the restaurant overall is very tight. We know this is standard for Hong Kong but you might accidentally grab a bite of your neighbour's food.
Despite its Parisian leanings, the portions here are more American than French. My steak tartar ($158 for 150 grams) came out as a large disc, a bright yellow yolk on top. The small serving is already plenty for two. The meat was finely chopped and nicely chilled, with a nice kick of mustard and capers. We also tried a half dozen escargot ($68) which came out piping hot, smeared in a welcoming pesto and garlic sauce. Served in the shell, the bite-sized morsels were tender, the sauce happily soaked up with a crunchy roll. We'd go for a dozen next time.
The cod fritters ($88) were a letdown, the flesh quite creamy but the thick and salty batter overpowered the whole affair. We also tried a blackboard special scallop tartar ($98). A handful of scallops were sliced thinly and fanned across the plate, encircled by a ring of chopped egg and scallion, finished with a dollop of caviar. Très visually pleasing. Unfortunately, the scallops lacked that sweetness one comes to expect, leaving the dish a bit flat. The same can't be said for the beef cheeks bourguignon ($228). Tender beef braised in red wine is served in your own personal crock pot, accompanied by mushrooms and carrots (accompanied being the key word, as there's plenty of beef to go round here.) The only knock may be that the stew tastes a bit too boozy.
In a neighbourhood where restaurants come and go like the latest "It" bag, we're hoping Bouchon sticks around. And judging by the number of patrons speaking French when we visited it seems like we're not the only ones. Rex Gregg
49 Elgin St, Soho, 2525 9300. Daily noon-3pm & 6pm-11pm. Sunday brunch 11am-4pm. Meal for two: around $750.
Details
Best selling Time Out Offers