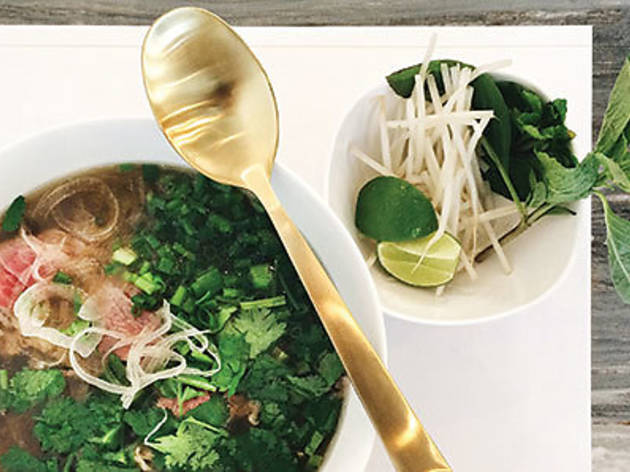 Time Out says
A good pho is hard to find, especially in Hong Kong. There are good traditional and nouveau choices if you look hard enough, but in general, most versions of Vietnam's national dish here come laden with either salt, MSG or both. The signature trimmings of basil and beansprouts are often scant too.
Currently only open during lunch, on a small storefront on Moon Street, the quaint premises of Brass Spoon are sleek and contemporary. The communal table is made of marble trimmed with brass fixtures and every meal comes with a disposable apron and a brass spoon, hence the name.
Laid out like a ramen menu, there are several choices of beef on offer, such as raw or brisket, and a number of snacks not currently available during soft opening. Given the choice, we decide to go for a classic raw beef noodle pho ($88). From the start we're almost won over by the generous portions of basil, mint and lime placed on our table before the meal even begins. The foundation of a good pho is the soup base, which the staff tell us is slow-cooked for 12 hours. Brass Spoon boasts that its noodles are uniquely available to them and the texture is wonderfully thick and soft to the bite. The flavours of the pho are devoid of any artificial additives – it's one of the most natural bowls of its kind we've tasted in Hong Kong, but it could be richer.
Brass Soon is by no means the most wallet-friendly pho in town, but it does offer one of the most authentic. We'll definitely come back when we've a hankering for our next pho. Lisa Cam
Brass SpoonShop B, 1 Moon St, Wan Chai, 2877 0898; thebrassspoon.com. Dinner for two: $200.
Details
Best selling Time Out Offers