Butcher's Club Steak Frites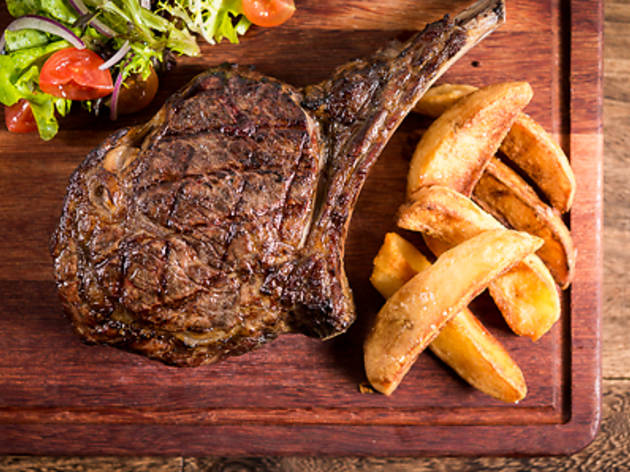 Time Out says
Butcher's Club is one of the authorities on meat in Hong Kong. More specifically, dry-aged Australian beef straight off its farm in New South Wales. With a slew of successful ventures, from the deli in Wong Chuk Hang to the amazing burger joint in Wan Chai, it was only a matter of time before they expanded into steak frites territory as well. It's a stunningly simple formula: steak and chips. How could any carnivore resist?
As expected, the menu is simple, with a choice of wedge salad with either blue cheese or mustard dressing and then the pièce de résistance: steak frites ($550). There is also a not-so-secret 'secret' menu that's accessible by simply scanning the QR code onto your phone. On the night we attend, it includes the classic surf and turf ($750) combo of steak and lobster tail, as well as a 'surf and surf' – a fish-only option. ($750).
While we take in the menu and the trendy industrial interior, the red lamp shades inspired by the Hong Kong wet markets render the lighting so low we can hardly read the menus. Luckily, the chef comes out to show us the daily steak offerings. Now, we don't know if it's the lulling low lights or that we're not very good listeners, but we sort of glaze over some of the chef's info about the meat and just pick the classic 40-day dry-aged 12oz rib-eye and surf and turf.
As we wait for our food to arrive we are served a basket of seriously good bread with whipped beef fat instead of the usual butter. Now we don't usually go on about the bread, but darn this stuff is good! Midway through the bread consumption our salads arrive, with crispy iceberg lettuce, salty bacon, juicy tomatoes and plenty of dressing – this is exactly how a good wedge salad should be – and both the blue cheese and mustard dressings are mind-blowingly good.
With our appetites now nicely teased, by the time the beautifully charred hunks of beef arrive at our table we're good and ready for a drool-worthy steak dinner . But alas, once we cut into the meat we're immediately disappointed. We asked for medium rare, but the meat is definitely in the medium to well-done category – once it's in our mouths the texture is on the tough side. While this is a major letdown, the accompaniments almost manage to make up for it. The chips are typical Butchers Club quality – chunky, perfectly crisp and fluffy in the middle. The bearnaise and peppercorn sauces are just right. And the lobster tail in the surf and turf is sweet and buttery and all things nice.
Although we're stuffed by this point we decide that the chocolate cheesecake is a must-try – a wise decision, as it turns out. This cheesecake is so good that if we weren't concerned about the buttons literally popping off our jeans we would order seconds.
Overall, we love everything... except the steak. And given this is the main attraction we can't help but we feel a little let down. This is not the Butcher's Club we're used to, and we may have just been here on an off night, but given the high standards the brand has set for itself, attention needs to be given to the star player.

Steak Frites by Butcher's Club 52-56 Staunton St, Central, 2858 9800; butchersclub.com.hk. Dinner for two: $1,350.
Details
Best selling Time Out Offers