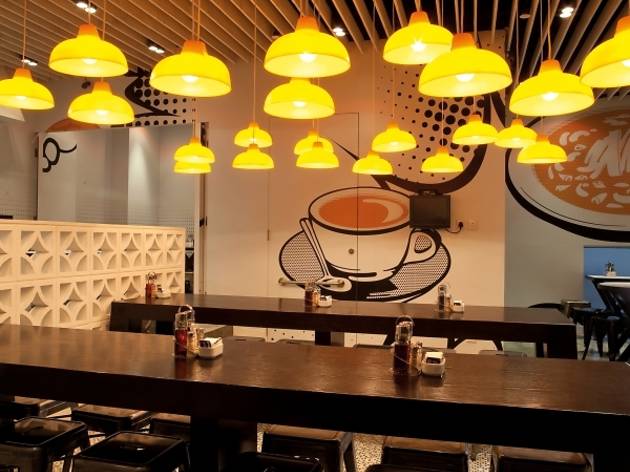 Time Out says
If you know Margaret Xu, the owner and chef of Yin Yang, you will at least have some idea of what to expect from Cantopop. A collaboration with the team behind Italian restaurant Posto Pubblico, the new establishment stays true to the "clean" eating philosophy adopted by both eateries by foregoing MSG and chemical additives during the cooking process and using mostly organic produce in their dishes. What else? Cantopop's noodles are homemade in-store, as are the bacon, luncheon meat, ham and beef jerky.
One of Cantopop's highlighted dishes is sous vide char siu with fried egg ($68) and this arrives beautifully presented with the sliced barbecued pork neatly arranged and topped with a sunny side egg. The char siu looks promising at first with the meat thinly layered with fat. Unfortunately, the taste and texture are both disappointing. Not only does it lack a rich, meaty flavour, the pork is chewy and near rubbery. Although it is made from all-natural pork and cooked by low temperature sous vide, we prefer the traditional type of char siu, which is far tastier. The stir-fried beef and sprouts with rice noodles ($58) is a little better and is served piping hot, straight from the kitchen. The thin, flat rice noodles are evenly seasoned with dark soy sauce and, combined together with the tender and tasty sliced beef, makes one of the best dishes for lunch.
Things take a downhill turn with their toast selection. The Chinese cheese and organic honey toast ($18) is not crispy enough and it's not hot enough either. There is also too little Chinese cheese, leaving the sweetness of the honey to dominate the whole affair. The braised beef shin and lettuce sandwiches ($38) fare much better; the beef shin is tender and makes a delicious combination with the heap of shredded spring onions. If only the beef shin could be cut thicker, it would have further enhanced the mouthfeel.
But Cantopop's real downfall is with its beverages. The milk tea cino ($18) claims to be another version of local hot milk tea but lacks the richness and smoothness that we'd expect from a quality cha chaan teng. Another traditional local drink – the red bean ice ($28) is equally unimpressive. The red bean is hard and the milk is not sweet enough. It's definitely not up to scratch with the local cha chaan teng standards.
Cantopop's "ingredient integrity" and its efforts to introduce clean eating into our local dining scene are admirable. But our appreciation of the restaurant's ethos only goes so far. And at the end of the day we would be much happier if the food was made tastier. KC Koo
UG/F, The L Place, 139 Queen's Rd, Central, 2857 2608 & 2857 2007; www.canto-pop.com. Mon-Thu 7am-midnight & Fri-Sat 7am-2am. Dinner for two: around $300.
Details
Best selling Time Out Offers