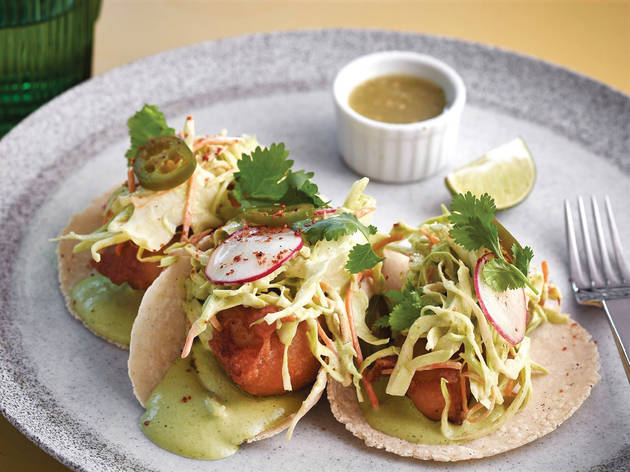 Time Out says
So-so SoCal
Southern Californian cuisine has never really taken off as a food trend in Hong Kong as most of the American fare we're fed is usually served up in steakhouses and burger joints. Known for incorporating fresh produce, lighter tastes and Mexican influences, SoCal's dining scene is characterised by a wide range of experiences, from bistro-style venues to casual food trucks. Commissary, which has just opened in Pacific Place, serves a refined SoCal experience by taking some favourites and giving them upmarket twists.
The minimalist interiors and filament lighting create a comfortable ambiance and the alfresco area is comfy too. The menu represents a 'best of' SoCal experience, so we start with the tuna poke tostada ($178), which consists of two large round toasts topped with an avocado spread and lightly seasoned chopped tuna. Judging by the size, this could be a main and our only complaint is that the spread overpowers the tuna. The clam chowder ($108) is innovative, though, using succulent Cloudy Bay diamond clams in their shells, served with a smooth and creamy soup base.
A few options ooze influences from the American South, like the fried chicken sandwich ($198) and shrimp and grits ($158), which looks more like a gumbo, with a rich soup-based sauce and huge shrimps. The sandwich features a deep-fried breaded fillet topped with coleslaw-style veggies but it's too greasy. The accompanying bun is also too dry. The fish tacos ($138) shine, though. Lightly battered fish portions sit on tortilla rounds, which are garnished with jalapeños and a guacamole spread. Home run.
Commissary is not great but it's not half bad either. Unless you live in LA, nothing is going to taste truly authentic, but if you take a more liberal approach when trying this new restaurant's SoCal cuisine then you may well end up with a smile on your face and a full stomach to boot.
Author: Leslie Chan
Details
Best selling Time Out Offers