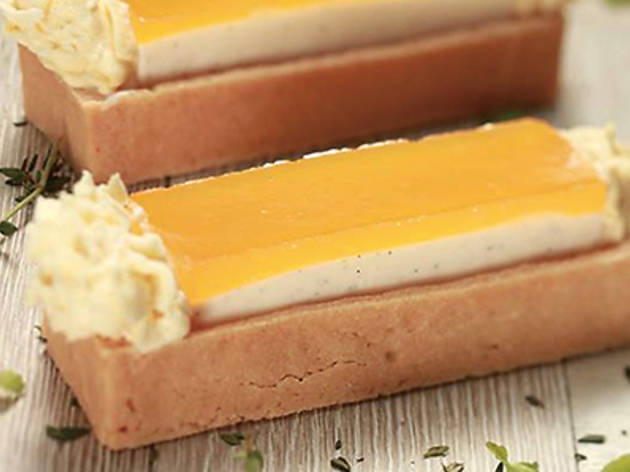 Time Out says
Paying homage in name to Pride and Prejudice's leading lady and gent, Darcy & Liz is a new Western restaurant on Wan Chai's Sun Street, joining the ranks of renowned eateries like Ted's Lookout and Oolaa Petite in the Star Street precinct. Sounds romantic, for sure, ahead of Valentine's Day, but after surveying the décor, we're hardly loved up. What could be a quaint neighbourhood jewel instead lacks personality. The fluorescent lighting is clinical and the small space, devoid of ambience, looks and feels more like a kitchen showroom.
Darcy & Liz is helmed by Alexander Prus, a chef who's worked in Chez Patrick Deli as well as several restaurants in Russia. In fact, the menu has obvious Russian and French influences, as well as a smattering of Asian twists. So, for starters, we opt for the tuna tartare with avocado, crispy puff rice, mirin and soy sesame dressing ($138). It's a disaster. The puffs are far from crispy due to absorbing moisture from the tuna, which itself is bland. The sweetness from the mirin lifts the flavour, but the soy is overly salty and quickly counteracts it.
For mains, we hope that lightening wouldn't strike twice. So we go for the beef tartare with truffle mayonnaise ($188). The capers in the tartare are so vinegary, so sharp and so overpowering that they render the truffle untraceable. And the Asian-style pork belly with green papaya salad and chilli lime dressing ($188) is also poor. The meaty pork looks promising but we soon discover that a lack of fat makes the flesh dry. Though somehow the skin is too sticky and chewy, on the side, the salad is flaccid and lacks any punch. We're not impressed.
So thank Jane Austen when the desserts arrive. Finally, this place is on to something. We select the vanilla and passionfruit cheesecake, and the chocolate orange tart ($48 each), and both prove to be superb. The acidic passionfruit cuts through the dense and creamy cheesecake, making for a perfect balance of sour and sweet sensations. And the chocolate orange tart is rich and indulgent, with the strong cacao mellowed perfectly by the smooth taste and aroma of orange.
We feel that Darcy & Liz should try its luck as a coffee shop with a focus on delish desserts because, as a restaurant, it isn't working out. The sweets can't save the tragic starters and mains we sample and the atmosphere is anything but romantic. Darcy & Liz does demonstrate pride in certain offerings, however we can't help but be prejudiced against the remaining sub-par eats. Holly Graham

Darcy & Liz Shop A, 6-7 Sun St, New Sun Hse, Wan Chai, 2488 0926; darcyandliz.com. Dinner for two: $500.
Details
Best selling Time Out Offers