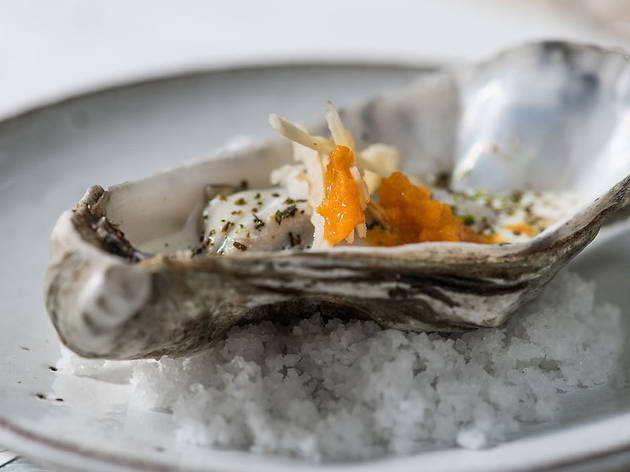 1/2
2/2
Time Out says
Friendly warning! We're working hard to be accurate. But these are unusual times, so please check that venues remain open.
Swedish chef Björn Frantzén's modern Sheung Wan bistro serves up Nordic menu with a distinct Asian twist
Chef Björn Frantzén holds the accolade of owning one of only two restaurants in Stockholm to boast two Michelin stars. His eponymous eatery, Frantzén, is the height of fine dining in the Scandinavian country's capital city. Lucky us, then, that this culinary maestro's first venture outside of his native land has just landed in our SAR. Frantzén's Kitchen looks the part on Upper Station Street, a sleepy nook of Sheung Wan that's no stranger to award-winning gastronomic venues. One Michelin-starred Wagyu Kaiseki Den is just round the corner and former holder of a star, Upper Modern Bistro, is but a few steps away.
Read more: In the kitchen with Chef Björn Frantzén
Melding Nordic and Asian cuisines, Jim Löfdahl, previously head chef at Frantzén, helms the new joint, crafting a Scando niche. Only, really, Jaakko Sorsa's Nordic venue, Finds, in Tsim Sha Tsui has effectively managed to do this since it opened 12 years ago. So we head off to Frantzén's Kitchen to see what the Swedes have to offer. And we're pleased to find a casual vibe at the restaurant, with a simple and sleek interior. There're no Ikea comparisons to be made, as much as we want to. This place has all the benefits of Scandinavian-chic without the DIY furniture. A greyish teal dominates the colour scheme and there's floor-to-ceiling windows, some outdoor-facing chairs, a few dining tables and seats at the open kitchen, which is where we sit.
We watch Löfdahl and his staff and it's utterly fascinating. They're calm and focused, handling the food with a meticulousness that reminds us of the art of Japanese bartending. We break our trance to munch on crunchy flatbread and brown butter. The butter is phenomenal. It's rich and creamy, with a taste that can only be likened to butterscotch, with just enough salt to create a perfect sweet 'n' salty balance.
We start with the French toast with truffles, balsamico vinegar and aged cheese ($95). Löfdahl instructs us to eat the morsel (and a morsel it is but you don't come here for piled plates) with our hands. The bread is crisped on the outside and wonderfully fluffy inside, working wonders with the delicately grated truffle. The sharp aged cheese is melted just enough to give each bite a satisfying stringiness and it's all mellowed by the balsamico. Fantastic.
For mains we choose the lamb tartar with cumin, feta cheese, lavender yoghurt and smoked aubergine ($180), the 100-day aged Swedish dairy cow with truffle ponzu, beurre noisette and truffle salt ($280) and the green asparagus with fermented white asparagus juice, flowers, pistachios and pine shoots ($170). Again, they all come in small portions. Sadly, the tartar is disappointing as the lamb is overpowered by the tartness of the feta and we don't love the floral notes from the lavender. The aubergine helps balance it all but it needs more cumin.
The disappointment, though, is fleeting as the beef and asparagus are outstanding. The medium rare meat is delicately sliced and the unique flavour of Swedish beef is apparent. We immediately note the difference, for this variety is cleaner on the palate. The ponzu is smoky and tart in a way that makes our taste buds tingle with joy. We sip the last of it, even when the beef is finished. As for the fermented white asparagus, it's almost creamy, with an umami-meets-curry taste owing to the saffron and lemongrass. And the green asparagus has just enough crunch to create a symphony with the pistachios. This dish pairs well with the beef. Bonus.
We try the smoked ice cream with toasted nuts, tar syrup and salted fudge with cloves ($115) for dessert. Smart choice. A small golden sphere is presented before us and our waiter pours the hot fudge over it. The sphere gives way to the ice cream, which is almost assaulting in its smokiness but we like the complexity. The cloves fight to create a dominating flavour, making for a curious combination of sweet, salty and smoky. This finishes off a, frankly, phenomenal meal.
Could Frantzén's Kitchen follow its Swedish sister and bag those stars? It's too early to tell but it's off to a flying start. A few flavours need tiny tweaks and though the portions are small and price tags big, it's worth the pretty penny for quality like this, particularly in relation to the ace ingredients and supremely complex flavours. This kitchen is on the road to success. We're willing to bet all of our Ikea furniture on that. And that's a lot of furniture.

Details