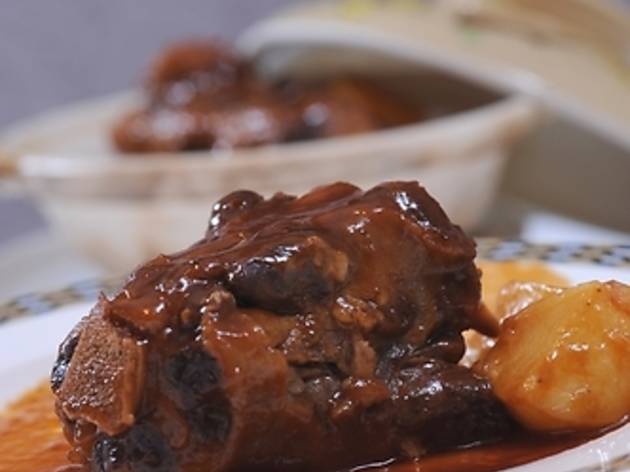 Time Out says
On its third day of opening, word had already gotten out that beloved Wan Chai Chinese restaurant Fu Sing had a brand new sister restaurant in Causeway Bay. Since the closing of Delay No Mall, the landlords had been quietly searching for suitable tenants to occupy the multi-floor hole in the shopping centre. Luckily, Fu Sing was looking to expand from their cramped dining room in a non-descript building in Wan Chai to a space of several thousand square feet.
It's hard not to compare to their original menu as much of it is replicated here – specialty dim sums, and what some say is the best char sui in Hong Kong. But we went for the less famous dishes to break new ground.
We heard good things about the "so good fried crystal noodle" ($98) from the next table. A sizzling clay pot with rice vermicelli, crunchy sticks of bean sprout, julienned vegetables, and strips of egg arrived with little fanfare. It was a simple dish that anyone could make at home, and much too bland for our taste. The noodle absorbed all the seasoning and transferred little to the palette, but a spoonful of chili sauce helped the dish along.
Next up was baby bak choy in a milky fish broth ($78). This is one of the more delicate dishes on the menu – a simple arrangement of whole baby bak choy swimming in a flavourful broth with enough umani to make you pucker. The light greens were cooked evenly, but still had a bite to them, while the broth had no discernable oil slick. In short, a wonderful dish.
Though their char sui might hog the spotlight, the soy sauce chicken (on the bone, $168/half) deserves the fame. Steamed on one side then marinated with more honey-soy, you get a silky chicken that is moist and full of sweetness underneath a fat bed of protective skin.
Last to arrive were the braised oxtails in red wine ($68). Braised to the point of falling off the bone, the tender, gelatinous meat was not stringy but fell apart in lumps, as good, unfrozen meat should. Though the gravy was reduced and came smooth, we could taste carrots, celery and onions. This is one we would order again.
Complimentary desserts arrived at the end of the meal, a white fungus soup with black sesame dumplings. A sweet ending to a fine meal.
Angie Wong
1/F, 68 Yee Wo St, Causeway Bay, 2504 4228. Meal for two: around $500.
Details
Best selling Time Out Offers