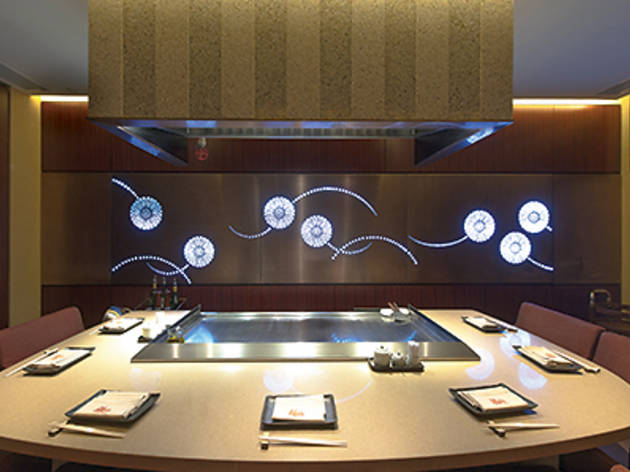 Time Out says
It's hard to wrap your head around what makes teppanyaki so great. After all – simply put – it's just grilling meats on an extremely hot pan, right? It can't be that difficult. Well, turns out, it is that difficult to create outstanding fare off the teppan plate. You have to select quality produce in the first place. And then you have to get a chef who not only touts ace culinary skills but also has the social skills to match. This popular Japanese cooking style isn't just about the food. It's about the experience too. The playful banter between chef and diner. The atmosphere. All this on top of excellent grilled offerings.
So when Elite Concepts opens a high-end teppanyaki restaurant in the heart of Central, we wonder how the team is setting this eatery apart from the heavy competition in town. Thus, we check out Fukuji's menu. The ingredients, including high-end items like Japanese and South African abalone, and beef from Japan's Miyazaki and Kumamoto districts, are top-notch. Check. And the atmosphere seems to be right – the focus is on the lively private experience, with five small dining rooms, a lounge and a sushi bar being preferred to the standard large dining room. Check. The prices also seem fair and the chefs have good pedigree. Check and check. There are the makings here of a quality teppanyaki restaurant. But is it so?
As we enter the space, we're ushered into one of the teppan rooms and while we wait for our chef for the evening, we find ourselves staring at the sets of ornamental flowers that adorn the walls across the venue and constantly change colours. They're hypnotic and garish, and hardly fit in with the understated wood and slate tones of the interiors. If anything, they're tacky. We're already on the back foot. So, to distract ourselves, we study the menu, where you can choose a set for one with just steak ($1,200) or a set for two that includes a seafood item ($3,400). Considering the fact the abalone we want to try is $440 per 100g, we figure it's worth shelling out for the more expensive medley. And as we decide, our chef arrives and asks us if we're in a hurry. We say no. So she says she'll prepare our dishes in two batches to ensure every bite is piping hot. We like this attention to detail. Back on the front foot. We're ready for the food and the chat.
We begin with a trio of appetisers – a vegetable, a pickled salmon and an extremely savoury baby whitebait dish – and they're each refreshing. However, this is just our intro. We brace ourselves for the main event. And a main event it is. Our abalone arrives fresh and still moving. The mollusc is cooked in its shell first, then carefully seared after it's been removed before being served alongside a uni sauce. The texture is amazingly chewy at first bite but then that dissipates into a creamy soft consistency before ending in an aromatic bouquet of sea flavours. Next up is a salad to cleanse the palate. Crispy fresh greens are drenched in a vinegar dressing that we find doused somewhat too liberally, but it whets our appetites for the steak. We pick the Miyazaki sirloin, which is juicy, well-marbled and sports a great balance of meat flavours. We also enjoy the large Japanese garlic chips that come with the steak, adding a joyous pungency to the whole affair. Slow-cooked at a low temperature in extra virgin olive oil, these coin-sized morsels tease out the aromatics of the meat and the fat with aplomb. Then a leaf mustard fried rice is served and we like the salty pickle flavours that cut the richness of the meal.
So, everything has been outstanding so far with both the food and the chef, who is in chatty form with us at times and, at others, knows when to leave us to chinwag alone. But then comes the vegetable dish and soup. Okay, the bar has been set pretty high with the seafood and steak. Nevertheless, this course is a real letdown. It's just a bunch of beansprouts, a bit of cabbage and some generic miso that tastes like it could've come out of a packet. It's disappointing, to say the least, as we were enjoying a superior experience before this. The flavours are lacklustre and it leaves us nonplussed.
It does pick up again at dessert, though, as we're given the option of musk melon, tiramisu or cheesecake. After making our choice, we're ushered away from the post-teppan grease-filled room and into the lounge to enjoy our cake. We sit in cushioned chairs while a pianist plays Cantopop ballads in the corner and we slowly enjoy our desserts. The cheesecake is perfectly crumbly – just moist enough to hold itself together – and boasts a smooth, creamy flavour. We're enjoying ourselves again.
With great staff and interiors, Fukuji gets top marks for its actual teppanyaki experience. The finale in the lounge definitely ups the game. But, like the garish colour-changing flower fixtures, there are some items on the menu that just won't do in a restaurant which has so much to shout about. Our advice: work those veggie and soup dishes, get rid of the flowers and keep everything else the same. Then we'll be spreading the news: Fukuji could well become one of the best teppanyaki restaurants in town.
Details
Address:
1/F, 1 Lyndhurst Tce, Central
Hong Kong


Contact:
Opening hours:
Mon-Sat: 11.30am-2.30pm; 6.00pm-11.00pm; Closed on Sundays
Best selling Time Out Offers