Greenland Taiwanese Cuisine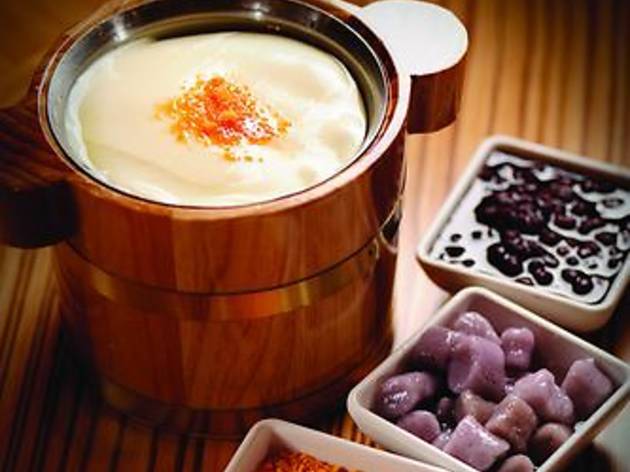 Time Out says
Just to give you a visual: most of the meals here are served in bowls. The first page of the menu is split in two, with the same dishes listed twice, except one column offers a bowl of rice, the other a bowl of noodles.
Another visual reference is the amazingly large crowd littering the second floor of this shopping arcade trying to land a seat. And why not?
Thirty-four dollars buys you a belly-swelling meal. And true to their Taiwanese diner roots, they've got bubble tea.

You can't go wrong with the fried pork chop, the marinated chicken wings or spicy beef. But a personal favourite was the minced pork gravy over plain rice. The rice was fat, overcooked and nothing to write home about. But the velvety gravy created by the pork fat accompanied by the rice was a real pleasure in every mouthful.

There are better choices than the stewed beef. There was nothing wrong with it per se. Just the obvious lump of animal fat with visible veins and arteries was a slight turn-off. The congealing of undissolved fat dotted about the bowl might indicate that this was made some time ago.

Okay, so lets save the best for last. For $28, you get a small wooden tub of freshly made dofu fa with sides of tapioca, red bean, cane sugar and taro balls (pass on the taro balls). The silken warm tofu is lush. Creamy, without a drop of diary. This is something one either likes or doesn't, as it is one of those dishes that is an acquired taste.

We liked this place a lot, and it's gone straight into the Time Out lunch rotation. Yes, this place has a higher concentration of MSG, but it's sticking true to tradition. And the affordable prices will make this a regular haunt.
Angie Wong
Shop 201, 2/F, Tai Yau Building, 181 Johnston Rd, Wan Chai, 2574 8603. Daily 11am-midnight. Meal for two: around $100.
Details
Best selling Time Out Offers