Hong Kong's best... cooked food centres
Cooked food centres, where the freshest ingredients come straight from the wet markets, are an institution in Hong Kong. We take a look at those spots where the chow is so good that comfort can take a backseat.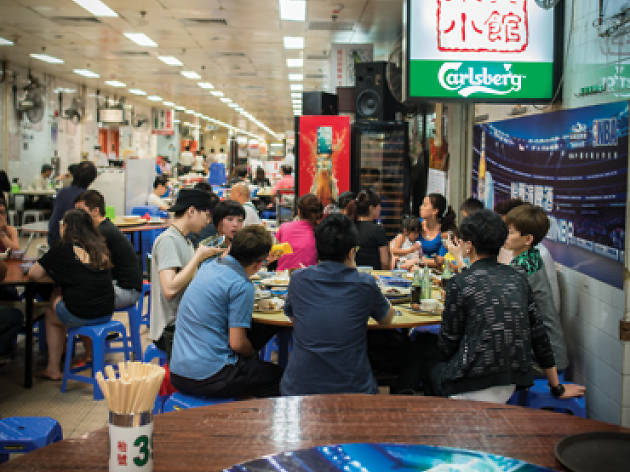 After you've finished navigating your way through the crowded maze of markets in Mong Kok, take a load off in this cool food market. Mui Kee serves up some of the best congee in Hong Kong – perfect for that pounding Sunday hangover. Don't forget to pair your porridge with a side of smooth rice noodles or crispy fried fish skin, an addictive or cringeworthy snack, depending on how you look at it…
Fa Yuen Street Municipal Services Bldg, 123a Fa Yuen St, Mong Kok.
You can't talk about top cooked food centres without mentioning Tung Po, inside North Point's Java Road Cooked Food Centre. Bolstered to fame by a visit from Anthony Bourdain, Tung Po's squid ink pasta and handmade bamboo noodles are praised by frequenters. Make sure you reserve a table before visiting, though, as the wait for one of the plastic seats can take ages.
Java Road Municipal Services Bldg, 99 Java Rd, North Point.
If you want a taste of Thailand but don't have the time to jet over there, consider knocking up 'Little Bangkok' in Kowloon City for a quick fix of Thai grub. Of all the restaurants, Amporn Thai Food has received the most hype. Try the mixed beef satay dish, green curry or pad thai and finish off with their mango and sticky rice dessert for a perfect taste of Thailand.
Kowloon City
Municipal Services Bldg, 100 Nga Tsin Wai Rd, Kowloon City.
Queen Street Cooked Food Market
Clean and tidy, with a wide range of dishes from different cultures. This market (pictured left) offers Vietnamese, Indian and Italian, or some wonderfully delicious dumplings. Check out ABC Kitchen, whose menu includes great pastas and roasted suckling pig. It's friendly on the wallet and has garnered considerable word-of-mouth popularity.
1/F, 38 Des Voeux Rd W, Sheung Wan.
Tai Po Hui Market and Cooked Food Centre
This dai pai dong dining mecca always packs in a crowd, with all-star food stalls serving up some of the best dim sum, wonton noodles, steamed cakes and other old-fashioned Canto dishes. Dong Kee Shanghai Noodles knocks up a mean bowl of pork chop noodles while the Three Ladies Seafood stall is the go-to for clay pot rice and delights from the sea.
2/F, 8 Heung Sze Wui St, Tai Po.
Wo Che Estate Cooked Food Market
Sparkling lights, open-air dining and some of the best priced dishes in the city are what make this night market dining spot so popular. Have a go at a great selection of wok-fried traditional Chinese dishes at Chan Kun Kee. You can't go wrong with dishes like salt and pepper cuttlefish or roasted pigeon. Pair your fare with an icy cold one and wash it all down.
Wo Che Estate Market, Hip Yan St, Sha Tin.
More to explore