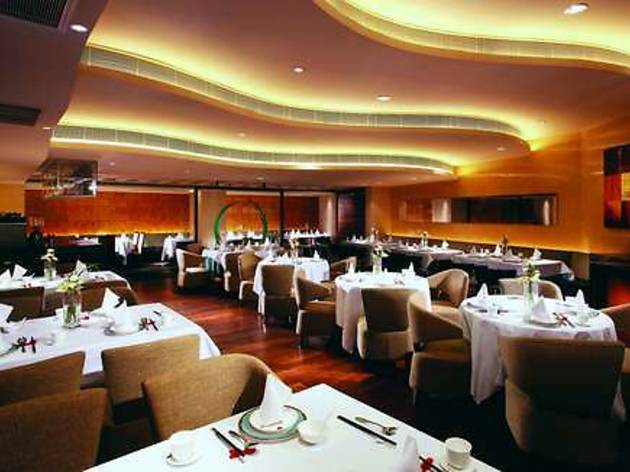 Time Out says
The food at this upmarket-aimed Maxim restaurant wasn't actually as bad as the rating suggests. It was just everything else that made our stomachs' turn.
We arrived promptly at 7pm with no reservations and were told there was little chance of gaining entrance. Excited that we'd found packed dining room, we waited patiently for a few minutes until there was an opening. Immediately we could tell we were in a Maxim restaurant: like most chain outlets, the decor was of a certain mass-produced quality and corporate familiarity.
We were seated outside with a view of the harbour beyond the Marco Polo Hotel's parking lot, the same view shared by next-door neighbour Spasso. The weather was turning, and we were hungry for soup. The claypot soup of the day sounded like a treat, but when our waiter returned ten minutes later he told us it was a no-go; the soup had been sold out by 7.15pm. I guess we should've arrived at 6pm. The waiter also came back empty-handed with our second request of double-boiled soup. We decided we better hurry up and order something they did have before there was nothing left in the kitchen.
First to arrive was a bowl of pea shoot stir-fried in garlic ($85), and lots of it. This was not a main, or a starter, but rather a side dish; it was sweet, heavily salted and not particularly satisfying. We also ordered two bowls of rice; only one arrived, and the waiter blamed us for not putting in the right order. When we asked for more tea, the waiter looked deep and long into our teapot before deciding it was truly empty, then returned the refilled pot to the farthest end of the table where neither of us could reach. If you're so passive-aggressive, you really shouldn't be working as in the customer service industry.
The dining room got more and more crowded as our meal went on, while the staff thinned out in converse proportion. Another half-hour went by before a plate of roast goose ($75) arrived. Mostly fat, with very little meat, it came marinated in the same soy-sweet sauce they use at every other Maxim outlet – and Chui Chow Garden do it better. We were thankful for the cod-fish steamer with crispy ginger and boy choy ($98) though, the meal's only saving grace. The plump fish was a great match with the spicy deep-fried ginger strips.
Unfortunately, this was too little too late. If a restaurant can't serve 220 people adequately, it shouldn't open to 220. Perhaps a new line manager would help to make sure tables don't wait 30 minutes between courses, and train the wait staff to not blame the customer for their mistakes – especially if they ask for the moon and you give them sun.
Alan Wong
Shop 401, 4/F 5 Canton Rd, Ocean Terminal, Tsim Sha Tsui, 2992 0232. Meal for two: around $370.
Details
Best selling Time Out Offers