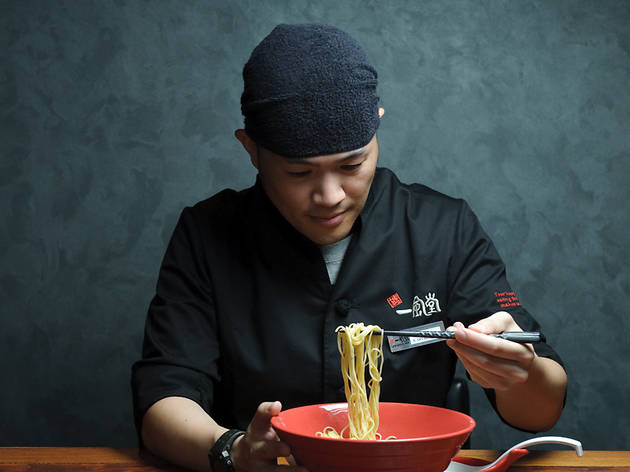 This city's ramen craze has ballooned into a full-blown obsession and in the past year alone we've seen countless new noodle joints staking their claim in Hong Kong's competitive dining scene. Joining the broth-slicked battle is Ippudo – a powerhouse ramen chain from Fukuoka, Japan.

A quick history lesson for those who aren't familiar with the brand: Ippudo's founder Shigemi Kawahara has been named TV Tokyo's 'ramen king' three times in a row since he opened his first noodle store more than 20 years ago. What started off as a humble 10-seater in his Fukuokan home city has since mushroomed into one of the most successful ramen chains with more than 60 venues dotted all across the globe.

Like Ippudo's other outlets, the first Hong Kong store is a slick, modern interpretation of the traditional Japanese noodle bar complete with counter seating and long communal tables fitted with low-slung stools. The space is speckled with cool cultish touches, from a bright red wall decorated with ramen bowls, to manga drawings detailing Shigemi-san's success.

For now, there are only three types of tonkotsu pork bone broth bases to choose from: the original 'white' Shiromaru Motoaji ($68), 'red' Akamaru Shinaji ($68) and the spicy Ippudo Karaka ($78). All three are served with tangles of thin Hakata-style noodles that can be ordered regular or extra al dente.

It's best to start with the Shiromaru – a carefully calculated, subtle balance of flavours housed in a large ramen bowl. The broth doesn't taste particularly rich at first but the sweet umami profile opens up after a while like a fine young wine after a brief decanting. Compared to the Shiro, the Akamaru is a much more potent offering, making it the restaurant's most obvious crowd pleaser. The thick pork bone soup is pockmarked with dark garlic oil and a hit of spicy red miso that gives it a whole new facet of flavours.

Both bowls come with the same colourful composition of toppings – crisp bean sprouts, julienned wood fungus and a liberal shower of finely chopped green scallions. The only things that differ are the two slabs of char siu that bob on the surface. The delicate Shiromaru is complemented by two pieces of lean, meaty pork while the Akamaru's char siu comes with thin bands of fat that glisten under the milky broth. The Akamaru pork wins of course. Aside from the preset toppings, you should also decorate your noodles with Ippudo's perfectly cooked soft-boiled egg ($10). The golden centre runs out when the whites break and films the tongue with a delightful yolky mess. It's almost ethereal.

Ippudo also does other carbs well outside its lineup of noodles. The famous barbecue pork buns ($28) are gorgeous – two fat slabs of super-savoury meat rammed into a sweet and fluffy thick pancake with lettuce, mustard, homespun barbecue sauce and a dash of Kewpie mayo. We could probably make a meal out of these alone.

So far, Ippudo is one of the strongest contenders in Hong Kong's ongoing ramen wars. Now we'll just have to wait and see if any other big noodle name crashes our shores. If they're anywhere near as good as this joint, we'll be ready to greet them with open arms and eager chopsticks. Dorothy So

Shop 210, 2/F, Silvercord, 30 Canton Rd., Tsim Sha Tsui, 2957 8893; www.ippudo.com.hk. Daily 11.30am-11pm.

The bill
Shiromaru Motoaji $68
Akamaru Shinaji $68
Ippudo bbq pork bun $28
Ten percent service charge $16.40
Total (for two) $180.40
Venue name:
Ippudo
Address:
Shop 210, 2/F, Silvercord, 30 Canton Rd., Tsim Sha Tsui
Hong Kong


Do you own this business?